"Exhibition Interrupted," a display of work designed by School of Architecture Professor
Anne Munly
, will open Tuesday, April 27 in the Slocum Hall Marble Room and
online
. Munly is retiring at the end of the spring 2021 semester following more than 30 years of service to the school.
As part of her final year on the faculty, Munly has designed an exhibition of work that features a series of perforated wooden screens and that also addresses, at the conceptual level, the challenges faced by all exhibitions during the pandemic.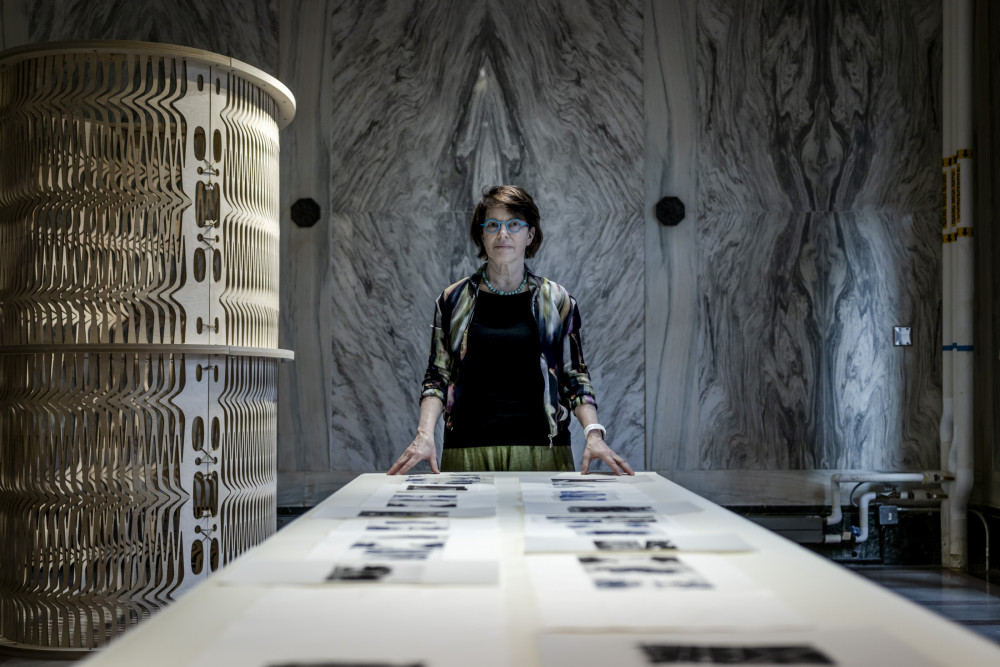 Professor Anne Munly in the Slocum Hall Marble Room gallery space"Exhibition Interrupted" explores the dual nature of the screen as an architectural device. Whether as material space divider or video monitor, screens delineate and regulate the relationship between inside and outside, historic and contemporary, sacred and profane, private and public. Consistent with the hybrid, online-in-person reality that has emerged as a result of the global pandemic, and consistent with this dual reading of the screen, "Exhibition Interrupted" has been designed as a physical and an online installation that can be experienced in numerous hybrid formats in the Marble Room and on social media.
Three curving wooden screens have been inserted into the entry doorways of the Marble Room delineating what is inside and outside the physical exhibition and literally enacting the show's title, "Exhibition Interrupted." While these screens regulate physical movement into and out of the Marble Room gallery space, they also invite us to look through the screens into the gallery space where we view projections onto the marble wall surface and a display of digitally milled and printed design objects placed throughout the gallery space. "Exhibition Interrupted" can also be experienced through the screen of a computer or phone where, on select social media platforms, we are able to view a series of films featuring recent projects designed by Munly, as well as a discussion about those projects and the challenges and opportunities of designing and exhibiting in the new hybrid, online-in-person reality that has become the screens through which and on which we now live our lives.
"My recent work explores the intersection of the virtual and analog, bringing together digital fabrication and hand finishing, coaxing common materials to perform in new ways," says Munly. "This design and production loop takes several turns, moving from hand sketches to immaterial models to physical artifacts to film protagonists in an imaginary world of effects."
Munly teaches undergraduate and graduate design studios and seminars in American urban settlement, theories of utopia and modern dwelling. She has taught in Syracuse Abroad programs in London, Florence and Japan, and directed both the Syracuse Architecture in London program and the Scuola di Architettura program in Florence, ltaly.
Aiming to reinforce disciplinary depth while broadening discourse within the field, Munly has engaged in several interdisciplinary collaborations with colleagues in the Maxwell School of Citizenship and Public Affairs, the College of Visual and Performing Arts and SUNY College of Environmental Science and Forestry.
Among her research grants are awards from the National Endowment for the Arts, New York State Council for the Humanities, Boston Foundation for Architecture, the American Academy in Rome and the New York State Energy Research and Development Authority.
Munly is a licensed architect and partner in Munly Brown Studio (MBS), a design consultancy formed with School of Architecture professor Theodore Brown. MBS engages in projects ranging from material research to master planning, with a commitment to environmental, social and economic sustainability, and has been premiated in several national and international competitions.
Munly received a bachelor's degree in architecture from the University of Virginia and a master's degree in architecture from Princeton University. In 2006, she was named a Laura J. and L. Douglas Meredith Professor of Teaching Excellence for outstanding teaching at the University.
"Professor Munly is among our most esteemed faculty members and has been a leader at the school for her entire career," says Michael Speaks, dean of the School of Architecture. "We will miss her brilliant teaching and unparalleled commitment to the intellectual and design life of the school. But we are also excited to celebrate her design work, most all of which has been informed by her teaching."
To celebrate the opening of "Exhibition Interrupted," Munly will take part in an online conversation with Dean Michael Speaks and Assistant Teaching Professor Ivi Diamantopoulou on April 27. The exhibition, also available at soa.syr.edu/exhibition-interrupted, will run through May 25.