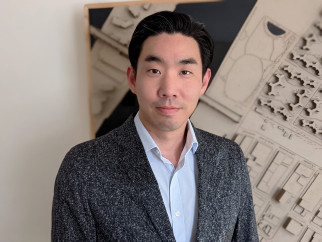 Associate Professor Daekwon Park, Undergraduate ChairThe answers to these two questions, like the societies they serve, are always in an uneven state of conversion. For nearly 150 years, Syracuse University's architecture programs have been at the center of conversations of what architecture means and how we make it in any given place and era. This flexible investigation is always connected to a disciplinary core of knowledge with its own history, theories of purpose and production, methods of construction and understanding of building performance—all of which connect to larger urban and social contexts in which architecture operates.
Interrelated to this core intelligence are necessary visual, verbal and written forms of architectural communication that combine to form a central and highly regarded piece of the education of architects at Syracuse. These important educational aspirations are essential to preparing our graduates to be successful in the contemporary and ever changing character of practice across the world.
The exceptional physical assets in Slocum Hall—such as digital fabrication and computer labs, our King + King Architecture Library, and even our in-house architectural supply store—significantly reinforce our larger intellectual and cultural connection to the University at large, a top-level liberal arts research university containing a number of nationally rated professional programs.
We invite you to investigate and, hopefully, participate in this energetic and vital community. Over the decades, those that have are considered among the most capable and respected in architecture and its related design fields.