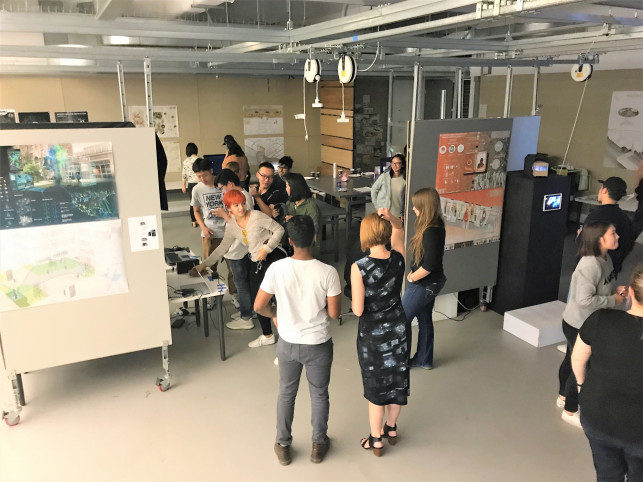 The professionally accredited Master of Architecture (MArch) program at Syracuse University provides students with creative, intellectual, and professional experiences suitable for a range of career paths—across design, research, and practice, as well as across commercial, civic, and academic sectors. As a top-rated program at the intersection between design and research, our faculty engage in forward-thinking curricula (from material research to advanced technologies to socially and environmentally conscious inquiries), that serve as a laboratory for the future of architectural practice.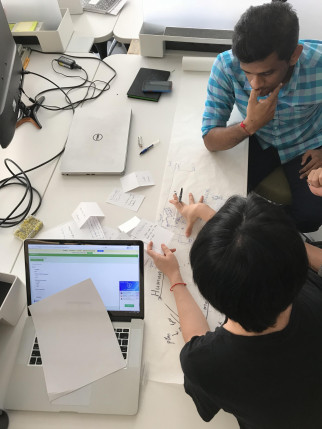 We embrace the broad diversity of experiences our students bring to this first professional degree program, simultaneously offering a welcoming introduction to the discipline for students from any academic background, and advanced coursework in architecture for students already holding degrees in architecture or related fields.
Master of Architecture coursework follows a sequence of thinking about the built environment grounded in forward-looking practices and perspectives, from the material project of architecture to its social and political agencies, and from designing for the future to the integrative project of architectural design
We support and encourage students to be critical thinkers, embrace new technologies, engage in collaborative practices, take risks and find innovative approaches to working through design problems. The Design Research Workshops, unique to Syracuse, bring students in direct contact with global leaders and are an opportunity for students to gain exposure to guest professionals and critics engaged in emerging design processes and practices that lie outside traditional architectural production.
Our close connections with a global body of alumni provide exciting opportunities for internships and post-graduate opportunities. And our robust Teaching Assistantship and Research Internships provide mentorship to students seeking pathways to leadership in practice or academic careers. During a required off-campus summer semester, our students can study in the heart of New York City or throughout East Asia. At the university's Fisher Center in New York City, students work at the intersection of architecture and real estate, with interdisciplinary coursework and studios and the opportunity to have  professional internship with leading architecture firms. In our Three Cities Asia program, focused on the intersection of architecture and the rapidly growing metropolis, students visit a rich array of innovative design and architecture firms and are introduced to civic practices throughout the region.
In addition to our core professional coursework, students are immersed in an innovative and forward-looking suite of design, theory, history, technology and research courses that culminate in our Directed Research Thesis that embraces collaboration, where students choose to contribute to a particular design research agenda that is led by our distinguished faculty. The final semester at Syracuse is an intense and energized experience with high-levels of production culminating in rich design investigations that examine and explore the fringes of architectural discourse.
All these experiences at Syracuse seek to advance architectural knowledge through design; building skills that position students to think holistically and systemically about the challenges our discipline—and the world—will face in the future.
Our MArch is a STEM Designated Degree by the U.S. Student and Exchange Visitor Program.