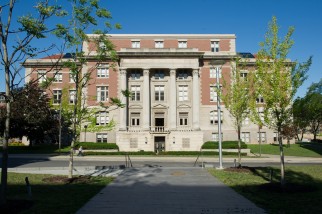 The five-story building — listed on the National Register of Historic Places — is characterized by its soaring central atrium space and openness, providing an environment that is highly conducive to free-flowing exchange of interaction between faculty, staff, and students.
Slocum Hall was designed by Syracuse University School of Architecture professors Frederick W. Revels and Earl Hallenback and funded by philanthropist Mrs. Russell Sage as a memorial to her father. Construction began in April 1916 but, due to World War I and labor shortages, it was not completed until October 1918. When officially opened in 1919, the Architecture Department of the College of Fine Arts, founded in 1873, shared the building with the Joseph Slocum School of Agriculture, as well as the School of Home Economics and the School of Business.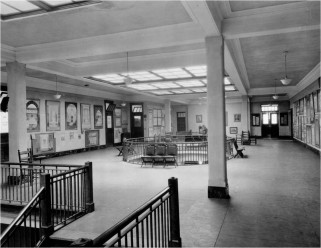 During the ensuing 89 years, Slocum Hall underwent a series of changes in the mix of tenants and in its form, most notably losing its monumental entry stair, its original auditorium, and the closing of its central atrium space. The original logic of the building had been obscured through generations of new partitions and hung ceilings.  

A striking renovation begun in 1976 by Werner Seligmann , then dean of the school, asserted a modernist clarity within the building, providing spaces that included a reading room, exhibition gallery, and offices for the School of Architecture.  

In 1999, a committee led by Dean Bruce Abbey selected James Garrison and his firm Garrison Architects to redesign Slocum Hall as a completely reconsidered home for the School of Architecture. In the years that followed, the project was advanced by Interim Dean Arthur McDonald and brought to fruition by Dean Mark Robbins in the summer of 2008.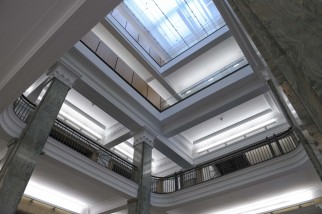 The renovation design went through many iterations, yet in its final form, the intention remains clear: to enhance and restore the building's original qualities while updating it technologically, functionally, and aesthetically. Re-opening the central atrium space and removing sections of the bearing walls allows pathways for natural light and ventilation, increasing the building's energy efficiency.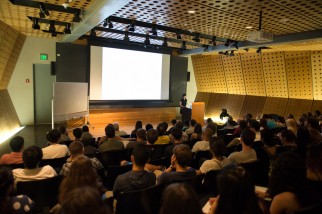 A new auditorium and gallery was inserted within the envelope of the original building, with expanded space for studio, research, and offices.  Review spaces, gallery, reading room, faculty offices, and cafe surround the atrium, providing a setting that encourages interaction between students, faculty, staff, and visitors.  The renovation establishes a set of compelling interventions within the classical revival building that reflects the complex nature of the contemporary study of architecture.