The 26 Syracuse NOMAS students attending the conference were presented with the honor during the weekend's virtual awards ceremony.
Designed to foster communication and camaraderie among the diverse body of students at the School of Architecture, Syracuse NOMAS provides minority students with support in academics, professional matters and services. Social activities, workshops, community services and professional development are all part of the chapter's agenda.
"We aim to create a channel for minorities within the School of Architecture and the professional realm both now and in the future," says Ifeoluwa D. Areogun (B.Arch '22), vice president of Syracuse NOMAS. "The idea is to foster an environment for students to reach their fullest potential in what they deem their area of expertise."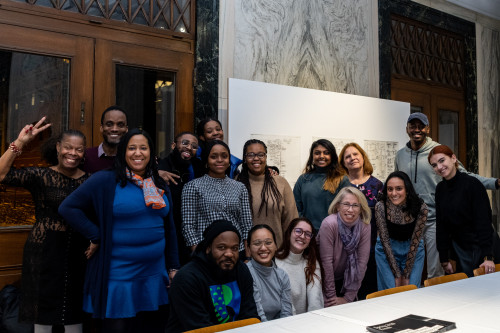 Members of Syracuse NOMAS pose for a photo prior to the start of the Professor Kermit J. Lee Jr. Symposium on February 27 2020Syracuse NOMAS has been very active in recent years. In 2019, the student design team was awarded first place in the Barbara G. Laurie Student Design Competition at the NOMA conference in Brooklyn, New York. In that same year, Benson Joseph (B.Arch '20) and Pin Sangkaeo (B.Arch '22) curated and installed an original display, Homo-Symbiosis, on the first floor of Bird Library. Their creation was donated to McKinley-Brighton Elementary School this past spring, helping to further the organization's community outreach efforts to build a pipeline to the Syracuse City School District.
In February 2020, Syracuse NOMAS planned, organized and executed an exhibition memorializing Professor Emeritus Kermit J. Lee Jr. '57—the first Black graduate of the School of Architecture. Additionally, the group hosted a symposium centered on the diversification of the scope of architecture, featuring School of Architecture alumnae Renee Kemp-Rotan (B.Arch '75) and Tya Winn (B.Arch '09), capping off the celebration of Black History Month.
"I have had the privilege of working closely with the leaders of the Syracuse NOMAS chapter on many school initiatives and projects that showcase their design and organizational skills and overall excellence, and there is little doubt in my mind that these students are the future leaders in our discipline and profession," says Michael Speaks, dean of the School of Architecture. "Our entire school celebrates and appreciates their professional achievements as well as their considerable efforts to advance diversity, equity and inclusion at our school and University."
Members of Syracuse NOMAS have also regularly participated in NOMA's annual conferences, where they have had the opportunity to meet and network with professionals, emerging professionals, entrepreneurs, vendors and other students from across the country and learn more about the impact of current issues in architecture on people of color.
This year's conference, Spatial Shifts: Reclaiming our Cities, brought together architects, designers, academics, urban planners, community developers, artists and students to explore ways to break down barriers to creating meaningful projects, remix the role of the designer and unpack new approaches to the design processes of our built environment.
"The 2019-2020 academic year was great for us," says Darrelle Butler Jr. (M.Arch '21), president of Syracuse NOMAS. "Coming together to win the student design competition is one thing, but to strategically sustain that collective determination in the midst of on- and off-campus racial controversies and a global pandemic, proved our chapter's committed stance of resilience and excellence."
For more information on the Syracuse Orange chapter of NOMAS, contact archnomas@syr.edu.