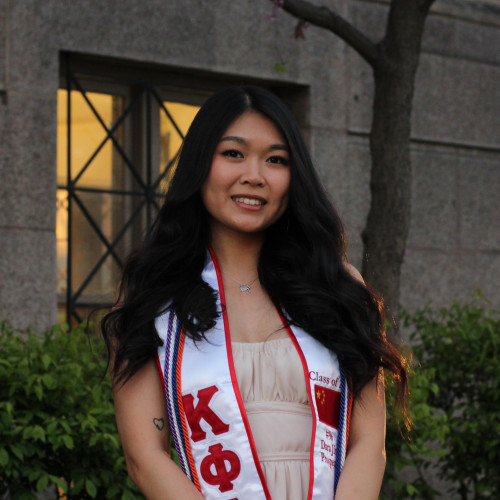 Dara H. Jin '22 (B.Arch)
As the most challenging required component of the Honors curriculum, thesis projects are the culmination of three to four semesters of independent research and professional and creative work by students from across the schools and colleges of the University. Working with a faculty advisor, students design, research and complete a significant project in their major field of study.
The entire thesis requires the development of 'next level' professional and academic skills and must be a particularly high-quality piece of scholarly work, worthy of Honors in the scope of its conception and execution.
Every year, thesis advisors select Honors thesis projects that they deem "prize-worthy", and committees made up of Honors core faculty members meet to determine prize recipients in five categories—the humanities, the creative, the social sciences, the natural sciences and engineering, and the professional.
After evaluating each project nomination, subcommittee members awarded Jin with the Best Thesis Prize in the creative category for her project, "Woven Tensions: Chinatown Contestations."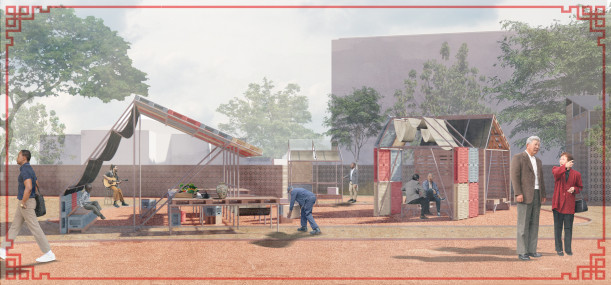 Woven Tensions: Chinatown Contestations"This thesis would not have been possible without the guidance and support of both Professor Joseph Godlewski and my honors reader, Professor Danielle Taana Smith," says Jin. "It's truly an honor to be selected, and to have so many people resonate with the project's aspirations is tremendously gratifying. I look forward to developing the project further in the future."
Executed under the direction of Honors faculty advisor and School of Architecture Associate Professor Joseph Godlewski, Jin's project deals with the tenuous relationship between the residents of Chinatown and Johannesburg, South Africa and proposes an architectural intervention that aims to acknowledge the rift and create a space for open dialogue.
"As a Chinese-American who grew up around Chinatowns, the contestations that Chinatowns globally experience was an important subject that I wanted to shine light on," says Jin.
The project focuses specifically on Cyrildene, a neighborhood in Johannesburg that has become a substantial enclave for Chinese migrants who have integrated themselves into the once affluent suburb. As this new Chinatown has started to form its identity, it has also begun to take on and reshape apartheid architectures that have predated its arrival.
Currently, Cyrildene Chinatown can be seen as an anxious neighborhood where notions of otherness, lack of safety and paranoia often trouble the Chinese. Public space has become a place of hostility and vulnerability.
Through both collaborative design and architecture, Jin's proposal embraces local aesthetics of recombinant and flexible architecture by using the ubiquitous Chinatown feature of the street "stall" and its larger counterpart, the market, as a medium for opening the spatial conversation, creating new zones for gathering and promoting cultural exchange.
The thesis views public space through AbdouMaliq Simone's concept of "people as infrastructure," which describes the remaking of cities through constantly flexible, mobile and provisional space. By defamiliarizing this space, new possibilities and understandings emerge; the stall is reenvisioned not as just a space for physical goods, but for cultural and identity transactions. The stall and the market become new spatial zones for gathering and cultural exchange.
In this project, the architect is the instigator and the people of Cyrildene are the real makers of the space. By providing a framework that then can be adapted, edited and expanded, the thesis proposes a sustainable solution to Cyrildene's contestations.
"Dara is a stellar student, and it was an honor working with her on this brilliantly executed thesis. We share interests in investigating architectural and urban forms in Africa, and her project points to the exciting potentials of a directed research model between faculty and students," says Godlewski.
Jin's thesis was also awarded one of three Britton Memorial Awards at the School of Architecture Graduation Honors Convocation on May 14.
To view the Renée Crown University Honors Program Convocation in its entirety, visit the Syracuse University Commencement weekend website.