The American Institute of Architects New York State (AIA NYS) presented FXFOWLE co-founder Bruce Fowle, FAIA, LEED AP with their highest honor, the 2016 President's Award, at their annual design conference awards dinner, held in Saratoga Springs in September.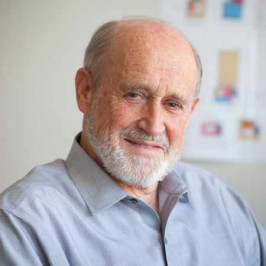 Bruce FowleA 1960 graduate of the Syracuse University School of Architecture, Bruce Fowle was one of the founding members of the school's advisory board and served for more than 25 years, and as chair for many of those years.
The AIA NYS President's Award recognizes outstanding contributions to the profession of architecture by a member architect in education, industry, or government, who, through outstanding efforts of professional competence in nontraditional areas of architectural practice, has demonstrated lasting influence and raised the standards of professional performance and increased the recognition of professional competence by others, and in the professional society at the local, state, or national level.
Written about Fowle when he was presented the award, "Bruce Fowle, FAIA, LEED is distinguished for bringing environmental consciousness to bear in the creation of superb public and private buildings…[for] his exemplary work leading FXFOWLE and for his role in the creation and ongoing activities of New York New Visions."
Bruce Fowle is a distinguished architect, educator, mentor, and social and environmental advocate. His passion for architecture has remained strong since he began working in the field over fifty-five years ago. He believes that architects and designers have a significant role—and more importantly, a responsibility—in creating a more humanistic and sustainable society. He co-founded FXFOWLE in New York City in 1978 on the philosophical basis that architecture must be conscious, and respectful of context and utility while enriching the human experience.
Fowle's projects have won numerous awards from around the world. Notable projects include the Condé Nast Building at 4 Times Square (1999), the nation's first environmentally responsible high-rise building, and a catalyst for the U.S. Green Building Council's LEED rating system; the Syracuse University Whitman School of Management (2006); The Industrial Commercial Bank of China (2000), considered to be the first sustainable building in China; The Helena (2005), the first voluntary LEED Gold certified residential high-rise building in New York City; the revitalization of the Jacob K. Javits Convention Center (2013), to include a 6.5-acre green roof, the largest of its kind in the State of New York; and the Allianz Tower (2015), the first LEED Platinum tower in Turkey. In 2019,a new Statue of Liberty Museum designed by FXFOWLE will open on Liberty Island and feature a green roof and viewing platform overlooking the New York harbor.
In 1996 Syracuse University honored Bruce Fowle with the school's Sargent Professorship, and in 2001 he was awarded the University's prestigious George Arents Pioneer Medal for Excellence. Throughout his professional work and civic and educational involvement, Bruce Fowle continues to be steadfast in his dedication to the mission of sustainability, innovation, and excellence in design.
Says Fowle, "In a world of specialized players, architects and planners are the visionaries who must conduct the orchestra of disciplines that shapes our communities, cities, and regions. Embracing and understanding the bigger, linked aspect of all built forms is essential if we are to consistently design with integrity, meaning, and relevance."