"Scape"
Frances E. Hares Preservation Lecture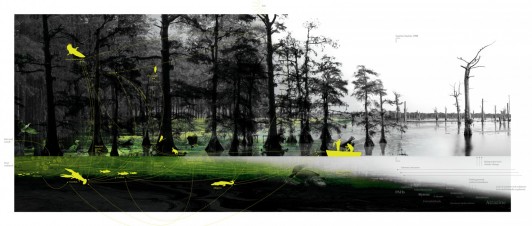 Kate Orff is a registered landscape architect and the founding principal of SCAPE, a landscape architecture and urban design office based in Manhattan. Through her creative leadership of the firm, she explores the cultural and physical complexity of urban landscapes and their unique textures, ecologies, programs and publics. SCAPE's projects range from a 1000 square foot pocket park in Brooklyn, NY, to a 100 acre environmental center in Greenville, SC, to a 1000 acre landfill regeneration project in Dublin, Ireland. SCAPE has exhibited work in the Museum of Modern Art, and the Seoul, Lisbon, and Hong Kong/Shenzhen Biennials.
At the Columbia University Graduate School of Architecture, Planning and Preservation, Kate Orff teaches graduate design studios and interdisciplinary seminars focused on sustainable development, biodiversity, and community-based change.
Orff is the co-author of Petrochemical America (Aperture Foundation, 2012) and co-editor of Gateway: Visions for an Urban National Park (Princeton, 2011). Her essays have appeared in The Great Leap Forward, Waterfront Visions, Volume, Land Forum, and other books and journals.
She was named one of "50 for the Future of Design" by H&G, a Dwell Magazine "Design Leader" and was featured in "Front Runners: 25 Young Designers Leading The Pack" by Azure Magazine. She lectures widely in the U.S. and abroad on the topic of urban landscape and new paradigms of thinking, collaborating and designing for the anthropocene era.

Kate Orff's work has been cited in publications such as the New Yorker, the Economist, the New York Times, and New York Magazine, in addition to architecture and planning publications such as Metropolis, Dwell, Azure, Landscape Architecture Magazine, Harvard Design Magazine, LA China, and many others. She has been interviewed on National Public Radio, Queens Public TV, and the Brian Lehrer Show.

After graduating from the University of Virginia with Distinction, Kate Orff earned a Master in Landscape Architecture from the Graduate School of Design at Harvard. In 1996, she was a member of small research group focused on the urbanization of Pearl River Delta, led by architect Rem Koolhaas, which became the first case study in the internationally recognized Harvard Project on the City. Kate later worked for the planning and landscape architecture firm Hargreaves Associates and for OMA/AMO.