The School of Architecture has announced the addition of Pat O'Brien '94 (B.Arch.) to its advisory board.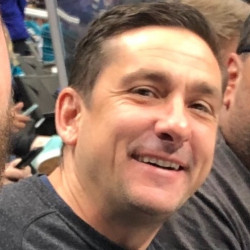 Pat O'Brien '94 (B.Arch.)O'Brien was most recently the Senior Director of Development at Apple Inc. where, over the last 15 years with the company, he led the rollout of over 300 Apple flagship and other stores worldwide.
Passionate about design, construction, craftsmanship, team building and complex problem-solving, O'Brien has built projects throughout Europe, Asia and the Americas. His team of managers, specialists and consultants completed a wide range of projects that received accolades and won awards for building restoration and innovation throughout the world.
Recognizing the importance of investing in higher education, a gift by O'Brien in 2020 established the O'Brien Family Scholarship. Inspired by his own experience as a first-generation student at Syracuse, the scholarship is awarded to undergraduate students enrolled in the School of Architecture with demonstrated financial need, with preference to students from a single-parent household.
"I've admired how Syracuse Architecture has developed over the years and am happy to play a small part in guiding its future," says O'Brien.
As an architecture alumnus with a non-traditional career background, O'Brien often connects with current and future students who are eager to learn more about retail design through the School's alumni mentoring network.
"We are delighted to welcome Pat to the School's advisory board," says Michael Speaks, dean of the School of Architecture. "His commitment to our school is unwavering and his passion for scholarship will support Syracuse Architecture students for generations."
"I'm thrilled to join the School of Architecture's Advisory Board," says O'Brien. To work alongside an incredible dean, faculty, staff and students is an honor and I'm very grateful for the opportunity."
O'Brien graduated from Syracuse University in 1994 with a Bachelor of Architecture degree from the School of Architecture. After graduation, he worked for several retailers and architectural firms, both designing and building retail stores. He is a registered architect in New York and Tennessee and holds an MBA in Finance from Fordham University.
O'Brien currently resides in San Jose, California with his wife and two children. In his free time, He enjoys the outdoors, his beloved 1976 Ford Bronco and spending time with his family.