As part of several new research initiatives by the Lender Center to accelerate efforts to address the racial wealth gap and help dismantle the root causes of wealth disparity, the funded proposals—supported by the competitively awarded grant—provide support to scholars with new or ongoing research projects that relate to the causes, consequences and solutions on the problem of ever-expanding economic and social inequality.
The architecture team's research project, "Closing the Racial Wealth Gap through Environmental Justice and Participatory Design," intends to identify ways that the built environment can have a positive impact on basic life needs that are typically neglected in underprivileged communities, which include communities of color, low-income, disability, the elderly and immigrant populations. Through three phases—data analysis and design research, curricular implementation and impact and transferability—the team hopes to better understand the entrenched systems (policy, municipal, zoning, etc.) that have created and exacerbated racial wealth gaps.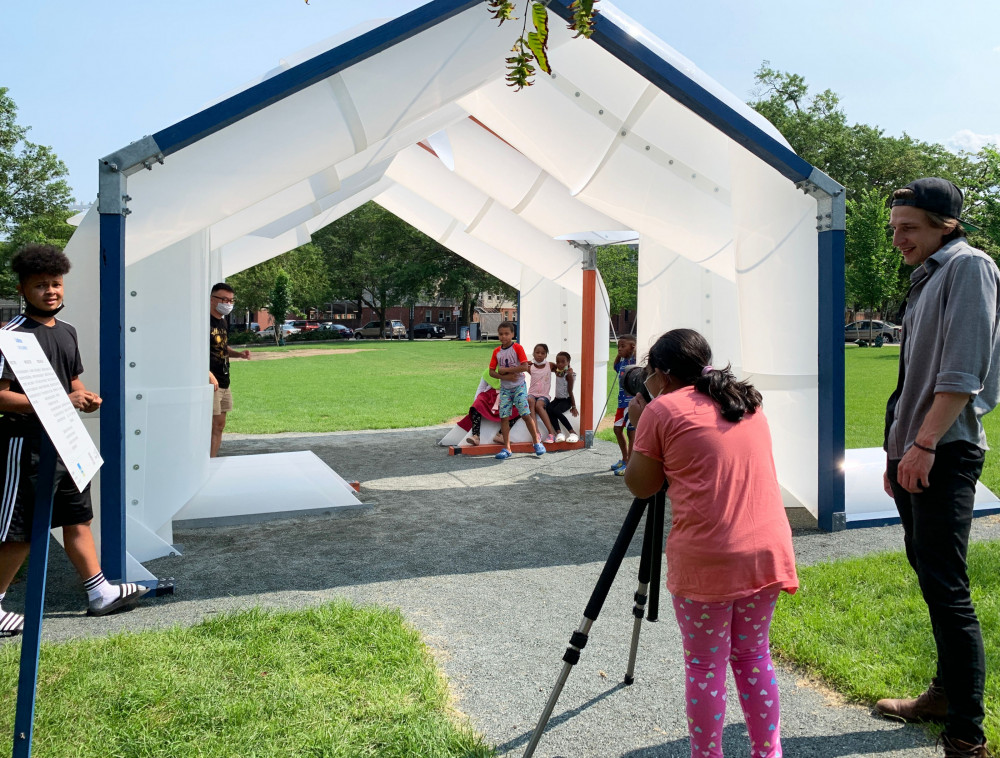 CloudHouse Shade Structure, a temporary pavilion designed by Iman Fayyad in collaboration with the City of Cambridge in 2021, provided a space for respite in a park frequented by nearby daycare and school children as well as public housing residents in a low-income neighborhood in Cambridge, Massachusetts. (Photo by Iman Fayyad)With this knowledge, their project intends to engage communities through design technologies using Building Information Modeling (BIM) and other participatory tools to create opportunities for exchange, participation and co-production of knowledge to empower communities to have a voice into what is modeled and built within their local environments.
"The highlight of this project is its focus on participatory planning, a challenge that we will address through both technology and design, merging disciplines and expertise," says Abu-Hamdi, principal investigator (PI) for the project. "The Lender Center is supporting our growing roster of faculty engaged in community-facing research, allowing us to become further recognized as a reliable partner to local communities, demonstrating the value of design in relation to ongoing economic, infrastructural, social and spatial challenges."
In phase one of the team's project, design strategies centered around environmental justice concerns such as urban heat islands and shade, accessibility/universal design and building construction technologies, will be developed to address how inadequate physical infrastructure, specifically with regard to design and construction, has historically excluded members of minority communities from participating in the construction, selection and design of community facilities, municipal resources and public recreation. In this way, communities, policymakers and planners can better understand the conditions that generated current developmental problems and the potential interventions that could reverse detrimental effects through design.
"There is a lot of opportunity to push our own disciplines in service of climate justice, sustainable building practices and community involvement," says Fayyad, co-PI for the project. "Through our combined efforts with research, practice and teaching, we can consider how to make public spaces healthier, more accessible and equitable, and importantly, explore how design can empower communities by providing aesthetic value as well as functional, efficient and necessary infrastructure to improve the livelihoods of marginalized populations."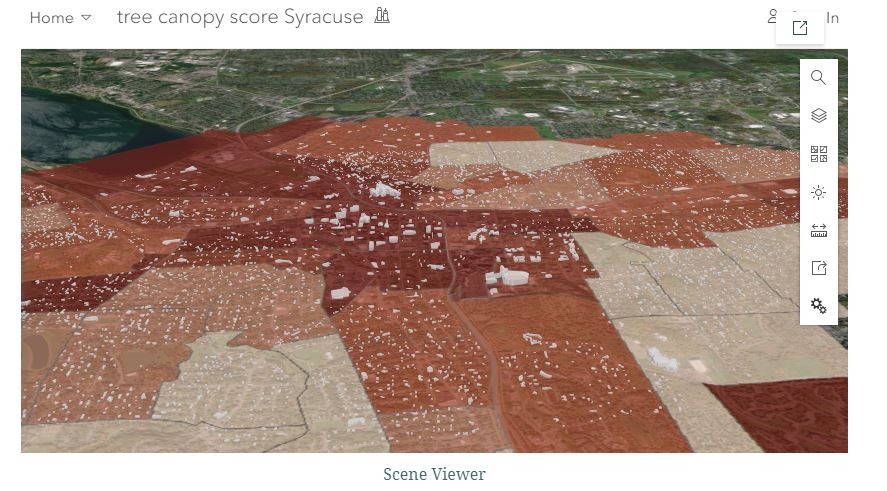 Tree Canopy Score in Syracuse, New York (Rendering by Daniel Cronan)Site-specific implementation is another primary goal of the first year of funding and phase two of the project. The team plans to create and prepare content for curricular development of a studio course jointly led by faculty at the Syracuse University School of Architecture and SUNY-ESF in which students will research, design, develop and build proposals for public infrastructure for select communities in the City of Syracuse. To propose the curriculum, the team will develop design research over the next year as "products" (tools and techniques) that students will use as part of the course.
"We see this endeavor as a great challenge and hope to expand the scope of this year's research focus to provide transferable skills, frameworks and expanded resources to build awareness and resilience within these communities," says Cronan, co-PI for the project.
In the third phase of the project, the team will assess the applicability of their research and development of the BIM platform, as a digital twin, for broader purposes and for a variety of sites—rural, urban, large or small. This interface, and the site-specific design interventions that can be realized, are key to community empowerment in any location, to serve any variety of community needs. Through the BIM application and design proposals (both in the form of a built prototype and further speculative variations), the team's co-production framework of analysis and design will allow for transferability to future research applied to communities with similar concerns and further research beyond the applied case study for Syracuse.
"We are grateful to the Lender Center for providing this opportunity for us to evolve our research and for supporting efforts on campus to connect with our immediate communities in Syracuse as well as address greater systemic issues across the United States," says the team.
The team will present their collected data, built proposal and speculative future proposals at the annual Lender Center for Social Justice Symposiums, jointly hosted by SUNY-ESF and Syracuse faculty and students, in March 2024 and March 2025. For more information about the Lender Center for Social Justice's programmatic initiative to explore the racial wealth gap in the United States, visit lendercenter.syr.edu/racial-wealth-gap.