Amreeta Verma has been named one of the 12 University Scholars, the highest undergraduate honor the University bestows.
University Scholars are selected each year by a Universitywide faculty committee using criteria that include coursework and academic achievement, independent research and creative work, evidence of intellectual growth or innovation in their disciplinary field, a personal statement and faculty letters of recommendation.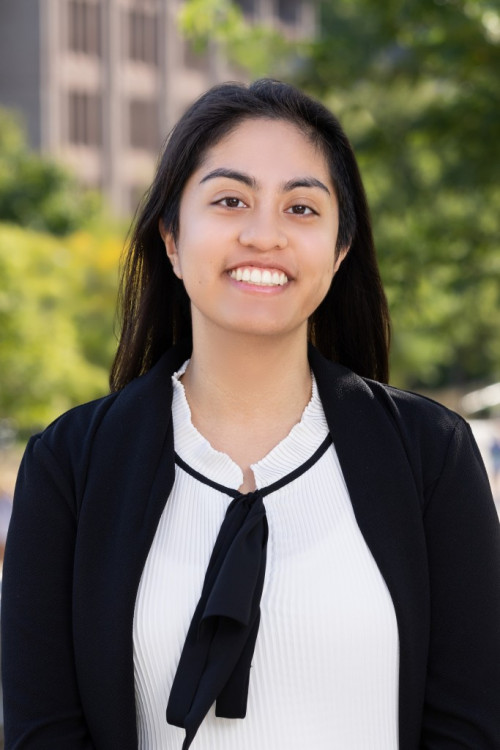 Amreeta Verma '23 (B.Arch.)Amreeta Verma '23 (B.Arch.) is a fifth-year Bachelor of Architecture degree candidate with minors in Visual Culture and Environment and Society. She is also a Remembrance Scholar and has been selected to represent the School of Architecture as a Class Marshal during Commencement 2023.
While at Syracuse, Verma has served the architecture community as an Architecture Ambassador, a member of the Student Mentor Squad, and as an undergraduate teaching assistant. She is an active member of several student organizations including Women in Design, Architecture Student Organization, and National Organization of Minority Architecture Students (NOMAS), in which she serves as president.
Verma has been awarded two research grants from the Syracuse Office of Undergraduate Research and Creative Engagement (The SOURCE) to study sustainable soil construction methods and the environmental impact of material sourcing. Outside of architecture, she is a Global Ambassador for Syracuse Abroad's Florence program and a member of the Phi Beta Delta International Honor Society.
"Being selected as a University Scholar is an incredible honor. I am very grateful for the mentorship and support I've received that has made my success possible and I am a strong believer in paying that forward to help others," says Verma. "During my time at Syracuse University, I have worked to use design to uplift minority voices and support marginalized communities to design equitable and sustainable spaces. As an emerging professional, I will continue to encourage others to share their skills and knowledge to support those around them and make a positive impact on their communities."
After graduation, Verma will be attending the University of Pennsylvania to pursue a Master of Science degree in Design with a concentration in Advanced Architectural Design (MSD – AAD).
Congratulations, Amreeta!
To view all the University Scholars selected for 2023, visit news.syr.edu/blog/2023/04/11/12-seniors-named-as-2023-university-scholars/.