The School of Architecture has announced that designer and researcher Christina Chi Zhang is the Harry der Boghosian Fellow for 2023–24.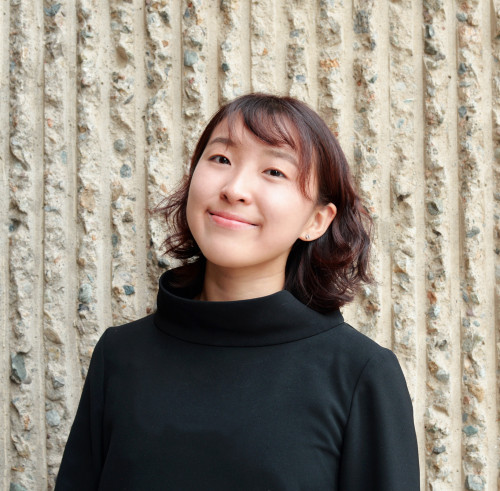 Christina Chi ZhangZhang will succeed current fellow Assistant Professor Lily Chishan Wong.
The Boghosian Fellowship at the School of Architecture—established in early 2015 in memory of Harry der Boghosian '54 by his sister Paula der Boghosian '64—is a one-of-a-kind program designed to give faculty members, early in their careers, the opportunity to spend a year developing a body of design research based on an area of interest while teaching at the School of Architecture.
Fellows play a significant role at the school by enhancing student instruction and faculty discourse while supporting both research and the development of research-related curriculum valuable to architectural education and the discipline.
"Christina Zhang's research uses architecture to frame, analyze and intervene in areas often thought outside the purview of professional and academic practice," says Michael Speaks, dean of the School of Architecture. "Her proposal, submitted as part of the fellowship application, is powerful, provocative and timely because it reframes precisely what it means to study and practice architecture. We are so thrilled to welcome her and look forward to working with her this next year."
During the 2023–24 school year, Zhang will teach an architecture studio and two professional electives focusing on her research project, "Scales of Healing in Post-Traumatic Landscapes" that explores the tools of representation used to document, analyze and represent post-traumatic landscapes in different scales.
Zhang's research trajectory will explore the limits and implications of photography, cartography, drawing and virtual reality, and discuss the powers of documenting individual narratives, archiving evidence and synthesizing different levels of information through drawing and re-imagining a speculative landscape.
To create a broader conversation with students about ongoing wars and conflicts, Zhang plans to extend the geographical focus of her previous independent research and discuss other post-traumatic landscapes of students' interests.
"Through these explorations and discussions, we should ultimately be able to understand, engage and find our place in ongoing social-political issues as architects," says Zhang, whose goal is to become a compassionate architect who cares about and designs for people.
Like the seven previous Boghosian Fellows, Zhang will work closely not only with faculty and students at the School of Architecture but will also explore interdisciplinary collaborations within the University and its various centers and colleges. Her research will culminate in the form of an exhibition and interdisciplinary symposium exploring issues of memory, reconstruction and resilience in post-conflict landscapes and societies in the contemporary world and tools to talk about them as architects.
Zhang is currently completing the last year of her master of architecture degree program at the Yale School of Architecture where she served as a teaching fellow for two graduate studio courses and two undergraduate courses.
During the 2021–22 academic year, Zhang was awarded the George Nelson Travel Scholarship, which supported her year-long trip and research inquiry into post-atrocity reconstruction in Bosnia and Rwanda, resulting in her 2022 exhibition, "Thank You for Loving Me till the End: Life, Memory and Reconstruction in Post-Atrocity Bosnia and Rwanda at Yale's North Gallery. In this exhibition, Zhang explored trauma, memory and reconstruction through remediation, restoration, map-making and a virtual reality landscape installation created based on interviews with survivors of genocides and wars.
Zhang holds a bachelor of arts degree from Yale University where she was awarded the Louis Sudler Prize in the Arts in 2017 for her practice in humanistic architecture. While at Yale, Zhang received the Race, Indigeneity and Transnational Migration Research Travel Award (RITM) to work and research in the Kakuma Refugee Camp in Kenya. During her time in Kakuma, she co-founded a non-profit organization, International Development in Action, through which she initiated and directed the construction of a refugee-run adult learning center. The curriculums are now managed and taught by refugee leaders, offering literacy, business and reproductive health programs.
From 2016–17, Zhang organized and co-directed an interdisciplinary competition, Place and Displacement to encourage collaboration between architects and policymakers and envision new responses to the global refugee crisis based on autonomy and resilience. The subsequent symposium, "Reform Refugee Responses," was hosted in collaboration with Yale University, New York University and the United Nations in New York City.
Zhang has practiced architecture professionally at EFFEKT Arkitekter in Copenhagen; Studio MM Architect in New York City; Turner Brooks Architect in New Haven; and Atelier Deshaus in Shanghai. Together with teammates Joshua Tan and Claire Hicks, she won the first prize in the Home for the Blind international architecture competition organized by Bee Breeders in 2022.
"I am honored to join the community and look forward to together exploring memory, life and recovery in post-traumatic societies, a relevant and urgent topic today," says Zhang. "The Boghosian Fellowship offers an amazing opportunity to work with a diverse, intelligent and brave student body that is eager to engage and challenge. Through teaching and research, I am excited to envision and experiment with ways to heal, care and create in today's world."
For more information about Christina Chi Zhang and her work, visit christina-zhang.com.
The Boghosian Fellowship has helped the School of Architecture attract the best and the brightest emerging professors. Previous fellows include Maya Alam (2016–17), Linda Zhang (2017–18), James Leng (2018–19), Benjamin Vanmuysen (2019–20), Liang Wang (2020–21), Leen Katrib (2021–22) and Lily Chishan Wong (2022–23).
To learn more about the Harry der Boghosian Fellowship, visit the School of Architecture's website.