The American Institute of Architects (AIA) recently elevated 73 member-architects and three honorary international members, including one School of Architecture alumnus, to its prestigious College of Fellows.
Christian Sottile G'99 (M.Arch. II) has received this prestigious honor in recognition of his notable contributions to the advancement of the profession of architecture.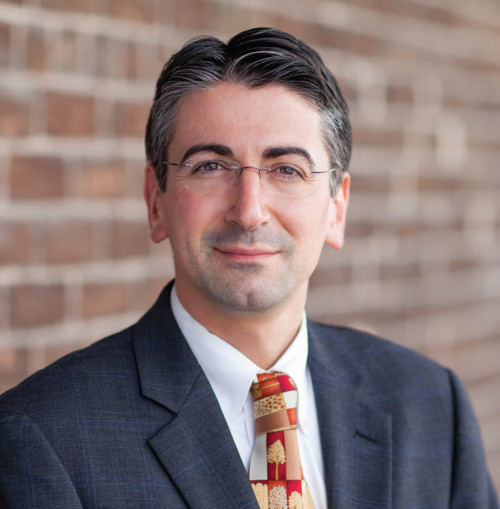 Christian Sottile G'99 (M.Arch. II)Election to the AIA's College of Fellows is one of the highest individual honors the institute bestows on members. Out of a total AIA membership of more than 96,000, only 3% carry this distinction.
The elevation to fellowship is conferred on architects with at least 10 years of AIA membership and demonstrated influence in at least one of the following nomination categories: promoted the aesthetic, scientific and practical efficiency of the profession; advanced the science and art of planning and building by advancing the standards of practice; coordinated the building industry and the profession of architecture; ensured the advancement of the living standards of people through their improved environment; made the profession of ever-increasing service to society; advanced the science and art of planning and building by advancing the standards of architectural education and training.
Fellows are selected by a seven-member Jury of Fellows. This year's jury included Chair RK Stewart, FAIA, RK Stewart Consultants; Carl D'Silva, FAIA, Perkins + Will; Lisa Lamkin, FAIA, Brown Reynolds Watford Architects, Inc.; Rebecca Lewis, FAIA, DSGW Architects; Pamela Rew, FAIA, KSS Architects; Anne Schopf, FAIA, Mahlum; and Allison Williams, FAIA, AGWms_studio.
"Election to the AIA College of Fellows is among the most significant forms of recognition in our profession and we are thrilled to celebrate Christian's appointment to this distinguished group of architects," says Michael Speaks, dean of the School of Architecture. "Christian joins so many of our alumni who are acknowledged for their professional achievements through AIA, a true testament to the education they received at Syracuse Architecture."
Sottile, FAIA, NCARB, is principal of Sottile & Sottile, a Savannah-based urban design and architectural firm working extensively in Nationally Registered Historic Districts. His work includes civic design and master planning, emphasizing historic research, urban analysis, and communitywide engagement.
Trained under the guidance of renowned master architect John C. LeBey, FAIA, Sottile learned that Savannah, much like his native Florence, Italy, is an unlimited environment: a humane and universal context for discovery, connection and progress. For the past three decades, Savannah has formed the backdrop of Sottile's professional and personal life, a home for his practice and a foothold for his work in the world. Across his portfolio of projects, he applies timeless principles and modern science to approach urban design from a regenerative perspective, evolving the city while protecting and respecting its rich history.
Concurrently with his professional practice, Sottile is a professor of architecture and urban design at the Savannah College of Art and Design (SCAD) and is the former dean of the SCAD School of Building Arts, where he led the graduate and undergraduate programs in architecture, architectural history, preservation design, interior design, furniture design, and urban design.
Sottile has taught architecture courses and served in academic leadership roles at the SCAD for more than 20 years. He regularly leads student delegations to AIA national conferences; he hosted a pioneering national AIAS Forum fully integrated into the urban fabric of Savannah and he worked closely with NCARB to develop an inclusive, progressive Integrated Path to Architectural Licensure.
Sottile has been distinguished with the 2014 National Young Architect Award from the American Institute of Architects and has received more than 50 awards for his work, including three international Charter Awards from the Congress for the New Urbanism, awards from the American Planning Association, the National Trust for Historic Preservation, three National Honor Awards from the AIA, and the 2021 Global Award for Excellence from the Urban Land Institute. USA Today named him one of the top 100 academics in the nation. Sottile's work has been featured in The New York Times, Preservation Magazine, Architect Magazine and Architectural Digest. He has lectured for the National Endowment for the Humanities, the American Planning Association and the Urban Land Institute.
"This milestone has provided both opportunities to reflect, and to focus new energies on the opportunities ahead—providing support and mentorship to the next generation," says Sottile.
Sottile holds a master of architecture degree from SCAD's School of Building Arts, graduating as valedictorian. After spending two years researching urban design in Florence, he completed work on his master's of architecture and urban design at Syracuse University.
For more information on the College of Fellows or to view the complete list of newly elevated architect fellows, visit aia.org/college-of-fellows.