For Bernie Armstrong '85 (B.Arch) the time he spent studying abroad in Florence with the School of Architecture changed his life, including bringing him back to Europe to live and raise a family.
"Florence holds a place dear to my heart as my spouse Armelle and I were engaged on the top of the Campanile and married in the hills overlooking the city," says Armstrong.
His experiences at Syracuse's campus in Piazza Savonarola opened his eyes to other ways of exploring education— including studying the rich urban context of Italian cities as classrooms themselves—and now Armstrong is helping to launch a wider effort to create needs-based scholarships for School of Architecture students to study internationally.
Inspired by his study abroad experiences and in celebration of the School of Architecture's 150th anniversary, Armstrong recently established the School of Architecture 150 Global Study Endowed Scholarship at Syracuse University. The scholarship will be used to provide financial assistance to third- or fourth-year undergraduate students enrolled in the School of Architecture, with preference to students who are participating in a study abroad program in Florence, Italy.
"I had studied the Renaissance treasures of Florence in architectural history classes back in Slocum Hall, but until one walks the streets and breathes the odors, one cannot fully appreciate the richness of Florence," says Armstrong. "My inspiration is simply to try to make this available to all students so that they too have an opportunity."
"Bernie Armstrong has been and continues to be a strong supporter of the school," says Michael Speaks, dean of the School of Architecture. "And with the 150 Global Study Endowed Scholarship he and Armelle have come full circle and made it possible for Syracuse Architecture students to study in Florence and be inspired by its history and architectural treasures just as Bernie was when he was a student there."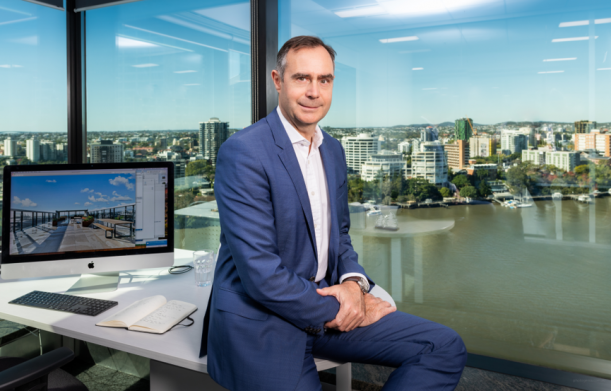 Bernie Armstrong '85 (B.Arch)Armstrong is the Chief Executive Officer for Cedar Pacific Investment Management, a student accommodation provider founded by Pamoja Capital and headquartered in Australia. He is dedicated to leading Cedar Pacific, as it becomes the most sought-after fund manager in Australia and New Zealand, and is passionate about creating positive investment opportunities whilst ensuring that social and environmental factors are considered.
Prior to joining Pamoja Capital, Armstrong was a managing director with Credit Suisse where he headed the family office business in Europe and the Middle East. He has built investment advisory and trading businesses in Europe for Chase Manhattan Bank and HSBC and has also worked at Goldman Sachs. Before embarking on a career in finance, Armstrong worked as an architect for Skidmore, Owings & Merrill in New York. Projects where he took a management role include the headquarters for Merrill Lynch at the World Financial Center, the headquarters for Salomon Brothers at the WTC and a series of housing-for-the-homeless projects for New York City.
Armstrong holds a bachelor of architecture degree from Syracuse University and an MBA in finance and marketing from Northwestern University and sits on the European Council of Syracuse University.
Make your gift to the School of Architecture 150 Global Study Endowed Scholarship and help Syracuse Architecture students realize their global experience today.
About Syracuse University
Syracuse University is a private research university that advances knowledge across disciplines to drive breakthrough discoveries and breakout leadership. Our collection of 13 schools and colleges with over 200 customizable majors closes the gap between education and action, so students can take on the world. In and beyond the classroom, we connect people, perspectives and practices to solve interconnected challenges with interdisciplinary approaches. Together, we're a powerful community that moves ideas, individuals and impact beyond what's possible.
About Forever Orange: The Campaign for Syracuse University
Orange isn't just our color. It's our promise to leave the world better than we found it. Forever Orange: The Campaign for Syracuse University is poised to do just that. Fueled by 150 years of fearless firsts, together we can enhance academic excellence, transform the student experience and expand unique opportunities for learning and growth. Forever Orange endeavors to raise $1.5 billion in philanthropic support, inspire 125,000 individual donors to participate in the campaign, and actively engage one in five alumni in the life of the University. Now is the time to show the world what Orange can do. Visit foreverorange.syr.edu to learn more.