This spring, the School of Architecture will launch the inaugural Patrick Ahearn Workshops, a series of short courses meant to augment and enhance the school's academic course offerings.
Each semester, practicing architects, graphic designers, engineers, brand strategists and others will work with architecture students to complete short design and other exercises.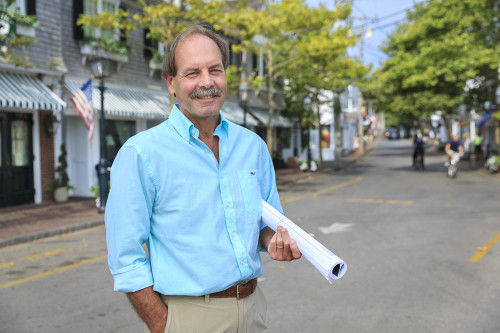 Patrick Ahearn '73, G'73 Credit: Randi Baird PhotographyThe workshops are made possible by a gift from Patrick Ahearn '73, G'73—a School of Architecture alumnus, member of the school's advisory board and a member of the University's Board of Trustees—that created the Patrick Ahearn Workshops in Professional Practice Fund. The gift is part of the University's Forever Orange campaign.
As a student at the school, Ahearn participated in a similar series of workshops with practicing architects, which had a powerful impact on him and on the career path he would choose after graduation. As a result of that experience, Ahearn wanted to provide current architecture students with similar opportunities to work with professionals in architecture and related fields, especially business.
"Patrick Ahearn is not only among the most important residential architects working today in the U.S., but he is also a brilliant urban designer and business strategist. And his interests and expertise extend beyond architecture and planning to automobile and other design practices," says Michael Speaks, dean of the School of Architecture. "Patrick is a great architect. But it is this range of design-related interests, including business strategy, that have distinguished him from his peers and made him such an important and influential architect."
Each semester, the School of Architecture will host up to three Patrick Ahearn Workshops.
From Feb. 11–14, Marlon Blackwell G'93 (M.Arch.), will lead a workshop for graduate students at the School of Architecture. They will study archetypal elements that form the basis for a series of investigations that transforms conventional expectations through hybridization, recombination, morphological mutation, occupation and experiential speculation. Blackwell will also give a public lecture in Slocum Hall on Feb. 10.
From Feb. 28–March 4, Gary Bates and Albert Williamson-Taylor will lead a workshop for School of Architecture students enrolled in this spring's ARC 409: Integrated Design Studio course. Through themed group sessions and mini-talks, students will navigate the front between engineering and architecture and become empowered about clear strategies for performative, responsive, intelligent and impactful architecture. Bates and Williamson-Taylor will also give an interdisciplinary public lecture in Slocum Hall on March 3, where the discussion will be moderated by School of Architecture Associate Professor Sinéad Mac Namara, associate dean for student affairs in the College of Engineering and Computer Science.
On March 26 and 27, Yanel de Angel Salas '99 (B.Arch.) and Carolyn Cooney will lead a workshop for School of Architecture student organization representatives about leadership in the design profession. De Angel Salas and Cooney will also give a public lecture in Slocum Hall on March 25.
"It is my distinct pleasure to provide Syracuse University School of Architecture students with the insight and the tools to become 'the most important person in the room,' regarding the built environment process," says Ahearn. "These workshops will open the doors for students to learn and develop the skills needed as architects in the real world to become leaders in the development process, and will provide them with a rich understanding of the skills required to be successful in the business of architectural practice."
Previously, Ahearn established the Patrick J. Ahearn Endowed Scholarship Fund at the School of Architecture, given each year to an architecture student, with preference given to those from Levittown, N.Y., or Boston, Mass. Ahearn serves on the University's Boston Regional Council, which is made up of University alumni and parents dedicated to raising the profile of the school within the region. He also established the Patrick J. Ahearn Special Initiatives Fund at the School of Architecture to help support key activities in critical areas and assist the dean in developing special projects and events to raise the school's national and international profile.
Ahearn—a fellow of the prestigious American Institute of Architects—is the founding principal of Patrick Ahearn Architect LLC. His firm specializes in historically motivated architecture and interior design. For nearly five decades, he has designed and built residential projects distinguished by finely crafted and detailed work spanning classic styles of architecture from city town houses to island homes.
He is author of "Timeless: Classic American Architecture for Contemporary Living" (ORO Editions, 2018), which features 18 Ahearn-designed homes and explains how he adapts and applies philosophy's greater-good theory to each of his projects.
In 2014, Ahearn was named the Dean's Outstanding Alumnus, an award given by the School of Architecture annually to a graduate who has exhibited dedication to the school while also practicing at the highest levels of the architecture discipline. He was inducted into the New England Design Hall of Fame in November 2013.
To make a gift to support the Patrick Ahearn Workshops in Professional Practice Fund, visit go.syr.edu/soa/give.