Beginning Fall 2021, first-year undergraduate architecture students have a new on-campus housing option. The School of Architecture, in collaboration with the Office of Learning Communities, has created an Architecture Living Learning Community (LLC) on the second floor of Shaw Hall, near Slocum Hall.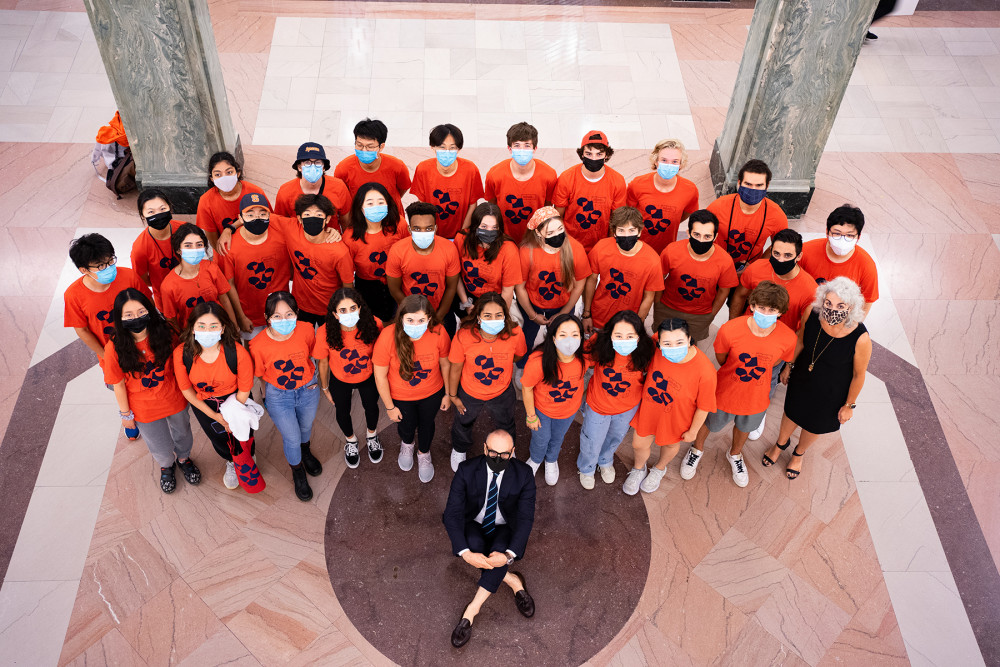 Architecture Living Learning Community students with Dean Michael Speaks (sitting) and Assistant Dean for Enrollment Management Vittoria Buccina (standing, far right). Photo credit: Shengxuan Yu '24 Credit: Photo credit: Shengxuan Yu '24The University offers more than 20 living learning communities where students who share a common major or academic affiliation live together in a residence hall, have intentional faculty support and engage in academic and social experiences on and off campus.
During the housing selection process, more than 60 students indicated their interest in the new Architecture LLC through their residence application. In its pilot year, 38 students from the United States and around the world—China, Kenya, Republic of Korea, Poland and the United Arab Emirates—were selected to participate in this distinctive living experience.
"I chose the Architecture LLC because I want to be immersed with other students in my class that share the same passion I have towards architecture," says Christopher Stoumpas '26.
Vittoria Buccina, assistant dean for enrollment management at the School of Architecture, will oversee the Architecture LLC as its director, helping students engage with architecture faculty crucial to the development of their professional network and academic success; explore course concepts through field trips, career services workshops, and visiting critic meet and greets; and join other Architecture LLC students and peer advisors in events and activities.
"The School of Architecture has explored the possibility of creating a living learning community for a number of years and, with the guidance of Michael Speaks, dean of the School of Architecture, and Dan Cutler, director of learning communities, we were able to establish this new partnership," says Buccina. "I am excited to be a part of the team and to watch this community grow."
Fernando Vidal Claudio '22  was selected as this year's Architecture Living Learning Community Resident Advisor (LLCRA). As a fifth-year architecture student and former Resident Advisor (RA), Vidal Claudio brings with him a wide range of expertise about the School of Architecture and Syracuse University. From planning programs, interacting with faculty and helping students successfully transition to the University, his impact on Architecture LLC students will be profound.
"I am honored to be this year's Architecture LLCRA," says Vidal Claudio. "I'm quite a veteran when it comes to RA-student interactions. More than a friend, my role should be a mentor, a helpful guide, so that students have the best experience and knowledge of the University and architecture life."
"As an incoming student, I'm concerned about figuring out how to adjust to campus life," says Sukanya Handique '26. "I am looking forward to meeting new people through the Architecture LLC and creating exciting memories."
New students interested in the Architecture Living Learning Community can learn more by visiting the Learning Communities website or contacting Vittoria Buccina at vabuccin@syr.edu.