Each semester, upper-level architecture students participate in the visiting critic program that brings leading architects and scholars from around the world to the school. Four studios will be held on campus.
The School of Architecture is also offering third-year undergraduate architecture students living in China the chance to enroll in one of two residential visiting critic studios, located in Beijing and Shanghai, being taught by some of China's leading young architect-designers.
Liang Wang (Boghosian Fellow 2020–21)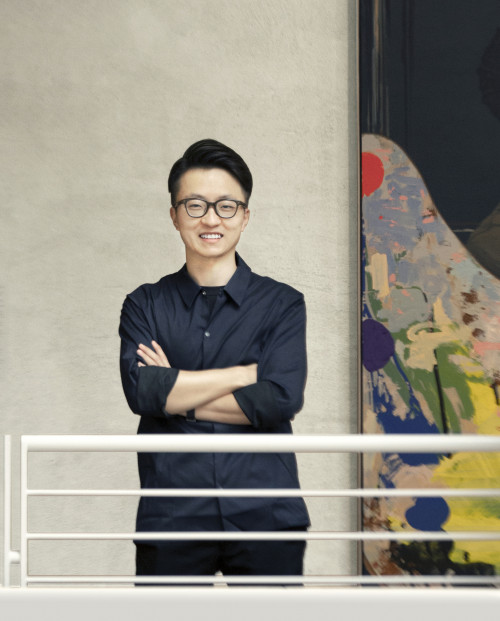 Liang Wang Credit: Cherelle Champfleur. 2019 All Rights Reserved.Architect and urban designer Liang Wang will teach the visiting critic studio, "The Superblock for Almost Everything: Re-imagining Domestic and Collective Living in the Age of Enclosure," which will primarily engage the Superblock—an urban typology that originated as a spatial rationalization with an underlying social vision of collectiveness and equity, and one that was later largely appropriated by the mass industrialization and sophisticated forms of capitalist development, segregation and enclosure. By interrogating the concept of the Superblock in the re-imagination of both domestic and collective living of our time and the near future, students will work on interlinked conceptual projects at their respective operative scales: the domestic boundaries of one's own room and the communal (re)productions of architecture and its urban block. Students' responses will be framed by the long-lasting relationship between the discursive lineage of domestic and collective living spaces and the capitalist modes of socio-spatial production and informed by the drastically changing constituencies of living and working brought by the global pandemic. This studio charts the Superblock not only as a conceptual abstraction for multi-scalar, socio-spatial organizations, but also as a project of the city that embodies political and cultural imaginations. It represents the attempt, both literally and metaphorically, to speculate alternative forms, relationships and practices in constructing the commons of our city today—one that is more just, inclusive and creative.
Wang came to Syracuse Architecture in fall 2020 as the school's fifth Harry der Boghosian Fellow. Before joining Syracuse University, he was a doctor of design candidate and previously a teaching fellow at the Harvard Graduate School of Design (GSD), where his scholarship and teaching concerned history and theory of urban form, space and politics of the superblock development, as well as architecture and the idea of the city in East Asia. Wang completed his master's of architecture in urban design degree with distinction from Harvard GSD. He also holds a master's of architecture degree from Rice University and a bachelor's of architecture degree from Harbin Institute of Technology in China. In addition to his academic experiences, Wang is the co-founder of Commons Office, a creative think tank and a research-minded design practice based in Boston and Shanghai. Prior to founding Commons Office, he practiced architecture internationally at Herzog & de Meuron in Basel; Skidmore, Owings & Merrill in New York; Bjarke Ingels Group in Copenhagen; WW Architecture in Houston; and Atelier Liu Yuyang Architects in Shanghai.
Wang's fellowship research will culminate May 5 in the form of an online symposium, "Superblock and the Idea of the City."
Karolina Czeczek and Adam Frampton (Only If)
Karolina Czeczek and Adam Frampton will teach the visiting critic studio, "Beyond the 98th Meridian," which set in the sparsely populated, semi-arid Great Plains region of the United States will revisit the radical and controversial 1987 proposal of the Buffalo Commons imagined by Deborah and Frank Popper to create the world's largest ecological park.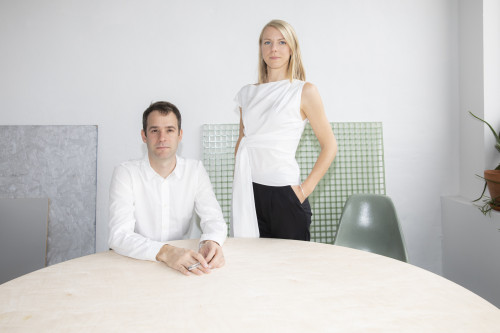 Adam Frampton and Karolina Czeczek Credit: Photo: Anna MorgowiczThe Buffalo Commons entails a territory where land is de-privatized and re-wilded following overgrazing, the failure of industrial agriculture and the exhaustion of soil and water resources. In order to speculate on the future landscape, geographic footprint and architecture of human occupation (or non-occupation) in this rural territory in a changing climate, the studio will examine existing architectural instances and landscapes produced at intersections between artificial and natural systems within the region. Working through a sequence of scales of design, the studio will critically investigate the relative autonomy or expanded field of the disciplines of architecture, urbanism and landscape architecture. In this investigation, and in the consideration of possibilities for interdisciplinary translations of techniques, forms and materials, the studio will envision design practices for a new form of nature.
Czeczek is an architect and principal of Only If, a New York City-based design practice for architecture and urbanism. She is currently a critic at the Yale University School of Architecture and a lecturer at the University of Pennsylvania Stuart Weitzman School of Design. Czeczek has previously taught as a visiting professor at the University of Cincinnati College of Design, Architecture, Art, and Planning, and as an assistant professor at the University of Cincinnati and the University of Kentucky College of Design. She is a Fulbright Scholar who holds two master's degrees in architecture and urban design from Yale University and the Cracow University of Technology and is a recipient of the Winchester Travel Fellowship—the highest award given annually to a graduate across all Yale School of Architecture programs. Czeczek's independent research on Warsaw's public pools and proposal to revitalize Skra Sports Complex was a finalist for the 2015 "Praktyka" scholarship program for young architects in Poland. She previously worked at the Office for Metropolitan Architecture (OMA) from 2010-13 in Rotterdam and Hong Kong, where she was involved in architectural and urban scale projects in the Netherlands, Denmark, Australia, China, Egypt and Morocco.
Frampton is an architect and principal of Only If. Since 2013, he has been an adjunct assistant professor at the Graduate School of Architecture, Planning and Preservation at Columbia University (GSAPP) and, in 2020, he taught as a visiting assistant professor at the University of Kentucky College of Design. Frampton is the co-author of "Cities Without Ground" (2012), which maps Hong Kong's three-dimensional networks of pedestrian circulation and public space. His work and research have been exhibited in the 12th, 14th and 16th Venice Architecture Biennale, the Museum of Modern Art, Storefront for Art and Architecture, the Center for Architecture and the Van Alen Institute in New York City. Previously, Frampton worked as an associate at OMA from 2006-13 in Rotterdam and Hong Kong, where he was involved in more than 20 projects and responsible for leading teams producing architectural and urban designs in China, Taiwan, Saudi Arabia, the United Arab Emirates, Bahrain and India. Most significantly, Frampton worked on OMA's competition-winning design of the Taipei Performing Arts Center from 2008–13 and led several phases of its design and construction. He holds a master's of architecture degree from Princeton University and is a registered architect in the United States and the Netherlands.
Czeczek and Frampton will give an online public lecture on March 6.
Cory Henry (Atelier Cory Henry)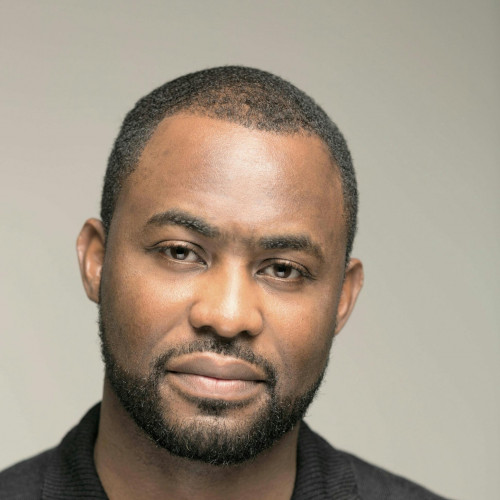 Cory HenryCory Henry will teach the visiting critic studio, "Systems of Reality: Design from the Rural," which explores race, place and community development in one of the poorest and most segregated cities in the United States, Clarksdale, Mississippi. Located in the Mississippi Delta, Clarksdale was once a center of wealth in the region, aggregating the labors of the thousands of people who picked cotton, built houses and conducted the economic, civic and social life of the community. However, this wealth was concentrated in the hands of some and off limits to others. The vestiges of these discriminatory practices remain severely impactful on the community today. The Mississippi Delta suffers from an overall lack of resources, which contributes to its high poverty and low health conditions. However, the region is rich in culture, history and will of its people. Students will begin the studio with an exploratory-research phase, which includes discussions and interviews with Clarksdale residents, nonprofit leaders, journalists and researchers of the city. The voices of the community will inform design speculations in the second phase of the studio where students will ambitiously create a program and design a community center to engage the built and social fabric of Clarksdale. To be located on the site of the old Clarksdale hospital, which had a policy of not treating Black people in need of medical care, the center will seek to enhance and empower its residents.
As a Los Angeles-based educator and practitioner, Henry is the director of the eponymous interdisciplinary research and design practice, Atelier Cory Henry. Prior to founding Atelier Cory Henry, he worked at several renowned architecture firms, including Michael Graves and Associates. With over 15 years of professional practice experience, Henry has contributed to award-winning designs in residential, commercial, institutional and urban planning projects spanning three continents. His background has led to an interdisciplinary approach to design through an integration of visual arts, architecture and urban design. Henry has taught architecture at the University of Pennsylvania Stuart Weitzman School of Design, Penn State University and University of Southern California, is affiliate faculty at the University of Oklahoma, and was recently awarded the 2020 Kea Distinguished Professorship at the University of Maryland. He earned a master's in architecture from Cornell University and a bachelor's in architecture from Drexel University, and has also conducted research studies in new media, immersive environments and emergent technologies at the Southern California Institute of Architecture.
Henry will engage in a conversation with Michael Speaks, dean of the School of Architecture, on April 6.
Max Kuo (ALLTHATISSOLID)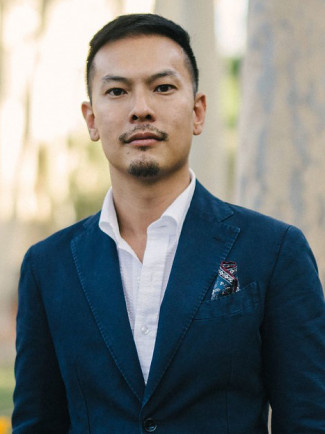 Max KuoMax Kuo will teach the visiting critic studio, "The Secret Life of Democratic Architecture," which examines the origins of democratic form-making to understand architecture's relationship to political power. An icon of our nation's deep contradictions, Thomas Jefferson's Monticello is an architectural experiment which had invented numerous ways to dress up the evils of slavery in the aspirational cloaks of a democratic Palladian vernacular. In this studio, students will renovate the campus of Monticello by contributing to a new artist-residency committed to the re-imagining of the historical legacy and contemporary life of the 18th-century plantation. To dismantle the oppressive logics of Jefferson's Palladian architecture, they will engage in phased research and design exploring several topics, including the revolutionary origins of neo-classicism and today's post-internet aesthetics, and pursue the design of architectural thingness, a formal insurgency whereby defamiliarized objects disrupt the systems of normalization endemic to the machinations of power. In this wide-ranging investigation, students will study the anachronistic and intricate relationships between disciplinary innovation and the constituent politics they are situated within. By subverting the techniques of segregation and secrecy found throughout Jefferson's architectural works, this studio posits that new modes of collective inhabitation are possible through the amplification of architecture's formal qualities.
Kuo is a founding partner of the studio ALLTHATISSOLID, with offices in Los Angeles and Kuala Lumpur. Since 2013, he has been a design critic in architecture at the Harvard Graduate School of Design and has also taught studios at Massachusetts Institute of Technology (MIT), Tongji University and numerous universities throughout Seoul, South Korea. Kuo's recent writings and design work explore modernism in the context of digital networks and both their creative and paradoxical impact on architecture and the built environment. He has been published in architectural journals such as Pidgin (Princeton), Thresholds (MIT), MAS Context (Chicago) and Pool (UCLA). His forthcoming essay in Log will explore new spatio-temporal frameworks of post-digital culture where architectural novelty privileges the unpredictable behaviors of familiar forms. Kuo's work has been exhibited in numerous venues in Los Angeles, Boston, New York, Beijing and Seoul. In 2003, he was an artist-in residence at the Whitney Museum's Independent Studies Program. And in 2016, Kuo was the Heinz Fellow in Architecture at The MacDowell Colony and a National Endowment for the Arts Fellow. Kuo earned his master's of architecture degree from the Architecture and Urban Design program at the University of California, Los Angeles, where he received the Welton Beckett Fellowship. He previously practiced in the offices of Reiser + Umemoto and Fernando Romero Enterprise.
Kuo will give an online public lecture on March 30.
Li Han and Hu Yan (Drawing Architecture Studio)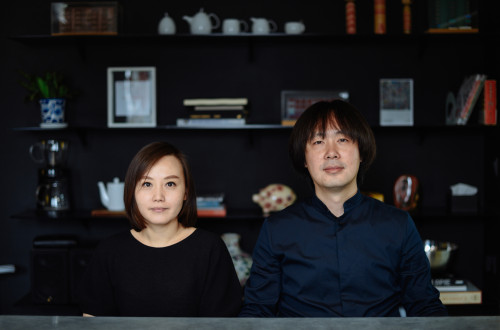 Li Han and Hu YanLi Han and Hu Yan will teach the Beijing-based visiting critic studio, "Copied in Beijing: An Adventure of Architectural Drawing and Maquette," which will explore the Shanzhai architecture that is found everywhere in China. While Shanzhai—the Chinese word for copycatting—is often mentioned together with plagiarism, replica, vulgarity and cheapness, it is also related to learning, borrowing, reference and analogy. This studio will examine Shanzhai from a positive angle, focusing on the concept as a highly efficient design strategy and engine for creating topics, generating flow and gaining attention. Students will begin the studio by surveying the areas in Beijing where the most diversified vernacular constructions (hutong and old residential neighborhoods) exist and discover the original Beijing architectural characteristics, ambience and charisma. They will learn from those seemingly ragged but imaginative architecture, while concerning themselves with the content of architecture itself—form, material and ambience—but not endless social phenomena and political subjects. Students will examine the subtle relationship between Shanzhai and analogy, learning from the reality while, at the same time, exploring the depths of history. In the process to create Shangzhai architecture, students will re-examine imagery and maquette from an artist's point of view. Under the guidance of Han and Yan, who will assume the role of curators, students will act as artists in residence and create architecture-related "artwork" by re-examining imagery and maquette from an artist's point of view as their final projects. The studio will end with a professional exhibition in a Beijing art gallery.
Han and Yan are the co-founders of Drawing Architecture Studio (DAS), a Beijing-based creative platform that specializes in architectural drawing, architectural design and urban studies. DAS has exhibited widely in China and abroad, including the Chinese and Japan pavilions of the 16th Venice Architecture Biennale, The 7th Shenzhen/Hong Kong Bi-City Biennale of Urbanism/Architecture, Architecture in Comic-Strip Form in Oslo and many others. Their works are the winning pieces of both the overall prize and top choice in the Digital Drawing category of the World Architecture Festival's Architecture Drawing Prize in 2018 and The RIBA Journal's Eye Line Drawing Competition in 2016 and are also in the permanent collections of the San Francisco Museum of Modern Art and Pingshan Art Museum in Shenzhen, China. DAS' publications include A Little Bit of Beijing, A Little Bit of Beijing · Dashilar, The Joy of Architectural Drawing, Hutong Mushroom, Apartment Blossom and the Chinese translation of Atlas of Novel Tectonics. Han is a National Class 1 Registered Architect (P.R.C.) in China. He received a bachelor's of architecture degree from Central Academy of Fine Arts in Beijing, China, and a master's of architecture degree from RMIT University in Melbourne, Australia. Yan received a bachelor's of fine arts degree from Concordia University in Montreal, Canada.
Han and Yan will give an online public lecture on March 2.
Yuanrong Ma (GEIJOENG®)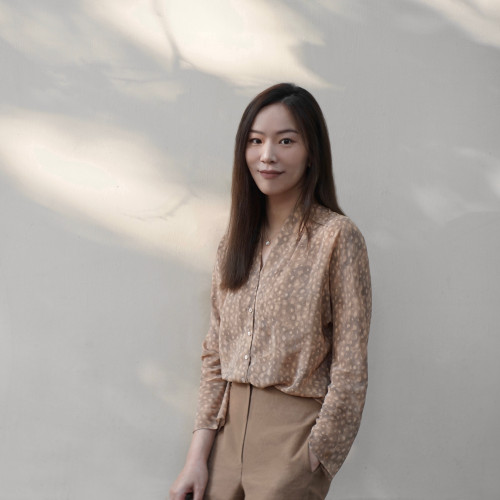 Yuanrong MaYuanrong Ma, along with Nan Wang, founding partner and branding designer of URSIDE Design and URSIDE Hotel Shanghai, will teach the Shanghai-based visiting critic studio, "BRANDSCAPE: Symbiosis of Contemporary Fashion and Architecture," which will critically examine the role of architecture as a constructive branding device.  While the retail landscape has been subject to a dramatic and ongoing transformation over the past few decades—with the shop window shrinking to the size of a screen—the fashion industry, particularly the luxury segment, has progressively employed the proximity of architecture as part of its new marketing strategies. By engaging in "high culture" though flagship boutiques, runway stages and campaign backdrops, leading high fashion brands have enhanced their global images.
The convergent geographies of fashion and architecture, though each occupy mutually exclusive intellectual ground, engage vast arrays of social practices and different forms of visual material and culture that collapse the distinctions between art and commerce. Such synthesis enriches the ongoing discussion on consumerism and cultural production, offers insights as well as critiques into our urban environments, and may transform the way in which we envision the built form. Within an existing structure on either physical or virtual sites, students will develop a total environment for brand reinforcement—an immersive wrapper for staged fashion presentations, spatial merchandising or other commodified experiences—much in the same way as a Gesamtkunstwerk (total work of art). These new "brandscapes" will aim to reinvent the retail typologies and reshape conceptions of shopping into a cultural endeavor, through which to recast a more progressive politics of consumption.
Ma is a licensed architect registered in New York state, the art director at GEIJOENG®, the creative director at United Xpanded and a certified yoga instructor (RYT500) currently based in Shanghai, China. Her architectural and interior projects have received numerous design awards, including the AIA Scholastic Award from American Institute of Architects, and have been featured in the Venice Architecture Biennale and World Architecture Festival, as well as in publications such as a + u magazine, Architectural Journal, Wallpaper, Dezeen and designboom. Ma's installation works have been displayed at the Power Station of Art, Shanghai Exhibition Center, Shenzhen Convention and Exhibition Center, and National Exhibition and Convention Center, among others. Her academic works have been published in David Adjaye: Authoring: Re-placing Art and Architecture and Mansilla + Tunon: From Rules to Constraints. Ma holds a master's of architecture degree from Princeton University, a bachelor's of architecture degree from Tongji University and has studied at Cardiff University in United Kingdom, Bern University of Applied Sciences in Switzerland and Queensland University of Technology in Australia. She has been a curator and critic at The University of Hong Kong's Shanghai Study Centre. Before returning to China to start her own practice, Ma previously worked at KPF and David Chipperfield Architects.
Ma will give an online public lecture on April 20.