On Thursday, December 5 at 9 p.m., portions of the glass façade and atrium of Ernie Davis Hall at 619 Comstock Avenue will be transformed into an exhibition that explores the ways neuroscientists and architects "see" and "think" with computationally advanced imaging practices.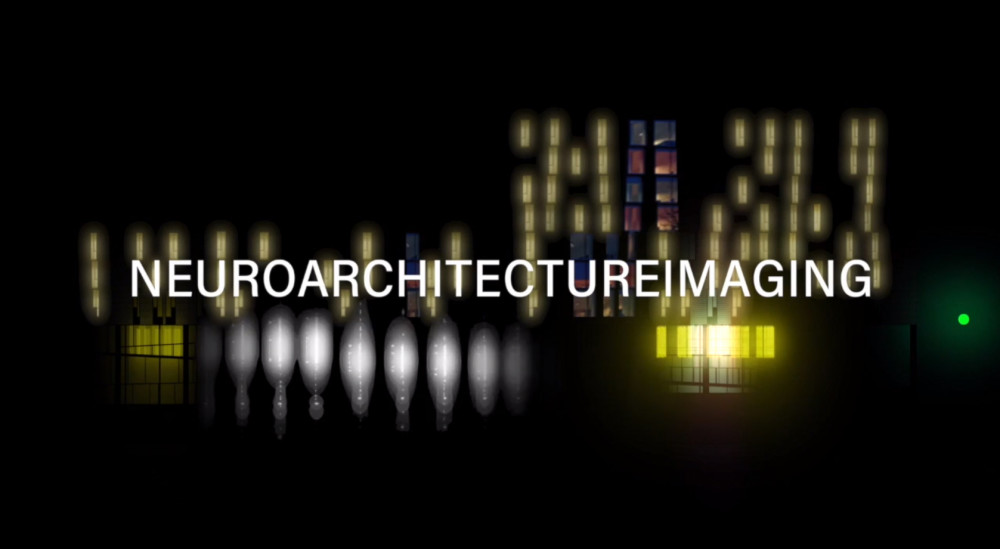 NeuroArchitectureImaging (NAI) is a site-specific video installation that interacts with the temporal and material patterns of the idiosyncratic architecture of Ernie Davis Hall, which was designed by Atlanta-based Mack Scogin Merrill Elam Architects.
The central features of the installation are an overlapping double projection of a moving image on the glass façade and decals applied to interior surfaces. By highlighting the parts of the building as an effect of the projection and delaminating the projection as an effect of the building, it will seem as if one is simultaneously inhabiting a building and a digital model.
"We are attempting to draw attention to the ways design is moving past drawing and modeling into imaging, and even artificial imagination, creating an imaging environment that plays on our evolved cognitive capacities for pattern recognition, serial processing and spatial imagination," says Syracuse University School of Architecture Professor Mark Linder.
At a time when architects and neuroscientists are in the midst of rapid advances in their disciplines that are inseparable from the burgeoning innovations in their imaging practices, the NAI project draws on neuroscience to inspire new insights into the present and future of architectural imaging practices.
Master of Architecture graduate students Erick Sanchez '19, Yilu Zhang '20, Ashley Nowicki '20, Juntao Huang '20 and Ji Yoon Bae '19 are on the NAI design team. Four of them were in Linder's spring 2019 course, Architectural Theory as Design Research. It explored analogies and affinities between imaging practices in contemporary neuroscience and architecture while trying to develop a general understanding of how the brain functions and operates.
"This project extends research from both Professor Linder's theory course and my design thesis, which was a speculation of how the generative intelligence in computational generative imaging practices can visually render artificial effects, material and media onto the built environment," Sanchez says.
The NAI project is the architecture contribution to the Neuroscience and Society Interdisciplinary Seminar Series, which is supported by the Collaboration for Unprecedented Success and Excellence (CUSE) grant program. The series began in Fall 2018 with a performance by Baba Brinkman of his "Rap Guide to Consciousness" that explored the material basis of brain science in hip-hop form.
"The goal of the series is to intelligently raise awareness of the entire SU community to neuroscience-related issues regardless of field of study/profession," says Sandra Hewett, Professor of Biology in the College of Arts and Sciences. "Toward this end, the series was developed to bring to campus speakers, scholars and even entertainers, who address the ethical, legal and social implications of neuroscience, providing a rich venue for interdisciplinary discussion."
The NAI team consulted with the building's architects early in the process and is building on Merrill Elam's explanation that their design is "a rationalization that raises a question about the context" by tracing and activating the "flows" and "patterns within patterns" of its "variegated" site and program. According to Mack Scogin, the NAI project "is a significant pedagogic exercise that explores both imaging and the particularities of the architecture of Ernie Davis Hall."
"If we are successful," says Linder, "the installation will produce an environment of ambiguity—between the actual and the virtual, the building and its imaging—so that the Ernie Davis image cannot be stabilized in any one media or material."