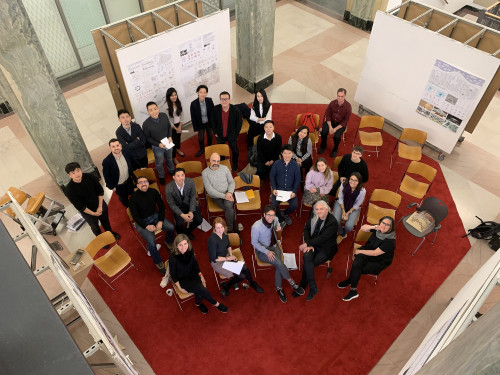 The Spain-based independent research platform selected 30 universities around the world from the best architecture schools in the QS Ranking by Subjects – Architecture / Built Environment to be compared and evaluated for the 2019 edition of its annual ranking.
BAM's team of experts evaluated each school based on 11 educational-performance indicators focused on quality and internationality of faculty, alumni and postgraduate program. Other essential variables for a program to be considered prestigious—such as relation with other universities, teaching approach, job opportunities and networking, publications and facilities—were also taken into account.
"Thanks to this methodology we are able to establish criteria to effectively and objectively compare study plans that, despite being different, are focused on the academic development of better architects," notes BAM.
With a final score of 67.24 points, Syracuse Architecture's MS in architecture program tied for the No. 22 spot alongside Universidade de São Paulo's master in architectural design.
Under the leadership of Fei Wang, assistant professor and coordinator of the MS program, Syracuse Architecture's Design | Energy | Futures research and design program has built a strong, global reputation since its inception in 2015.
Specifically targeted to individuals holding a professional degree in architecture, landscape architecture, urban design or urban planning, the program has attracted a diverse population of students from nearly a dozen countries over the past five years and at least one Fulbright Scholar each year.
The 30-credit-hour, three-semester concentrated curriculum is structured around a highly focused core of coursework including studios, research seminars and a capstone research and design project that collectively expand upon students' architectural knowledge of energy and the built environment.
At the heart of the program, students are able to embrace the complex multi-disciplinary nature of architecture in the 21st century by exploring individual research and design interests supported by faculty expertise and affiliated centers and industry partnerships from across the University and around the world.
"Our MS program aims to build the integration between design and research, and the bridge between academia and industry," says Wang.
Student projects ranging across many scales—from urban design to high-performance buildings, from VR and computational simulation to material research and product design—have been recognized in the academy and industry and have won numerous international design and research awards including: second place in the Low Carbon City Future Center design competition (2015), winner of the Joan B. Calambokidis Innovation in Masonry Competition (2017), second place in Q Village International University Design-Build Competition (2018) and third place in the UIA-CBC International Colleges and Universities Competitive Construction Workshop (2019).
"Every one of my studios has been exhibited and published," says Wang, whose students have displayed their design proposals in top exhibitions worldwide such as the Shenzhen Biennale of Urbanism/Architecture (2017), Venice Architecture Biennale (2018) and Seoul Biennale of Architecture and Urbanism (2019).
Helping to strengthen Syracuse Architecture's No. 1 ranking for 'schools most hired by firms,' Wang has also worked to expand the geographical reach of the job market beyond the U.S. by creating a network of internship and employment opportunities at top architecture offices in Asia for graduates. Students in the Design | Energy | Futures program have been successfully placed at AECOM, Perkins Eastman and URBANUS, among others.
"The MS in architecture program has been a great success," says School of Architecture Dean Michael Speaks. "Building on that success, we are launching another master of science in architecture program next fall in New York City focused on real estate development. The curriculum and programming of the Syracuse Architecture NYC program at the Fisher Center, which includes approximately 30 undergraduate students each semester, has focused on real estate the last four years. With the support of the Fetner Family Initiative, the program has expanded and is now providing a variety of experiential learning opportunities to Syracuse Architecture and Whitman School students. The new, real estate-focused MS program will compliment and augment work we are already doing at the Fisher Center, and provide students interested in sustainable, resilient real estate development an opportunity to work on research and projects in collaboration with architecture and real estate firms in the city."
To learn more about Syracuse Architecture's MS in architecture program, visit soa.syr.edu/ms.