On July 24, architects and designers from around the globe convened in Xingtai, the oldest city in northern China, to participate in "The Second Hebei International Urban Planning and Design Competition," where teams were competing to design a pair of large buildings in downtown Xingtai.
The twin competitions, sponsored by the Xingtai Municipal People's Government, invited 10 top domestic and foreign architectural and design masters and educators to serve on the jury review panel, including Michael A. Speaks, dean and professor of the School of Architecture at Syracuse University.
Nine other individuals famous for their remarkable achievements and significant influence in the field of architecture served alongside Speaks, including ZHUANG Weimin, dean of the School of Architecture, Tsinghua University; Thomas Krens, former director, Solomon R. Guggenheim Foundation; SHEN Di, vice president, Arcplus Group; ZHAO Yuanchao, chief architect, China Northeast Architecture Design and Research Institute; YAO Renxi, founder, Kris Yao Artech; KONG Yuhang, dean, School of Architecture, Tianjin University; Neil Leach, professor, European Graduate School; Matias del Campo, co-founder, SPAN Architects; and Jeffrey Shumaker (B.Arch. '94), former chief urban designer for the City of New York. SONG Chunhua, former vice minister of the Ministry of Housing and Urban-Rural Development of the People's Republic of China, chaired the panel.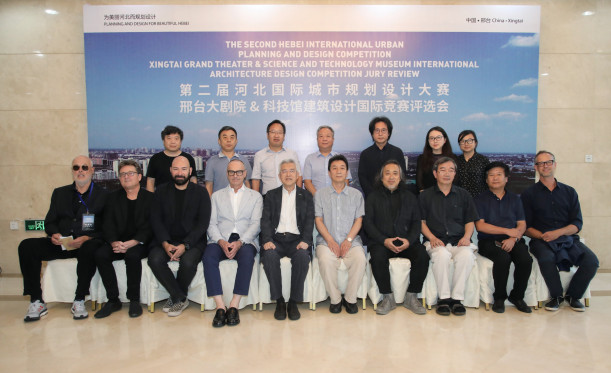 Jury review panel and competition organizers for the Second Hebei International Urban Planning and Design CompetitionAs one of the fastest growing cities in Hebei Province, Xingtai is an important regional city in the development of the Xingdong New Area—a master plan put in place by the Chinese government to integrate the economies of Beijing, Tianjin and Hebei Province into a new economic zone, envisioned as a model "city of the future" for China. As part of the plan, Xingtai has undergone tremendous spatial restructuring to accommodate its large population of around 7.3 million people.
To improve the service level and meet the demand of urban public facilities in the city, leaders from the Xingtai Municipal Party Committee and government hosted an international competition as a platform to bring forward conceptual designs for the construction of two new cultural landmarks on the central axis of the city center—the Xingtai Grand Theater and the Xingtai Science and Technology Museum.
After careful research and selection, eight well-known architectural design teams—four for each project—were selected to participate in the competitions and tasked with submitting an advanced design concept that improved city function, enhanced city quality and core competitiveness, and shaped the city's image of an ecological and humanistic future city of Xingdong New Area.
Specific design requirements included: harmony with the surrounding environment, rational zoning, abundant architectural space levels, transport streamline separation, flexibility and barrier-free design. Buildings also were required to meet green building standards and relevant national codes and regulations.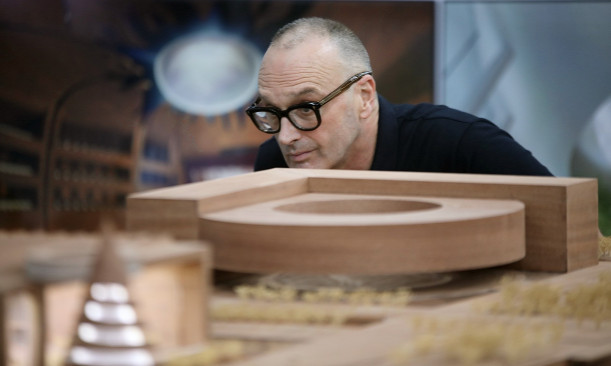 Dean Speaks evaluating a design at The Second Hebei International Urban Planning and Design Competition
Speaks, along with his fellow jurors, evaluated each team's unique design based on several factors including originality, creativity, flexibility and enforceability, as well as the application of innovative concepts and new technologies that helped to illustrate the unique cultural charm of Xingtai. After two rounds of discussion and grading, the winning teams were chosen.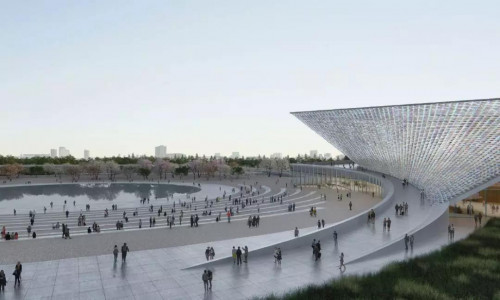 Xingtai Grand Theater winning designThe Oslo- and New York-based firm, Snøhetta won the competition for the new grand theater with a design utilizing the Eastern philosophy of "Tian Yuan Di Fang" (round sky and square earth) that aims to provide a conceptual level of balance between the long curved plaza, shimmering façade and soaring atrium.
"Tian Yuan Di Fang not only fits the sky circle on the general plan of the building and the square base of the building, but also hopes to convey the attitude of treating and analyzing environmental factors," says Kjetil Trædal Thorsen, founding partner and architect of Snøhetta.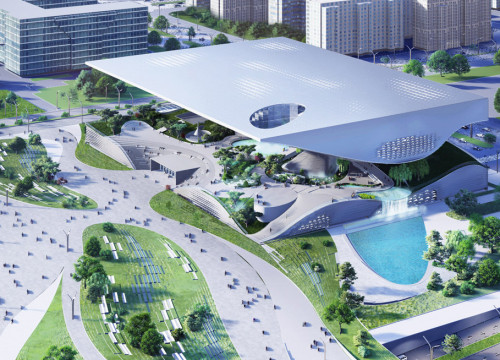 Xingtai Science and Technology Museum winning designA "no columns – no gravity" design by Coop Himmelb(l)au, the world-renowned, avant-garde architectural studio located in Vienna, Austria, won the competition for the new science and technology museum. Resembling "a daring cantilevered sandwich" with a park in the middle and a soaring roof on top, the floating structure captures and embodies the dynamics of scientific development in China.
"The cloud has not only always been Coop Himmelb(l)au's claim and signature, it is also a transforming, poetic metaphor. A rapidly changing element of the sky, endowed with immense significance for the climate and existence of civilizations," says Wolf D. Prix, co-founder, design principal and CEO of Coop Himmelb(l)au. "The Science and Technology Museum [in] Xingtai will reflect this in its design, content and innovative functions."
Competition organizers have not yet announced a timeline for construction of the two projects.