Architect Rosa T. Sheng FAIA, a principal at acclaimed architecture + engineering firm SmithGroupJJR, and a leading advocate for equitable practices in architecture will address the Syracuse University School of Architecture graduating class of 2018.
The convocation ceremony will take place at 9:00 a.m. on Saturday, May 12, 2018 in Hendricks Chapel. Dean Michael Speaks will preside.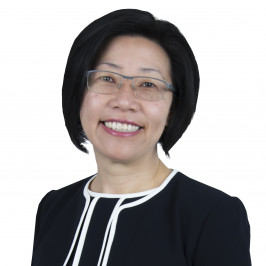 Rosa T. Sheng, FAIA, 2018 convocation speakerAs a licensed architect with 24 years of experience in architecture and design, Sheng has led a variety of award-winning and internationally acclaimed projects from the highly technical development of the glass structures for Apple's original high-profile retail stores, to the innovative and sustainable LEED NC Gold–certified Lorry I. Lokey Graduate School of Business at Mills College in Oakland, California. Rosa T. Sheng received a Bachelor of Architecture degree from Syracuse University in 1994. She recently earned Fellow (FAIA) designation by the American Institute of Architects, and is a LEED accredited professional in building design and construction (LEED AP BD+C).
Rosa T. Sheng is the founding chair of Equity by Design, a national movement created by the American Institute of Architects San Francisco Chapter as a call to action for both women and men to help realize the goal of equitable practices—to retain talent, advance the profession, and communicate the value of design to society. She is an "active champion" for issues that reflect her passion for justice and equity within the architecture profession. Press coverage of her work with Equity by Design includes Architect Magazine, Architectural Record, The Wall Street Journal, The New York Times, TEDxPhiladelphia and KQED/NPR.
"It's an honor to have Rosa as our convocation speaker," says Dean Speaks. "She has become a national figure in our field and beyond, not only for her architectural design work, but particularly for her incredible efforts raising awareness and inspiring equitable change within the architecture workplace. I expect our students will be inspired by her passion and promise for the future."
"I'm deeply honored to address the graduating class this year," says Sheng. "There is profound responsibility in shaping the future of architecture and its impact on society at large. Inspired by the response to challenging current events, I have great faith in this next generation to become the leaders who will change our world for the better." (by Elaine Wackerow)