The James Britton Awards for best final thesis projects were given on May 13th during the convocation ceremony in Hendricks Chapel. King & King "Leadership by Design" prizes were awarded on May 5 at the School.
James Britton Memorial Awards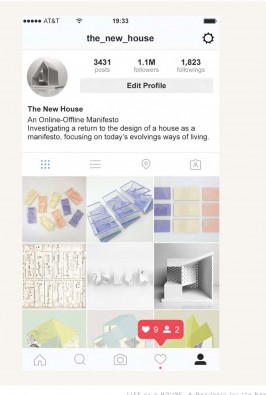 Britton Award for Best Thesis by Ana Hernandez Derbez and Domenica Velasco: @the_new-house:An Online-Offline ManifestoB.Arch students Ana Hernandez Derbez and Domenica Velasco's "@the_new_house: An Online-Offline Manifesto" received Best Thesis designation.  M.Arch student Vivek Njanappilly received Faculty Prize for his project "Gold: Stories of a City," and B.Arch student Cherif Farid's "Learning from the Informal: Designing a New Housing Typology for Informal Development in Cairo" earned Jury Prize.

The James Britton Memorial Awards were created by James "Jack" Britton Jr. to honor his father, James Britton, a 1925 graduate of the School of Architecture and long-time architect in the Syracuse community. The first Britton Memorial Award was given in 1983 to recognize the best final projects by graduate and undergraduate students in the professional degree programs.Every year since, three thesis projects have been chosen by a jury of faculty and guest critics and awarded at graduation.
"Thesis projects are defining efforts for our students at the end of their studies when they demonstrate their abilities and declare their ambition," says Professor Mark Linder, thesis director. "Recognition with a Britton Award is an affirmation by the faculty and visiting jurors that the student is prepared to make a distinct impact on the field, and to continue to pursue the ideas and knowledge that are crucial to their education."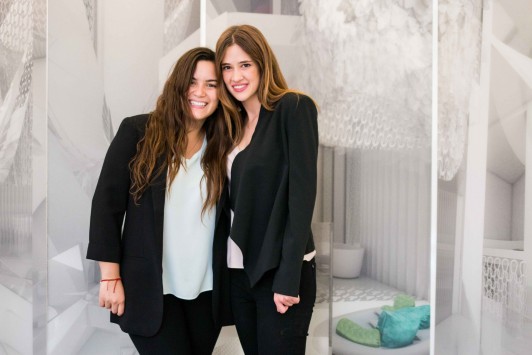 Britton Award "Best Thesis" winners Domenica Velasco and Ana Hernandez Derbez (Photo: Thomas Kim)
Britton Memorial Awards for Thesis Design
Ana Hernandez Derbez and Domenica Velasco, Best Thesis
Vivek Njanappilly, Faculty Prize
Cherif Farid, Jury Prize
Dean's Citations for Thesis Design
Trang Tran
Yang Song
Taiming Chen, Yiwei Wu
Hye Rim Shin
Russell Scheer
Chris Bressler, Colin Hoover
Thesis Jury Citations
Jonathan Anthony
Maxwell Baum
Chris Bressler, Colin Hoover
Taiming Cheng, Yiwei Wu
Cherif Farid
Taylor Hagan
Ana Hernandez Derbez, Domenica Velasco
Max Kronauer
Paul J. Lee
Vivek Njanappilly
Alexandra Ramirez
Russell Scheer
Anna Sernicki
Hye Rim Shin
Evangeline Soileau
Yang Song
Trang Tran
Honorable Mentions for Thesis Design
Rui Bao
Steven Carlson
Alejandra Charrabe
Eujean Cheong, Sol Yoon, Andrew Kim
Olivia Flores-Siller, Steven Worthington
Kolby Forbes
Maggie Huang
Piotr Jankowski
Rajkumar Kadam
Christian Martinez
Tiffany Pau
Johnathon Phillips
Travis Telemaque
Elias Varon
Emmett Walker
Fei Wang
Garrett Wineinger
Dabota Wilcox
Sofia Zavala Ferreira
Wenxin Zeng
King + King "Leadership by Design" Competition Awards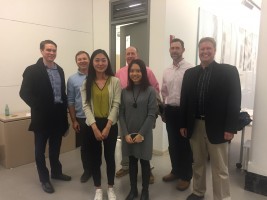 First place winners Beilei Ren & Ronghui Wu with King & King partnersThe King & King Comprehensive Studio "Leadership by Design" competition is an annual event for all students who are part of an integrated studio and have completed their core studies in the undergraduate and graduate professional degree programs. As part of the competition, teams of students present their final studio projects to partners at King + King Architects, as well as faculty members, over the course of an afternoon.

"The partners at King + King Architects look forward every spring semester to the Comprehensive Studio 'Leadership by Design Prize Competition,'" says Kirk Narburgh, CEO/Managing Partner, M.Arch 1990.  "We thoroughly enjoy the jury/student interactions and ultimately recognizing those projects whose undergraduate and graduate teams showcase the highest level of overall design leadership, sustainability, and building systems integration. The impressive array of projects highlight the inherent creativity of the faculty and students at the Syracuse University School of Architecture"
"For over a decade the King & King Prize has promoted excellence in integrative design. The support and participation of the local profession is a great opportunity for academia and those who practice to see what the other group is doing," said Larry Davis, associate professor and coordinator of the King & King competition at the School. "Most importantly, the competition promotes outstanding student work at a key moment in the education of the students. It directly connects their understanding of building technology and systems to their intellectual development, illuminating the essential relationship between ideas and technique in architecture."
King & King Prize recipients
1st Place: Beilei Ren & Ronghui Wu – Roger Hubeli studio
2nd Place: Elizabeth Johnson and Michaela Nevill Wozniak - Daniele Profeta studio
3rd Place: Nathanial Banks, Anna Morris & Sarah Tsang – Randall Korman studio
Hon Mention: Yuxuan Liu and Yidian Liu – Tarek Rakha studio
Hon Mention: Kamila Varela & Vivian Cheng – Fei Wang studio