Congratulations to the Syracuse Architecture class of 2017! Students received recognition at the School's convocation ceremony on Saturday, May 13 in Hendricks Chapel.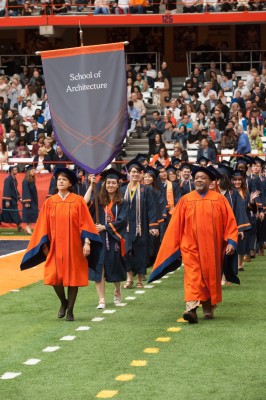 Class marshal Angela Copes '17 carries the banner and leads School of Architecture procession at SU Commencement 2017 ceremonyAngela Copes and Jonathan Anthony were the Syracuse Architecture class marshals; Evangeline Soileau was University Scholar. Renowned architect and educator Hsinming Fung delivered the School's convocation address.
On Sunday, May 14, students were officially awarded their degrees at SU Commencement in the Carrier Dome.
Convocation photos + video 
Syracuse Architecture contracted with professional photographer studio Genesee Photo Systems to take pictures of each grad as he/she received a certificate of recognition. Images will be posted online soon on the Genesee Photo Systems website and available for purchase.
The Syracuse Architecture convocation ceremony that took place in Hendricks Chapel on May 13 was videotaped and is now available for viewing on our YouTube channel.
Awards announced at convocation
Undergraduate
Luther Gifford Pize in Architecture for Highest Academic Standing in Design - Celeste Pomputius
AIA Henry Adams Certificate for Second Highest Academic Ranking - Taiming Chen
AIA Henry Adams Certificate for Highest Academic Ranking - Evangeline Soileau
Alpha Rho Chi Medal - Steven Carlson
Graduate
School of Architecture Graduate Assistant Prize - Christian Martinez
M.Arch Graduate Award for Significant Contributions to the Program - Yang Song
AIA Henry Adams Certificate for Second Highest Academic Ranking - Vivek Njanappilly
AIA Henry Adams Certificate for Highest Academic Ranking - Colin Hoover
Alpha Rho Chi Medal - Pouya Zhand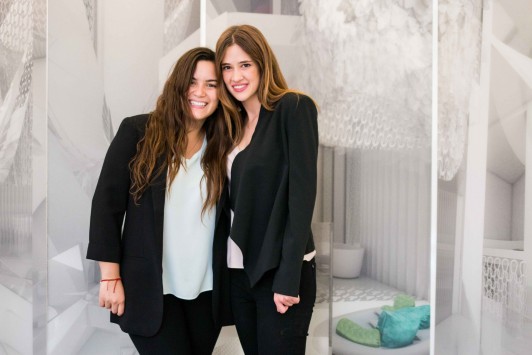 Britton Award "Best Thesis" winners Domenica Velasco and Ana Hernandez Derbez (Photo: Thomas Kim)
Britton Memorial Design Awards
Best Thesis: Ana Hernandez Derbez and Domenica Velasco
Faculty Prize: Vivek Njanappilly
Jury Prize: Cherif Farid
Dean's Citations for Thesis Design
Trang Tran
Yang Song
Taiming Chen, Yiwei Wu
Hye Rim Shin
Russell Scheer
Chris Bressler, Colin Hoover
Thesis Jury Citations
Jonathan Anthony
Maxwell Baum
Chris Bressler, Colin Hoover
Taiming Cheng, Yiwei Wu
Cherif Farid
Taylor Hagan
Ana Hernandez Derbez, Domenica Velasco
Max Kronauer
Paul J. Lee
Vivek Njanappilly
Alexandra Ramirez
Russell Scheer
Anna Sernicki
Hye Rim Shin
Evangeline Soileau
Yang Song
Trang Tran
Honorable Mentions for Thesis Design
Rui Bao
Steven Carlson
Alejandra Charrabe
Eujean Cheong, Sol Yoon, Andrew Kim
Olivia Flores-Siller, Steven Worthington
Kolby Forbes
Maggie Huang
Piotr Jankowski
Rajkumar Kadam
Christian Martinez
Tiffany Pau
Johnathon Phillips
Travis Telemaque
Elias Varon
Emmett Walker
Fei Wang
Garrett Wineinger
Dabota Wilcox
Sofia Zavala Ferreira
Wenxin Zeng