Roger Sherman, AIA, senior project director of urban strategy at Gensler, Los Angeles, has been named as the fall 2016 Richard Gluckman Visiting Critic at Syracuse Architecture.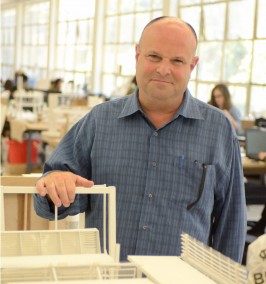 Visiting critic Roger Sherman, AIA (Gensler)Established in 2012 by  Fred Stelle , B.Arch '70, M.Arch '71 and his wife, Bettina Stelle, to honor Richard Gluckman, B.Arch '70, M.Arch '71, the Richard Gluckman Visiting Critic Endowed Fund helps  to bring outstanding architects and scholars from around the world to lead studios at the School.
Roger Sherman brings a wealth of professional and teaching experience to the studio.  Previously, he was founder of Roger Sherman Architecture and Urban Design in Culver City, California. From 2006 to 2015 he was co-director, with Dana Cuff, of cityLAB, an urban design think tank at UCLA where he is an adjunct professor. A graduate with distinction from the Harvard Graduate School of Design, Roger Sherman has taught and lectured widely, including at New York's MoMA and TEDx. He was a visiting critic at Syracuse Architecture previously, in spring 2008, working with architecture students on a warehouse renovation project in the Syracuse Near Westside neighborhood.
The fall 2016 Roger Sherman studio, "O-Zonism: Piloting a Fifth Ecology for the Port of Los Angeles," challenges students to propose a new type of urban community with experimental arrangements of uses, operations, material resources, and imagery for a pilot zone at the Port. The Port of Los Angeles—including that of nearby Long Beach—is the #1 ranked port in the U.S. in terms of tonnage. Ironically, it fails to register on the radar of most Angelenos whose lives are dependent upon the goods that pass through it daily.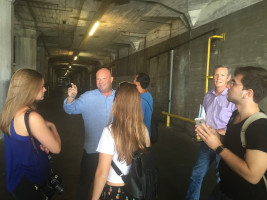 Sherman and Syracuse Architecture students visit a warehouse at the Port of Los Angeles.From September 16-19, students traveled to Los Angeles to study the port site and gain valuable contextual perspectives.
"The trip was instrumental in not only giving students an opportunity to see the site, but more importantly to meet the key stakeholders involved in plans for its development—their vision of what it can be," says Roger Sherman. "Finally, though it sounds trite, there also is the intangible value of understanding the unique ethos of Los Angeles itself: the many lifestyles and subcultures of which it is comprised—not monolithic, but a mosaic of places, either imported or invented and exported from here through media, just like the flow of products through the Port itself."
Says architecture student Emily Greer '18, "The trip was an exciting way to learn about the dynamics and logistics of both the Port of Los Angeles where our site is located and Los Angeles as one of the greatest American cities. We were also able to meet with several professionals in architecture and other areas of relative interest such as marine biology."
"We are grateful to the Stelles for creating this special gift in honor of Richard Gluckman, a long-time volunteer leader for the School of Architecture. Through their generosity our students continue to benefit from incredible learning experiences that allow them to actively engage with the world of architecture," said Dean Michael Speaks.
Fred Stelle heads Stelle Lomont Rouhani Architects located in Bridgehampton, New York, and has lectured at the School and taught visiting critic studios. Richard Gluckman, a past chair of the Syracuse Architecture advisory board, is the founder and principal of Gluckman Tang Architects, based in New York City. Projects include the Nancy Cantor Warehouse in Syracuse, Syracuse University School of Law's Dineen Hall, and the Perelman Building at the Philadelphia Museum of Art.  Gluckman has been a visiting critic and lecturer at universities including Harvard, Columbia, and Syracuse. His awards include the National Design Award, an AIA National Honor Award, and the Arents Award from Syracuse University. A monograph, "Space Framed: Richard Gluckman Architect," was published by The Monacelli Press in 2000.
Roger Sherman will lecture at the School on Tuesday, September 29 at 5:30 in Slocum Auditorium. (by Elaine Wackerow)