Syracuse Architecture assistant professor Maya Alam has been selected as the first recipient of the Boghosian Fellowship, effective fall 2016.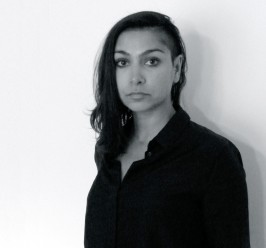 Assistant Professor Maya Alam, Boghosian Fellow 2016-17The fellowship—established in early 2015 in memory of Harry der Boghosian '54 by his sister Paula der Boghosian EDU'64—makes it possible for junior faculty to spend a year developing a body of design research based on an area of interest while teaching at the School of Architecture. It also allows for interdisciplinary collaboration within the University and its various centers. During her fellowship year, Alam will deliver a public lecture on her research and have opportunity to exhibit her work at the school.
"The School of Architecture is thrilled that Maya Alam has been chosen as the inaugural Boghosian Fellow," says Dean Michael Speaks. "Maya is a great talent and is respected by students and faculty alike; she epitomizes the spirit of the award. Much like Maya, Harry der Boghosian— the award's namesake—was a renowned scholar and beloved professor. We are excited to have Maya continue his legacy of architecture scholarship through this award."
"Being awarded the Boghosian Fellowship is an amazing opportunity for a young professional like me," says Alam. "It will allow me to seamlessly fuse pedagogical ambitions with my research and interests.  I will do my best to start this series. I feel fortunate knowing that my Syracuse students will be invaluable in this process. I look forward to continue working with such an outstanding group."
As Fellow, Maya Alam will explore new possibilities of identity and iconicity in architecture by reconsidering alternative connections between object, observer, and context. "I hope to explore with my students new categories of form and new architectural possibilities in engagement that fall outside the disciplinary conversation," says Alam, "thus replacing outdated concepts of iconicity with more intrinsic socio-political realities."
Maya Alam began her teaching career at Syracuse in fall 2014. She is a German born architect and designer whose work focuses on issues of the incoherent figure and de-familiarization through principles of Gestalt. Alam received a Dipl. Ing. of interior architecture from the Peter Behrens School of Architecture in Düsseldorf and a master of architecture with distinction from the Southern California Institute of Architecture (SCI-Arc). At SCI-Arc she was awarded the AIA Henry Adams Certificate and received the Best Thesis award. Previously, Maya Alam taught at SCI-Arc and worked in Germany, India, Switzerland, China, and Italy. She has worked with design studios P-A-T-T-E-R-N-S, NMDA, UNStudio and Studio Fuksas.  In spring 2015, under Alam's leadership, a team of three Syracuse Architecture students won the opportunity to participate in the tenth anniversary exhibition of the Festival des Architectures Vives (FAV) in Montpellier, France. Their installation, "trans(inter)ference," received the festival's special mention award.
Harry der Boghosian was an accomplished architect, teacher, world-traveling photographer, and watercolor artist. He was also a U.S. Army veteran. Following his military service he worked at Syracuse firms Sargent, Webster, Crenshaw & Folley and King & King Architects. He became a tenured faculty member at the University of Arizona in Tucson, Arizona in 1970. All four of Harry's sisters graduated from Syracuse University. When Harry passed away, his surviving sister, Paula, decided the best way to use the funds from his estate would be to give a gift to the School of Architecture in his honor. Thanks to her generosity—the largest gift in the school's history made by a living donor—the BoghosianEndowed Fellowship was then established.
To learn more about the design and research of Maya Alam, visit mayaalam.com
To learn more about Harry der Boghosian, visit http://changealife.syr.edu/derboghosian/
(by Elaine Wackerow)