Each semester, upper-level architecture students participate in the visiting critic program that brings leading architects and scholars from around the world to the school. Four studios will be held on campus this fall.
Li Han and Hu Yan (Drawing Architecture Studio)
Li Han and Hu YanLi Han and Hu Yan will teach the visiting critic studio, "Building Stories: The Poetry in Everyday Space," where students will showcase how architecture and space transcend their utilitarian functions to become integral components of storytelling.
Inspired by the backdrop of the multi-family house featured in the graphic novel, Building Stories, created by American cartoonist Chris Ware, the studio is conceived as an experimental exploration of a design approach based on narrative and sensitivity. Beginning with the interior design of a multi-family house and gradually expanding to encompass various scales and design domains, ranging from everyday items and furniture to architecture and urban landscapes, students will embody different roles and derive inspiration from everyday spaces in Syracuse, defining poetic moments through design and telling their own building stories. The entire design process—emphasizing intricate observation, detailed representation, multi-threaded storytelling and collage—is viewed as a comprehensive study of multi-family housing, spanning from the functional layout of living spaces to the lifestyles of residents, and from the cultural aesthetics of architecture to the historical memories of the city.
Han and Yan are co-founders of Beijing-based Drawing Architecture Studio. Li is a registered architect in China and studied at the Central Academy of Fine Arts in Beijing and RMIT University in Melbourne, Australia. Hu studied at Concordia University in Montreal, Canada. Their work has been exhibited widely in China and in the United States at events such as the 4th Chicago Architecture Biennial; the China Pavilion and Japan Pavilion of the 16th Venice Architecture Biennale; and the 7th and 9th Shenzhen-Hong Kong Bi-City Biennale of Urbanism-Architecture. Their work has been acquired by the Museum of Modern Art in New York; the San Francisco Museum of Modern Art; The Art Institute of Chicago; White Rabbit Gallery in Sydney, Australia; the Macao Museum of Art, in Macao, China; the Pingshan Art Museum in Shenzhen, China; and the Wind H Art Center in Beijing, China. Their publications include A Little Bit of Beijing (2013); A Little Bit of Beijing · Dashilar (2015); The Joy of Architectural Drawing (2018); Hutong Mushroom (2018) and Apartment Blossom (2021).
Han and Yan will give a presentation and lecture, focusing on their upcoming exhibition, A Little Bit of Syracuse, on Sept. 21 at 6 p.m. in the Hosmer Auditorium at the Everson Museum of Art.
Da-Un Yoo (Ewha Womans University)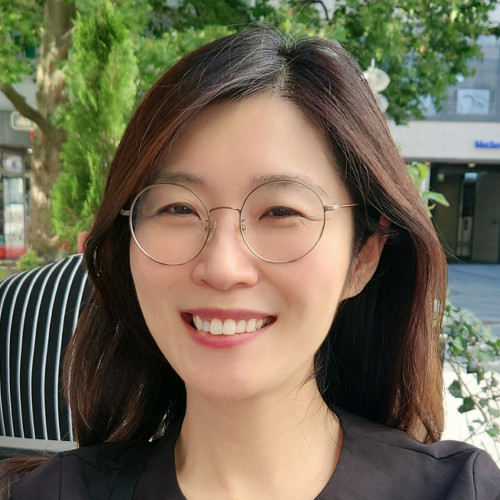 Da-Un YooDa-Un Yoo will teach the visiting critic studio, "Extreme Living: 22nd Century Seoul Housing," which celebrates the 100th anniversary of the publication, Towards a New Architecture by Le Corbusier by exploring the 'new architecture' for the 22nd century.
Just as Le Corbusier explored the various housing typologies and lifestyles that new technologies would change in the era of automobiles, airplanes, ships and mass production about 100 years ago, students will imagine the future of urban housing based on the latest technologies such as autonomous vehicles, drone taxis and online telecommunication. Using Seoul, South Korea as the site for their investigations, a city nicknamed "the republic of apartments" for the ubiquitous apartment towers and complexes all over the country, students will research scenarios for extreme living and design a high-density urban housing proposal for the 22nd-century Seoul. In addition to typical studio sessions, students will travel to Seoul in the fall, as part of a one-week sponsored trip, to gain a greater understanding of the city's extreme housing culture—the high-rise apartment buildings and neighborhoods resembling 'towers in the park'—reminiscent of the city Le Corbusier predicted 100 years ago. 
Yoo is a professor in the Department of Architecture at Ewha Womans University in Seoul, South Korea where she runs the Sustainable Urban Architectural Design Lab. As a licensed architect and urban designer, Yoo pursues integrated design that can mediate the boundaries between architecture, city, and landscape through various interdisciplinary joint research, with a focus on designing a public environment that embraces the underprivileged for a sustainable future. In practice, Yoo worked in architecture and urban design practice at Machado & Silvetti Associates, and she holds an architect's license in the United States and LEED AP (Green Architectural Design Specialist) certification.
Yoo received a master in Architectural Design (MArch) from the Department of Architecture at Ewha Womans University, a master in Urban Design (MAUD) from Harvard Graduate School (GSD) and a Ph.D. in Urban Planning from Seoul National University.
Yoo will give a public lecture at the School on Sept. 28 at 5:30 p.m. in the atrium of Slocum Hall.
Bing Bu (Syracuse Architecture and INCLS)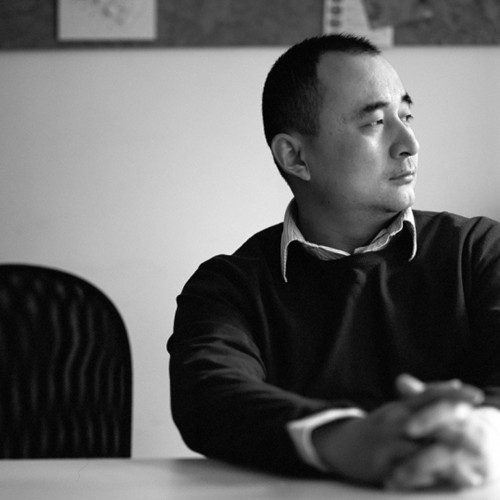 Bing BuBing Bu will teach the visiting critic studio, "Project Promised Land," where students will examine "managed retreat" as a necessary measure in response to climate change induced natural hazards in the contexts of social, technological, economic, ecological and political aspects.
Climate change now feels more real than ever as we have witnessed New York City covered by wildfire smog or California deserts flooded by a hurricane in the past summer. Whether or not we have lost the tipping point in the war against global warming, it's time to take actions to adapt to these new climate patterns. Structured in two phases: the research phase and the design phase, the studio will focus on a relatively new approach to increased coastal hazard risks—managed retreat, the purposeful and coordinated action to move infrastructure and people away from areas of high-risk of negative impacts due to climate change. In phase one, students will research climate change and managed retreat for Lake Ontario communities in upstate New York and represent their findings through visual mediums. In phase two, working in site-specific project teams, students will identify issues and challenges from a local view and establish their managed retreat frameworks, design proposals and means of implementation for the built environment in both sending and receiving sites.
This studio is a part of the "University Partnership for Innovative Climate Solutions" initiative launched earlier this year by the New York Department of State (DOS) to engage graduate and undergraduate students in DOS programs and projects that focus on climate change and climate justice. During the semester, students will access a wide range of data and information provided by the DOS and meet twice a month with DOS officials and regional staff, as well as in-house experts and trusted partners. The final works produced by students will be shared with policymakers, program managers and decisionmakers from the Office of Planning, Development & Community Infrastructure as a visual tool, and incorporated into statewide policy and program guidance to be utilized by both DOS and other state agencies working on coastal and climate resilience.
Bu is the program director of the Syracuse Architecture Three Cities Asia program. His practice, INCLS (One Design Inclusions) takes urban design and research as its focus while expanding to widespread fields including architecture, art, product and theater. Bu's projects include the Zhelin Community Center at Shanghai, Hongfeng Tech Park at Nanjing, urban design for Suzhou High Gardens and for Cixi central business district. The works of his office have been selected and exhibited in several important venues, including the Shenzhen/Hong Kong Biennale 2007, Utopia2 at CIVA Brussels 2008, Chengdu Biennale 2011 and Human Scale Remeasured at Aedes Berlin 2021.
Bu has also worked extensively as a curator. His installation, Cloud Room, traveled to the National Art Museum of China in Beijing, Taiwan Art Museum in Taichung and to the Kennedy Center in Washington D.C., in 2011. He has also curated exhibitions including "Ningbo, Metamorphosis of a Chinese City" at Aedes Berlin in 2003, "Un-natural" at BCA Beijing in 2009, "Spectacle" at PSA Shanghai in 2013 and "Fusion Power" at West Bund Art Center, Shanghai in 2016.
Bu received his bachelor's and master's in architecture from Tsinghua University and Yale University, respectively. He has been a tutor for the joint graduate school Global Urbanism Studio in Washington University St. Louis and Tongji University in Shanghai from 2011 to 2014. He has also been a guest professor for Shanghai Jiao Tong University's architecture and urban design studio since 2011.
Stephanie Davidson and Georg Rafailidis (DAVIDSON RAFAILIDIS)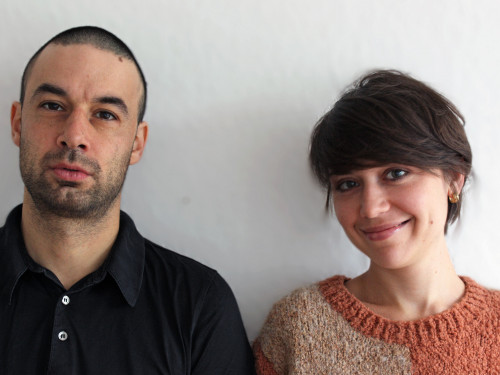 Stephanie Davidson and Georg RafailidisStephanie Davidson and Georg Rafailidis will teach the visiting critic studio, "House for Everyone," where students will look at an adaptive reuse project that exemplifies how architecture is both a private matter and a public good.
In this studio, students will examine a property located at the southern edge of the Adirondacks at the Great Sacandaga Lake. Owned by a family with ties to Syracuse University, they have expressed an interest in opening up the use of the property, which has historically been a private summer home, and finding new ways that it can not only serve their private needs, but also serve a wider community. Students will analyze the existing buildings on the property: their materiality and construction, their apparent tectonic logics, the types of spaces they offer, their relationship to the landscape of the Adirondacks and the climate of upstate New York. Through a series of exercises, students will study existing spatial typologies that have—either through design or happenstance—proven to be spaces for everyone: radically inclusive, and not bound to a specific program or user group, as well as a typology specific to the Adirondacks: "Great Camps." Following these investigations, fragments of these studies will crosspollinate with documentation and exploration of the site—detailed measurements, exhaustive photos and an inventory of materials—taken from a sponsored site visit during peak fall foliage season. Through the complex process of adaptive-reuse, students will create outcomes that are typologically unclassifiable and alive, informed by the past and imaginings of the future, hopeful and provocative, populist and joyful.
Davidson and Rafailidis are the co-founders of the architecture practice DAVIDSON RAFAILIDIS. The interest underlying much of their work is the friction between the original design intentions for spaces and buildings, and the much richer built reality and unpredictable lives that buildings inevitably have. In most of their work, they study existing built conditions–sometimes these studies evolve into built works and sometimes the studies take the form of documentation (drawings, photographs, writing). The duo was recognized with the Emerging Voices award from the Architectural League of New York in 2018. The realized work of DAVIDSON RAFAILIDIS embraces frugality; projects are accomplished on lean budgets and are seen as case studies in financially accessible architecture: space for everyone.
Davidson earned a degree in fine arts from Mount Allison University in Sackville, New Brunswick, then studied architecture at Halifax's Dalhousie University and London's Architectural Association. She has worked for German firms Sauerbruch Hutton and Gonzalez Haase, as well as Canada's Provencher Roy. Rafailidis received his architectural diploma from the University of Applied Sciences in Munich, Germany and a master of arts from the Architectural Association School of Architecture in London, England. A native of Bavaria, he is a registered architect with the Federal Chamber of German Architects and has previously worked for Herzog & de Meuron. Both Davidson and Rafailidis have taught at various architecture schools including the RWTH Aachen University in Germany, the University at Buffalo, Academy of Art University in San Francisco and the University of Toronto in Canada.