Throughout the upcoming academic year, School of Architecture Associate Professor Lawrence Chua will embark on three international fellowships supporting the research and writing of his next single-authored scholarly monograph investigating the chronopolitics and temporal entanglements of modern architecture and the pre-modern built environment in Thailand, Laos and Cambodia.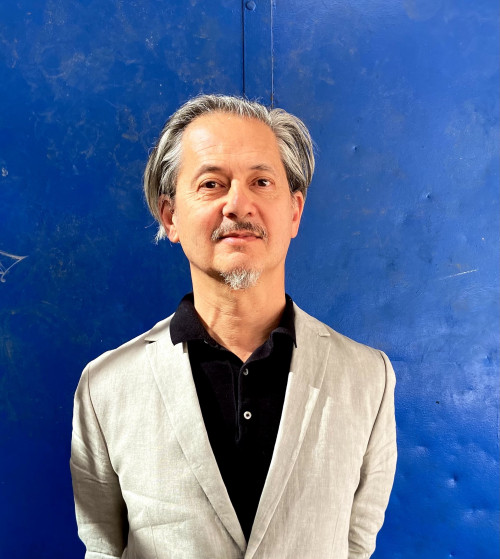 Credit: Timothy GerkenTentatively titled "Constructing Anachronism: karma, renaissance and rebirth in Southeast Asian architectural history," the project builds on Chua's previous book, Bangkok Utopia and traces the movements of Southeast Asia's architectural and epigraphical fragments from the pre-colonial past into the present. The book argues that although architectural modernity is typically narrated as a new conception of time rooted in the present, modernism in the region was also oriented toward "medieval" and "classical" pasts.
"This argument necessitates an investigation into what these temporal categories, imported from European historiography in the 19th and 20th centuries, meant in the context of the Southeast Asian built environment and how the colonial deployment of the concept of 'renaissance' squared against local understandings of karma, rebirth and sovereignty," says Chua.
Through a historical investigation of the construction of an anachronistic landscape in modern-day mainland Southeast Asia, Chua's book seeks to understand the ways that various regimes disaggregated fragments of the historical past from their older social and cosmological contexts as they crossed over into the progressive clock- and calendar-time of modernity.
Chua will spend the summer and fall of 2023 on a Visiting Research Scholar Fellowship at the Center for Southeast Asian Studies at Kyoto University in Japan, one of the world's foremost centers for Southeast Asian regional studies. Awarded to "productive scholars of high reputation—who work on comparative and regional issues from a multi-area perspective—to conduct research, write or pursue other scholarly interests in connection with their field of study." The center is of particular importance to Chua's project because it has the most extensive library of "cremation volumes" outside of Thailand. Initiated in the late 19th century, these commemorative books were given as gifts to guests at Thai funerals, and usually include a biography of the deceased as well as other literary materials.
"These unique volumes are important resources for archival material that may not have been collected in state or institutional archives," says Chua. "They include not only biographies of early 20th-century architects and urban planners but important documents about the history of the architectural profession."
During the first half of 2024, Chua will study as a Senior Research Fellow at the Center for Khmer Studies, an overseas research center that promotes research, teaching and public service in the social sciences, arts and humanities in Cambodia and the Mekong region. Based in Siem Reap, near the Angkor Archaeological Park in northern Cambodia, the fellowship places him in close proximity to not only Angkor Wat but many of the other medieval and modern sites in the region that corresponds with his research.
"This in-country research fellowship will allow me to also access important archives in Phnom Penh that relate to the professionalization of architecture in the Sangkum Reastr Niyum era, the brief but influential period of non-aligned socialism the country enjoyed after its independence from France," says Chua.
In addition to the fellowships in Japan and Cambodia, Chua will concurrently hold a fellowship through the Freiburg Research Collaboration Programme (FRESCO), initiated by the Freiburg Institute of Advanced Studies (FRIAS), the international research college of the Albert-Ludwigs-Universität, Freiburg in Germany. Intended to establish long-lasting and sustainable relationships between "excellent researchers in Freiburg and high-ranking national and international researchers to substantially strengthen and develop emerging fields," Chua's five-month FRESCO fellowship is spread out over two years and will allow him to develop a collaborative project with members of the comparative field of Comparative Area Studies and Transregional Studies in the university's De/Coloniality Now initiative.
"I am delighted to be able to return to FRIAS, where I held a Marie S. Curie Junior Research fellowship in 2018," says Chua. "That earlier fellowship exposed me to so many excellent scholars in linguistics, visual studies, mathematics and law. The transdisciplinary conversations we had were inspiring and intellectually generative. The fellowship allowed me to complete the manuscript of my first scholarly monograph, and I am hoping this one will be as productive."
Chua is a historian of the modern built environment with a focus on Asian architecture and urban culture. He is the author of "Bangkok Utopia: Modern Architecture and Buddhist Felicities" (University of Hawai'i Press, 2021). He has been a fellow at the Getty Research Institute, Los Angeles; a Marie S. Curie FCFP fellow at the Freiburg Institute for Advanced Studies at the Albert-Ludwigs-Universität, Freiburg, Germany; and a fellow at the International Institute of Asian Studies at the University of Leiden, the Netherlands. Chua currently serves as co-editor of the "ArchAsia" book series at Hong Kong University Press; as a member of the editorial collective of "positions: east asia critique;" as a member of the editorial board of the "Journal of the Society of Architectural Historians;" and as co-chair of the Race and Architectural History affiliate group of the Society of Architectural Historians.
For more information about Lawrence Chua and his work, visit lawrencechua.org.