Giving back in support of the next generation creates talent continuity. For Jeff Zynda '99 (B.Arch) and Yanel de Angel FAIA G'99 (M.Arch I), this is a concept they've both benefited from as students at Syracuse University's School of Architecture, as well as in their leadership roles at the Boston studio of Perkins&Will, an interdisciplinary, research-based architecture and design firm.
"As students, we received scholarships that allowed us the opportunity to pursue a top-rated education to fulfill our career dreams," says de Angel. "Professionally, we've also had a steady stream of talented graduates, many of them leading our studio as partners, and others feeding a healthy talent pool for the future."
Inspired by their own access to scholarship opportunities, their experiences at Syracuse, and in celebration of the School of Architecture's 150th anniversary, Zynda and de Angel recently established the Perkins&Will–Boston School of Architecture Endowed Scholarship at Syracuse University. The scholarship will be used to provide assistance to undergraduate students enrolled in the School of Architecture with demonstrated financial need.
"We felt welcome and supported since the day we arrived on campus. The faculty took a personal interest in us, forming long lasting and genuine relationships," says Zynda. "Just like others did for us, we must look back at the emerging talent and help them through that journey."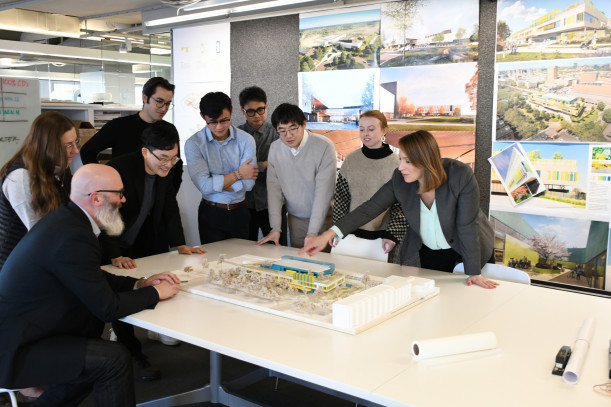 Jeff Zynda '99 (B.Arch) and Yanel de Angel, FAIA G'99 (M.Arch) with Syracuse University School of Architecture alumni at Perkins&Will.The leadership team at Perkins&Will also felt strongly about creating the scholarship initiative since enabling access to education for a deserving candidate aligns strongly with the firm's passion and commitment for advancing its J.E.D.I. (justice, equity, diversity and inclusion) principles and belief that the best design solutions come from diverse design teams.
"Our hope for the next 150 years of Syracuse Architecture is that the school continues to invest in top talent, innovates to be a trend setter and thought leader, produces holistic thinkers and, most importantly, celebrates the diversity of minds that distinguishes the program," says de Angel.
"For me, giving back to Syracuse provides a connection to our "living legacy"—the students of today's classes—which, from a personal perspective, is both rewarding and energizing," says Zynda.
Jeff Zynda '99 (B.Arch)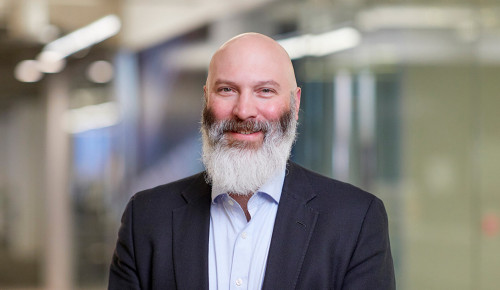 Jeff Zynda '99 (B.Arch)Zynda is principal at the Boston studio of Perkins&Will where he leads the firm's science and technology practice. Embracing the concept of convergence, Zynda's work represents highly adaptable future-focused research and development environments for academic institutions, commercial science companies and the U.S. federal government. From private corporations to public institutions, his knowledge is broad and deep, providing his clients with targeted solutions to design challenges that explore the intersection between high-technology and exceptional design.
Zynda is widely known for his innovative approaches to laboratory design, the advancement of supporting technologies and his ability to lead clients toward "next generation" designs. His leadership and insight spring from the programming, planning, design and construction of more than 8 million square feet of research space in the United States and Europe. This experience has provided him with a clear understanding of each client's scientific needs, and the talent to translate those needs into novel research design ideas.
Zynda holds a bachelor's degree in Architecture from the Syracuse University School of Architecture. As an internationally recognized leader in the laboratory, vivarium and biocontainment design community, he has been a frequent lecturer on these topics at AALAS, Tradeline, FELASA and R&D, and has also been a key contributor to the development of national standards and guidelines as a design committee member at the National Institutes of Health (NIH). Zynda is also a member of the Syracuse University School of Architecture Advisory Board.
Yanel de Angel, FAIA G'99 (M.Arch I)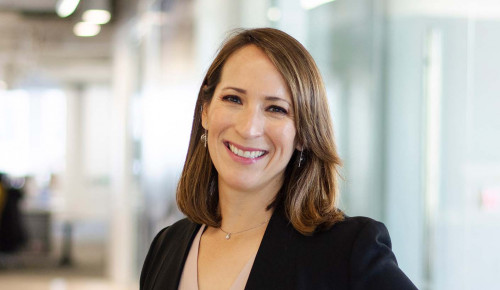 Yanel de Angel, FAIA G'99 (M.Arch)de Angel is managing director of the Boston studio of Perkins&Will where she leads with a spirit of empowerment that continuously pushes teams to be agents of change—for the well-being of our communities, our planet and each other. A dedicated mentor, she finds joy in helping others elevate their own voice, become genuine leaders and craft a meaningful career path.
With a reputation for simplifying the complex and building consensus among stakeholder groups, de Angel has been instrumental in the growth of her firm's global Higher Education practice, as well as the execution of large mixed-use projects in Boston and internationally. She has leveraged her expertise to spur significant initiatives such as ResilientSEE, a global platform of design professionals, private industry, and academia that offers comprehensive, pro-bono resilient planning and design to communities around the world.
de Angel has a bachelor's degree in Environmental Design from the University of Puerto Rico School of Architecture, a master's degree in Architecture 1 from the Syracuse University School of Architecture, and a master's degree in Design from the Harvard University Graduate School of Design with a concentration in History and Theory of Architecture. She has taught at Syracuse University, Maryland Institute College of Art, Harvard University Graduate School of Design and Northeastern University. In 2020, de Angel was elevated to the AIA College of Fellows. She is an active member of her firm's diversity council, serves on the advisory boards of various institutions and global organizations, and is a member of the Syracuse University School of Architecture Advisory Board.
About Syracuse University
Syracuse University is a private research university that advances knowledge across disciplines to drive breakthrough discoveries and breakout leadership. Our collection of 13 schools and colleges with over 200 customizable majors closes the gap between education and action, so students can take on the world. In and beyond the classroom, we connect people, perspectives and practices to solve interconnected challenges with interdisciplinary approaches. Together, we're a powerful community that moves ideas, individuals and impact beyond what's possible.
About Forever Orange: The Campaign for Syracuse University
Orange isn't just our color. It's our promise to leave the world better than we found it. Forever Orange: The Campaign for Syracuse University is poised to do just that. Fueled by 150 years of fearless firsts, together we can enhance academic excellence, transform the student experience and expand unique opportunities for learning and growth. Forever Orange endeavors to raise $1.5 billion in philanthropic support, inspire 125,000 individual donors to participate in the campaign, and actively engage one in five alumni in the life of the University. Now is the time to show the world what Orange can do. Visit foreverorange.syr.edu to learn more.