The accomplishments of the School of Architecture Class of 2022 were celebrated by students, faculty, staff and families at the
Graduation Honors Convocation
held at Hendricks Chapel on May 14.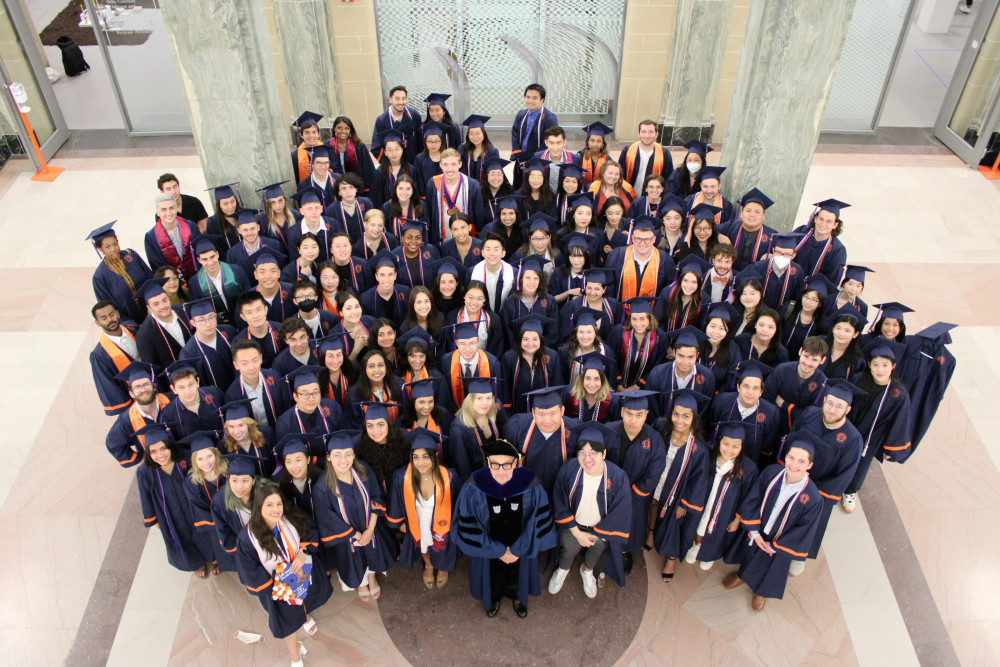 School of Architecture Class of 2022School of Architecture class marshals Erik Bakken and Jasmine Elizabeth Greytok led the procession of graduate and undergraduate degree candidates in a celebration of academic achievements while Gary Bates, founder of SPACEGROUP and Make Make, was the keynote speaker for Saturday's ceremony.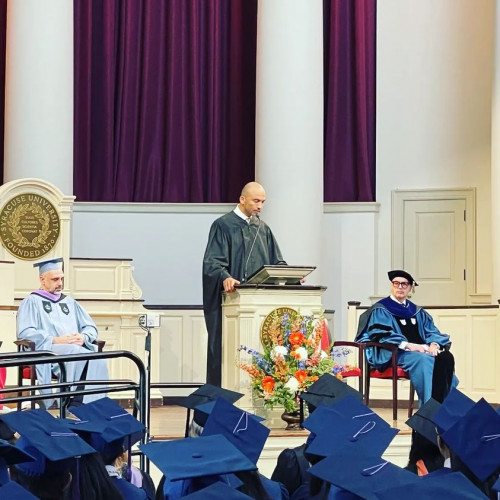 Gary Bates delivered the keynote address at the School of Architecture Class of 2022 Graduation Honors Convocation
Talking not only to the graduates, but also to the families and friends in attendance, Bates provided insight about what architects do—something, he says, most people struggle to find the answer to—and why architects do what they do.
"We answer wicked problems, problems that are nearly impossible to solve, incomplete problems, problems that change in scope and condition," Bates said. "You can see conceptual and structural patterns between seemingly unrelated ideas in environments and the abstract mechanisms behind them. You have what David Epstein refers to in his book with the same name, range."
Through several personal anecdotes detailing his experiences as an architect, urbanist and educator, Bates offered some advice to the graduating class.
"You have more skills, more knowledge, more information, more resilience, more tools than any other generation of architects before you," Bates said. "You only need to remember; you are not architecture. You're architects."
During convocation, Dean Michael Speaks announced the winners of this year's Britton Memorial Awards Competition, recognizing the best final thesis projects by graduate and undergraduate students from the Class of 2022.
As a year-long process, thesis is the culminating educational experience for all recipients of the Bachelor's and Master of Architecture degrees. Working as individuals or in collaborative teams, students are empowered by their autonomy to imagine and envision an architectural project with an advisory group of faculty on topics related to their expertise. The thesis year is an opportunity for students to synthesize the varied aspects of the curriculum in ways that focus on particular issues or opportunities in the field, allowing them to explore architectural knowledge and practice in a deeper and more complex way than occurs in their prior design studios or other courses.
Each year, the School hosts an awards competition where students who choose to participate present their theses before a panel of faculty and invited critics from the profession and other schools of architecture who are nationally and often internationally well known for their creative and scholarly work.
This year, the School of Architecture welcomed the following critics to Slocum Hall on May 13:
Anna Bates
Annvil, Make Make
Gary Bates
SPACEGROUP, Make Make
Korantemaa Larbi
Design233
Davide Sacconi
Syracuse University in London, CAMPO
Oana Stănescu
OS, Harvard GSD, & MIT
Lily Wong
Weiss/Manfredi
Kim Yao
ARO, Columbia GSAPP
Michael Young
Young & Ayata, Cooper Union
After a day of enlightened discussions, three groups of reviewers—invited critics, faculty, and members of the School of Architecture's advisory board—evaluated the students' posted work and submitted ranked ballots to determine top prizes.
Kristabel Chung was awarded this year's

Jury Prize

for her project, "Stored Labor", a thesis documenting the discriminatory labor laws and their impact on the design of private housing developments to design migrant domestic worker accommodations in Hong Kong.
Alba Ivania Rivera and Helna Zhen were awarded the

Faculty Prize

for their project, "Impermanent Mycotectures" that reintroduces and revitalizes bio-based materials—specifically mycelium and biodegradable substrates—into circular economies where zero waste is produced.
Dara H. Jin was awarded the

Advisory Board Prize

for her project, "Woven Tensions", which deals with the tenuous relationship between the residents of Chinatown and Johannesburg, South Africa and proposes an architectural intervention that aims to acknowledge the rift and create a space for open dialogue.
In addition to the Britton Memorial Awards, Dean Speaks recognized the recipients of this year's Dean's Citations for Excellence in Thesis Design and Citations for Excellence in Thesis Design.
Dean's Citations for Excellence in Thesis Design
Ziyi Zhou
Austin Peña
Karina Lucia Corcuera Falconett & Mary Katherine Krege
Pin Sangkaeo
Parker D. Klebahn
Michael Heller
Citations for Excellence in Thesis Design
Bram Monson
Ximeng Luo & Shihui Zhu
Ying Na Li, Rachel Ly and Skylar Sun
Shiori Green
Jake C. Hayward
Kelsey Benitez & Isabel Caroline Sutherland
To view all of this year's Britton Memorial Awards Thesis Prize Competition entries by graduate and undergraduate students in the School of Architecture's professional degree programs, visit soa.syr.edu/thesis-prize-competition.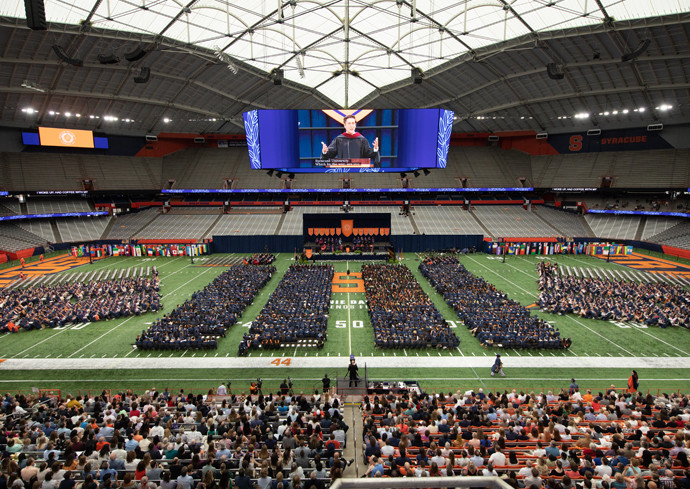 Members of the Class of 2022 listen to the Commencement address from "ABC World News Tonight" anchor David Muir.On Sunday, May 15, the University held its 2022 Commencement ceremony—the first in-person Commencement since 2019. The event featured David Muir, a Syracuse native and anchor of "ABC World News Tonight with David Muir," who delivered a Commencement address honoring a graduating class that has gone through more trials and tribulations than any in the University's 152-year history.
Marveling at the "extraordinary achievement" and the resiliency displayed by the Class of 2022 in earning their degrees, Syracuse University Chancellor and President Kent Syverud credited the hard work, determination and dedication of the graduates while setting the bar high for their successes once they leave campus.
"You have done wondrous things here. You will do marvelous things in the future. Please aim high. And always, go Orange," Chancellor Syverud said.
Congratulations to the School of Architecture Class of 2022!