"
Cultivated Imaginaries: Superblock and the Idea of the City
" will be on exhibit beginning Thursday, Nov. 11, in the Marble Room on the first floor of Slocum Hall. The exhibition represents the culmination of a yearlong design research and teaching effort conducted at the School of Architecture by Liang Wang, Harry der Boghosian Fellow, 2020-21.
Throughout the 2020-21 academic year, Wang, the school's fifth Boghosian Fellow, has taught an architecture studio and two professional electives devoted to the study of the superblock. The results of Wang's studio and other courses taught over this last year are catalogued and published in two large volumes, which are part of the exhibition. But those materials tell only part of the story.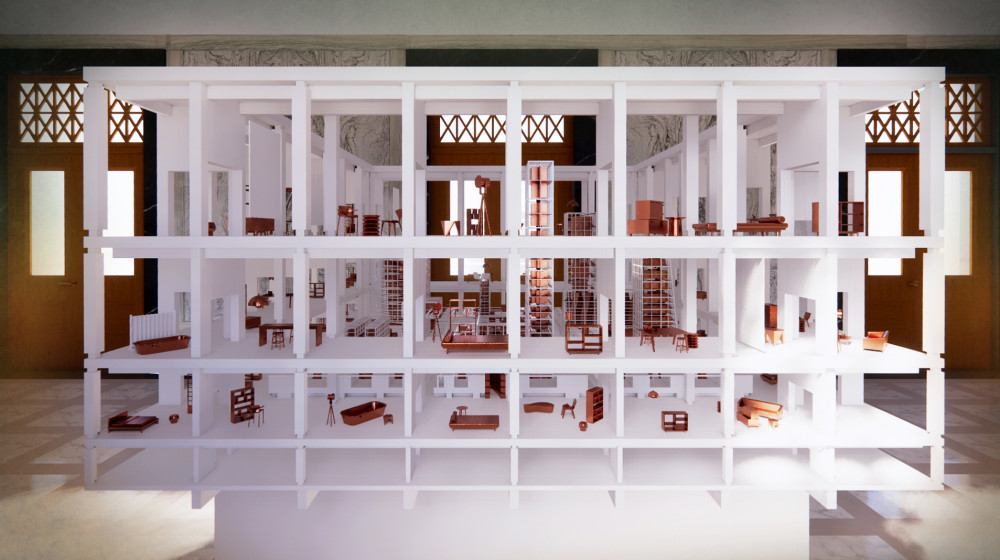 'Cultivated Imaginaries' exhibition model in Slocum Hall's Marble RoomThe centerpiece of the exhibition is a large model of multiple scales—urban, architecture, interior—that comes in and out of focus depending on how and from what vantage point it is viewed. Indeed, depending on the vantage point, the scales appear not only to be multiple, but indeterminate. To be more precise, the model encourages our eye to move seamlessly between scales and accede to the ambition of "seeing all" named by "superblock," a vantage point that might be best described as a mobile, 3D approximation of the views provided by Song Dynasty landscape paintings.
Ultimately, the exhibition demonstrates that "superblock" is not so much a term, concept or reality, but is instead the name for an ambition, shared by the architect and the urbanist alike, to "see all": to represent, name and thus comprehend the seemingly incomprehensible complexity of the contemporary city.
"I'm thrilled to present this exhibition as the culminating event of my fellowship, which has been a truly collective and collaborative process," says Wang. "In many ways, this project is a design manifestation of intellectual curiosities, endeavors and findings in excavating the conceptual and representational apparatus of architectural and urban imaginations today."
"Wang, like all previous Boghosian Fellows, has enriched the intellectual and design culture of the school," says Michael Speaks, dean of the School of Architecture. "He and his students worked for more than a year researching the superblock and its development in the west and in China. Last spring, Wang organized an impressive symposium that included scholars from all over the world. His exhibition promises to be equally impressive for students, faculty and scholars interested in this important urban typology."
Wang will give a gallery talk at 5:30 p.m. Thursday, Nov. 11, in Slocum Hall's first floor atrium. A public reception will follow.