Sekou Cooke
, an assistant professor in the School of Architecture who has gained widespread recognition for his investigations into the emergent field of Hip-Hop Architecture, is one of 10 architects, designers and artists chosen to exhibit a newly commissioned work in The Museum of Modern Art's (MoMA) first exhibition to explore the relationship between architecture and the spaces of African American and African diaspora communities.
On view through May 31, 2021, "Reconstructions: Architecture and Blackness in America"—the fourth installment of the Issues in Contemporary Architecture series—examines contemporary architecture in the context of how systemic racism has fostered violent histories of discrimination and injustice in the United States.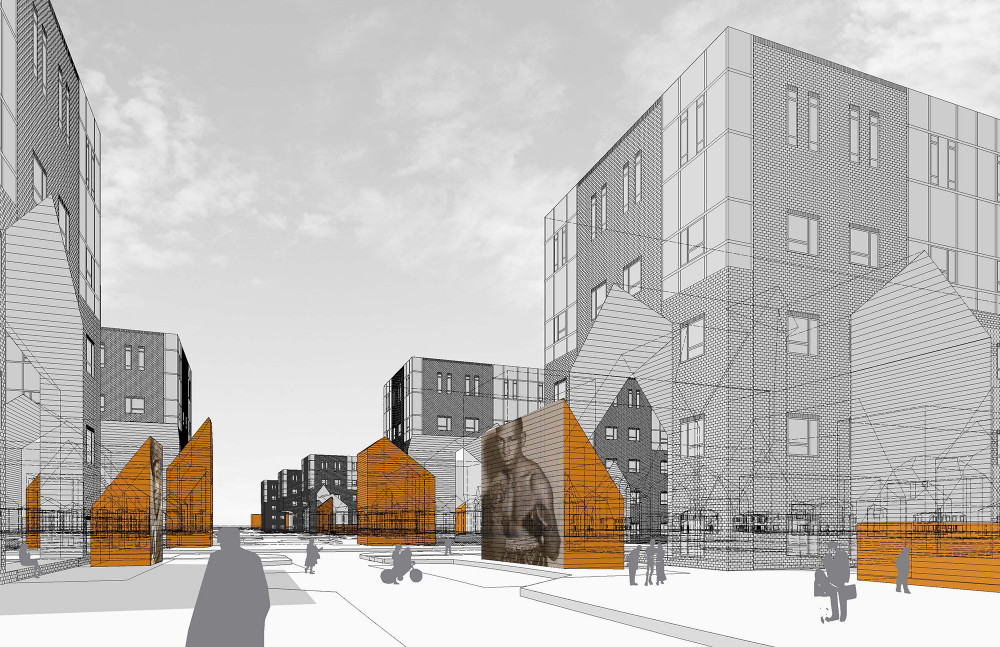 Sekou Cooke. We Outchea: Hip-Hop Fabrications and Public Space. 2020. Digital print and screenprint. 12 × 12″ (30.5 × 30.5 cm). Credit: Image courtesy of the artist. The Museum of Modern Art, New York
Each project in the exhibition proposes an intervention in one of 10 cities, from the front porches of Miami and the bayous of New Orleans to the freeways of Oakland and Syracuse, and celebrates the ways individuals and communities across the country have mobilized Black cultural spaces, forms and practices as sites of imagination, liberation, resistance, care and refusal.
"We Outchea: Hip-Hop Fabrications and Public Space," Cooke's hip­-hop inflected commentary on low-income housing, remixes the history of a Syracuse housing project to help a community reclaim public space.
As the Interstate Highway System in the United States was developed in the mid-20th century, land was systematically devalued and Black citizens were cut off from accessing the more affluent areas of American cities. In "We Outchea," Cooke analyzes the ways in which city and state governments' right of eminent domain was used to displace a Black community in Syracuse for the purposes of building Interstate-81.
Cooke's proposal focuses on the site of Pioneer Homes, one of the first public housing projects in New York State, located adjacent to the 15th Ward, which was once a vibrant hub for Black-owned businesses and single-family homes, but became the result of a state-supported slum clearance initiative to make way for Interstate-81.
Research into the demolition of the old 15th Ward in the 1960s, the 1940s Pioneer Homes housing project in Syracuse's South Side, and the current Blueprint 15 project approach to tearing down Pioneer Homes and two other Syracuse housing projects adjacent to the Interstate revealed to Cooke a multi-textured, multi-layered built history within a very concentrated area of the city and, more importantly, the continued displacement of Black residents and devaluation of their communities.
"We Outchea" takes all of those layers of history and samples them, remixing them into something new, turning a development—projected to be a typically banal internally-focused housing project—into an externally-focused image of public space for the Black community.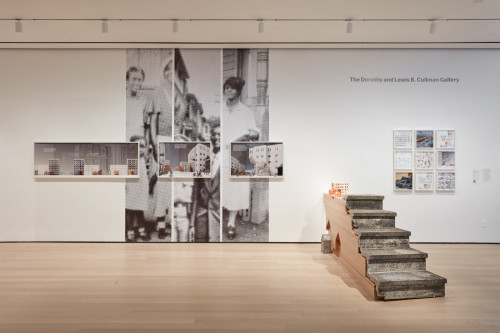 Installation view of Reconstructions: Architecture and Blackness in America, The Museum of Modern Art, New York, February 27, 2021 – May 31, 2021. Credit: © 2021 The Museum of Modern Art. Photo: Robert GerhardtInformed by hip-hop, Cooke's project samples and collages photographs and structures from the area's past. A model of a large section of concrete stoop—a fixture that has a long legacy of importance to Black people in urban environments—attached to a base of plywood layers, symbolizes a community response to the division caused by the construction of Syracuse's Interstate.
"The wood areas are the new proposal for mixed-income housing and the orange areas are spaces for commerce, for public interaction," says Cooke.
By incorporating images of previous residents amid the façades of Cooke's proposed buildings, "We Outchea" visualizes the potential of architecture and urbanism to re-center Black culture.
"Asserting one's ownership of public space is a really important mode of self-care," says Cooke. "We are able to form community despite oppression, despite marginalization."
"We Outchea" stands as a preemptive critique of Blueprint 15 and similar approaches that erase low-income communities from urban environments. Instead of accepting the assumptions of Blueprint 15 or attempting to fix its deficiencies, Cooke's proposal defiantly asserts, "This time we shall not be moved!"
In addition to contributing to the exhibition, Cooke, along with the other featured architects, designers and artists—Emanuel Admassu, Germane Barnes, J. Yolande Daniels, Felecia Davis, Mario Gooden, Walter Hood, Olalekan Jeyifous, V. Mitch McEwen and Amanda Williams—independently decided to form the Black Reconstruction Collective (BRC), dedicated to providing funding, design and intellectual support to the ongoing and incomplete project of emancipation for the African Diaspora.
The BRC, now incorporated as a nonprofit 501(c)(3) organization, endeavors to not only address the disparity of Black architects in the profession and the profound lack of Black architects among exhibition histories nationwide, but also to advocate, support and amplify the ideas and works of emerging architects and designers.
"The most important aspect of this entire exhibition process for me has been the formation of the BRC," says Cooke. "The organization's mere existence indicates the power to shift conversations from the speculative work presented to the generative work the group hopes to support."
"Reconstructions: Architecture and Blackness in America" is organized by Sean Anderson, associate curator, Department of Architecture and Design, The Museum of Modern Art, and Mabel O. Wilson, Nancy and George E. Rupp Professor, Columbia University, with Arièle Dionne-Krosnick, former curatorial assistant, and Anna Burckhardt, curatorial assistant, Department of Architecture and Design, The Museum of Modern Art.
For more information on the exhibition or to reserve a timed ticket for admission to the MoMA, visit mo.ma/reconstructions.