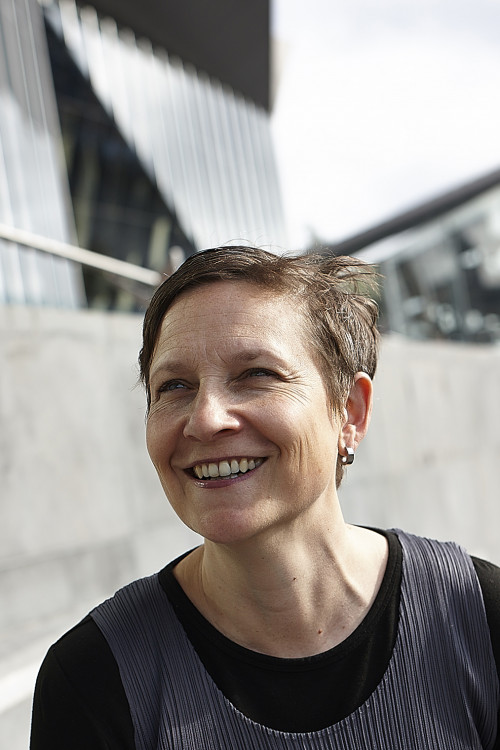 Lori A. Brown Credit: Peter BennettsEach year, the award spotlights individuals and firms based in the United States, Canada and Mexico with distinct design "voices" that have the potential to influence the disciplines of architecture, landscape design and urbanism.
Since 1982, the awards have helped launch the careers of more than 200 North American-based architects. Past winners include Steven Holl (1982), Deborah Berke (1993), Marion Weiss and Michael Manfredi (1997), Jeanne Gang (2006), Kate Orff (2012) and Bryan C. Lee Jr. and Sue Mobley (2019).
The invite-only, two-stage review from approximately 50 entrants brings together the best of the best in design. This year's Emerging Voices winners were selected by an eight-person jury of design professionals including Daniel Barber, Philadelphia; Milton S.F. Curry, Los Angeles; Mimi Hoang, New York; Paul Lewis, New York; Rozana Montiel, Mexico City; Ronald Rael, Berkeley, California; Lola Sheppard, Toronto; and Rosalyne Shieh, New York.
The jury reviewed significant bodies of realized work and considered accomplishments within design and academia. The work of each Emerging Voice represents the best of its kind and addresses larger issues within architecture, landscape and the built environment.
"Cognizant of the limitations of seductive images that are often foregrounded in portfolios, the jury carefully weighed all elements of the submissions, identifying eight individuals and firms engaged in a robust architecture imbued with inventive approaches to social, racial and economic equity, material invention, and ecological benefits," said Paul Lewis, jury member and president of the Architectural League, in a statement.
In addition to teaching at Syracuse University, Brown is an architect, educator and scholar. She is president of ArchiteXX, which she co-founded in 2012; principal of lab practices, a research and design firm founded in 2005; and serves as the School of Architecture's director of diversity, equity and inclusion.
Her interdisciplinary practice draws on geography, art, law, and women's and gender studies "to bring the work of architecture more substantially into social, political and institutional arenas," with the goal of "transforming spatial structures to promote equity and inclusivity."
In tandem with this effort, Brown strives to create more exposure and engagement for women in the discipline by exploring issues of social justice, gender, privilege and patronage. Her recent projects include Private Choices, Public Spaces; and Now What?! Advocacy, Activism, and Alliances in American Architecture since 1968.
"Professor Brown is among our most active and engaged faculty and her practice, which leverages design to challenge and reimagine existing social conditions and relations, is important not only in its own right but also because it serves as an example for our students and for the academy and profession at large," says Michael Speaks, dean of the School of Architecture.
As part of the Emerging Voices award distinction, honorees are invited to present exceptional and challenging work to their peers and the greater design community through a series of virtual lectures taking place on consecutive Thursday evenings from March 11 through April 1.
Each moderated event, sponsored by The Architectural League of New York, will showcase two awardees. Brown will lecture on April 1 at 6 p.m. ET as part of the series. Advance registration is required.
"I am honored to be selected by the Architectural League as one of the selected Emerging Voices this year," says Brown. "It's exciting to be part of such an amazing group and I look forward to a series of provocative conversations."
Visit archleague.org/ev21 for additional details on the upcoming online lecture series and to learn more about all of the winners' work.