When Chengdu native Yajie (Lannie) Lan '24 (B.Arch) heard about the wide-spreading coronavirus outbreak affecting her home country, she was deeply concerned and wanted to support the fight against the epidemic in her own way.
Lan reached out to two international students—Geosiiy Zhang at Minnesota Twin Cities University and Anna Li at the University of British Columbia—classmates of hers from Chengdu Meishi International School in China. With a shared passion for music, the trio decided to convey their worries and blessings to their homeland by creating an original song.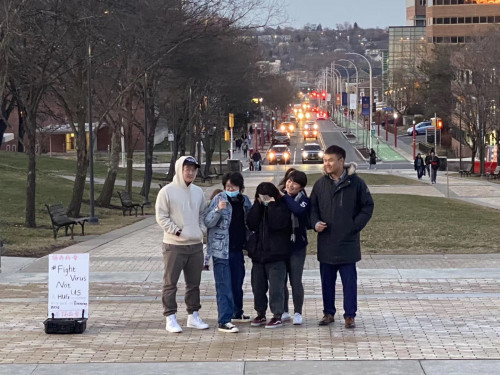 Students conducted a social experiment aimed at eliminating stereotyping, harassment and bullying directed at Chinese Americans and individuals of Asian descent."When the epidemic happened, I really wanted to do something," says Zhang, who composed and arranged the song. "So, I chose to do what I could do: create a piece of music."
Written from the perspective of a Chinese student studying abroad, the song and rap, "Embrace You" depicts the dark days when Wuhan was the epicenter of the COVID-19 struggle and encourages all of us to fight the virus together.
"I dedicate this song to Wuhan, to China, and to the world," says Lan.
While many of the lyrics within the three-minute song express the courage of the Wuhan people to persevere, Lan, who served as the lyricist and rap singer, notes that several of the phrases are drawn from poetry. "To fully understand the song," she says, "it is necessary to read it deeply."
"The Millennial generation is the hope of our humankind," says Fei Wang, School of Architecture assistant teaching professor who assisted Lan with the creative process. "They are fearless, boundless and limitless, beyond race, culture and language. Lannie has shown all of this."
Creating the song did not come without its own set of challenges. Between differences in time zones, juggling midterms exams and difficult course loads, and lack of formal musical experience, "Embrace You" took more than a month for the three students to produce.
"We were very fortunate to have Chinese musicians, Zensoul and Li Dingding, who helped us mix the song and offer pro bono professional advice," says Lan.
In addition to the song, Lan and two other Syracuse University students—Xuhong (Samuel) Fang '22 (Newhouse) and Chenhui (Peipei) Liu '23 (Newhouse)—produced an accompanying music video portraying a social experiment that took place on campus aimed at eliminating stereotyping, harassment and bullying directed at Chinese Americans and individuals of Asian descent.
The video shows Liu, a Wuhan native, wearing a blindfold and a face mask and standing at various iconic locations campus waiting for a hug with open arms. The whiteboard next to her reads "Fight virus, not us. A hug in exchange for a word of encouragement."
Over a three-week period, Liu and her friends engaged in the street experiment a handful of times.
At first, Liu was worried about being excluded because of her identity. "Standing in the street, I was actually very nervous and scared," she says. "I didn't know what would happen, who would hug me, or if anyone would want a hug."
Ultimately, Liu was met with loads of support and encouragement. Many passersby eagerly came over to her, offering up a warm embrace and their own words of reassurance.
"I hope what we've created can slightly reduce the prejudices and misunderstandings about international students," says Fang.
The video concludes with a one-minute clip featuring dozens of students, faculty and staff from Syracuse University and around the world proclaiming, "Wuhan be strong! China be strong!" in almost 20 different dialects. Liu invites viewers to visit her home city. "When everything gets better, you are more than welcome to visit Wuhan," she says.
To date, "Embrace You" has gained thousands of views, reposts and comments on major social and music platforms.