This week, a quarter of the world's population is preparing to celebrate the Year of the Pig with feasts, gift-giving, and good wishes. Lunar New Year—the longest and among the most important celebrations in Asia—begins on February 5 and ends February 19 when the moon is full.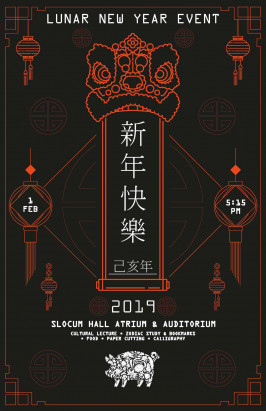 Syracuse University students, faculty, and staff are invited to a special cultural event on Friday, February 1 at 5:15 p.m. in Slocum Hall to celebrate the upcoming New Year. International students at Syracuse Architecture are organizing the event in collaboration with Dean Michael Speaks.
"We're excited to be hosting our second annual Lunar New Year celebration," says Vittoria Buccina, assistant dean for enrollment management. "Our planning committee is working with faculty and students to make this year's event informative and participatory."
The Slocum Hall atrium will be transformed into a festival-like atmosphere where students can take a break from the pressures of studio life and engage in activities such as calligraphy, zodiac study, and paper cutting. A variety of dishes will be served including dumplings, spring rolls, fried rice, chocolate coins and traditional candies. A series of short presentations about East Asian culture and architecture, featuring School of Architecture faculty, is also planned.
"Architecture is an international industry, and I believe the presentations will provide a unique opportunity for the students, faculty, and staff to listen and learn about East Asian culture and architecture," says Chengcheng (Tony) Li '22, one of the student organizers. "It will also be a great chance for the school to enrich the diverse and multi-cultural architecture community."
Syracuse Architecture has a very diverse population: faculty, staff, and students come from all over the globe, many from Asia. With more than 46 countries represented in both undergraduate and graduate programs, the school's student population is more than 35 percent international.
"As a large and important community in the school and on campus, this event is a great opportunity for us students to introduce and demonstrate our culture and traditions," says Xiangtong (Cathy) Wu '21.
The Lunar New Year party provides students who would normally celebrate New Year at home an opportunity to celebrate in Slocum Hall with other students, faculty, and staff.
"Having the Lunar New Year event here at Slocum is a unique opportunity to celebrate it with our friends here in the United States," says Fang Shu '19. "Participating makes me feel like I am contributing a little piece to the cultural diversity that we cherish here in the School."