Dean of Libraries David Seaman and School of Architecture Dean Michael Speaks have announced a generous gift from Russell A. King '52 and his late wife, Joan "Jiggy" King '50,  to create the King + King Architecture Library Endowed Support Fund.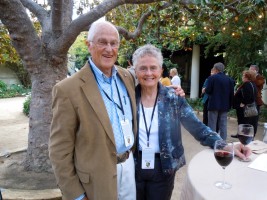 Russell A. and Joan "Jiggy" KingThe gift is in celebration of the 150th anniversary of King + King Architects. Founded in 1868 by Archimedes Russell, King + King Architects is the oldest architectural firm in continuous practice in New York State and two years older than Syracuse University.
"We are delighted to have this support for the renovation and renaming of the Architecture Reading Room in Slocum Hall," says Seaman. "It will give new life to an essential library resource in the daily lives of our architecture faculty and students."
The gift will change the space dramatically, adding a technology-laden seminar space, a new circulation desk, a new HVAC system and installation of updated library shelving. The fund also supports the space's maintenance, collections, technology and other needs through the creation of an endowment.
In recognition of the Kings' generosity, the reading room will be renamed the King + King Architecture Library. The library is slated to undergo renovation over the upcoming winter semester break. A grand opening of the space will occur during the spring semester of 2018.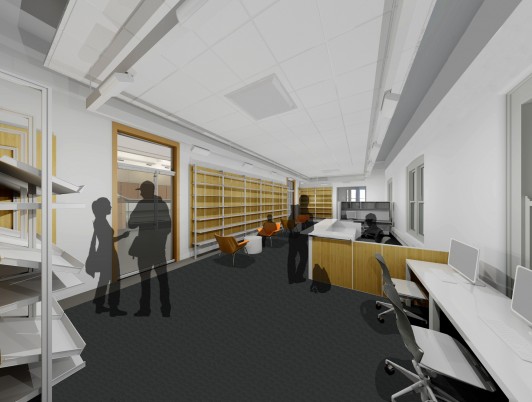 Rendering of the new King + King Architecture Library in Slocum Hall (Jon Wolf, CPDC)"The story of King + King Architects, as well as the King Family, is interwoven with the story of Syracuse University and the School of Architecture," says Speaks. "Indeed, you cannot tell one without the other. From the numerous projects the firm has completed on campus, to the six King family members who received a professional degree from the school, the two institutions are closely tied. We are thrilled for this bond to have a physical manifestation in the King + King Architecture Library. We give our deepest thanks to Russ and Jiggy King, as well as King + King Architects, for enabling this transformational project."
With King + King Architects being two years older than Syracuse University, the two institutions have collaborated closely over the past 150 years. Notable campus projects where King + King served as architect include: Holden Observatory, Crouse College, Tolley Humanities Building, the Physics Building, Heroy Geology Laboratory, Manley Field House and Bird Library. A full list of completed projects can be found below.
In addition, numerous members of the King Family are graduates of the Syracuse University School of Architecture. They include: Harry A. King '24; F. Curtis King '24; Russell A. King '52; Peter G. King '77; James R. King '77; and Alex S. King '11. The firm's current CEO/managing partner, Kirk Narburgh, is a 1990 M.Arch graduate of the school and an adjunct professor. Peter King '77 serves on the School of Architecture Advisory Board. (by Pamela Whiteley McLaughlin)
King + King Architects Projects on Syracuse University Campus

1887–Holden Observatory
1889–Crouse College
1889–Von Ranke Library (Tolley)
1893–Bastable Block
1949–Physical Plant
1952–Lowe Art Center (now part of Schine)
1952–Shaw Hall
1953–Hoople Buliding
1954–Watson Hall
1954–Marion Hall
1954–White Hall
1954–Link Hall
1955–Haft Hall
1955–Hinds Hall
1956–Flint Hall
1958–Regent Theatre Complex
1958–Graham Dining Center
1959–Day Hall
1959–804 University Avenue
1960–Sadler Hall
1961–Dellplain Hall
1961–Manley Fieldhouse
1961–Kimmel Hall
1963–Biological Research
1963–Booth Hall
1964–Newhouse I
1964–Haven Hall
1965–Lawrinson Dormitory
1965–Commissary
1967–Physics Building
1968–621 Skytop
1970–Link Hall
1972–Heroy Geology Lab
1972–Henry Health Center
1972–Bird Library
2009–Carmelo Anthony Basketball Center
2010–Club 44
2016–Chancellor's Suite
2016–DellPlain Residence Hall Renovations