Architecture Office and SPORTS, two faculty firms from the Syracuse University School of Architecture, have each been awarded the 2017 Architectural League Prize for Young Architects + Designers.
The prize is one of North America's most prestigious awards. Open to designers ten years or less out of bachelor's or master's degree programs, the competition draws entrants from throughout the continent. Assistant professors Jonathan Louie and Nicole McIntosh (Architecture Office), Greg Corso and Molly Hunker (SPORTS) stand tall on the list of five firms chosen for this honor.
"Our entire school is thrilled by the news of this outstanding achievement," says Dean Michael Speaks. "Not only do Jonathan, Nicole, Greg and Molly set a high bar for other young architects, they set an example for future architects—our students—through the manifestation of beautiful design that pushes the envelope."
Established in 1981, the Architectural League Prize recognizes exemplary and provocative work by young practitioners and provides a public forum for the exchange of their ideas. Each year, the Architectural League and the Young Architects + Designers Committee organize a portfolio competition. Individuals representing six winning practices are then invited to present their work in a variety of public fora, including lectures, an exhibition and on the League's website.
This year's theme for the portfolio competition, "Support," identified a present situation in which precarious forms and precarious social arrangements exist side by side. Competitors were challenged to consider how one clarifies the modes of support in architecture today when the discipline's role is obscured by a tangled network in which exchanges between built form and various systems of framing, assistance, and reinforcement are constantly in flux.
An exhibition of work by the winning firms will take place from June 28-Aug. 1, 2017, at the Arnold and Sheila Aronson Galleries, Sheila C. John Design Center at the Parsons School of Design, The New School, in New York City. In addition, the winners will give lectures at Parsons; Corso and Hunker will lecture on Tuesday, June 27, at 7 p.m.; Louie and McIntosh will lecture on Thursday, June 29, at 7 p.m. Lectures will take place in the Anna-Maria and Stephen Kellen Auditorium in the Sheila C. Johnson Design Center.
About Architecture Office
Nicole McIntosh and Jonathan Louie founded Architecture Officein 2015. "Part practice and part observation," the firm's projects attempt to "support architecture's unique capacity to not be static and singular, but, to simultaneously engage and refresh the real-time value of the things around it."
Architecture Office created Big Will and Friends, an installation and performance realized in Syracuse in 2016 and Eindhoven, The Netherlands in 2017. "Big Will" refers to an affectionately named shotgun house-style pavilion whose facades were fretted with a floral pattern mimicking Morris & Co.'s thistle wallpaper, which was also applied to a nearby wall. The firm aimed to "blur the point where representation ends and material matter begins."
McIntosh and Louie enlisted modern dance troupes costumed with the matching pattern to perform alongside the installation resulting in an exploration of the relationships between static and moving things. The event and workshop Parti Wall (2014) contained nine individual installations erected by student and mentor teams inside a gridded floorplan partitioned into a grid. The exercise challenged participant designers to "negotiate boundaries that define their respective spaces" while co-constructing the walls that define their neighbors' installation. The duo is currently working on House in House, a single-family home encased in an outer shell of an existing log cabin, which will begin construction in fall 2017 in Lake Walker, Washington.
Jonathan Louie obtained a master of architecture degree from UCLA, where he also received a 2×8 Award sponsored by the AIA Los Angeles. Louie was awarded a fellowship residency at The MacDowell Colony, which he completed in fall 2015. Louie is an assistant professor in the School of Architecture.
Nicole McIntosh received both a bachelor of architecture degree and a master of architecture degree from the Swiss Federal Institute of Technology (ETH). She is an assistant professor at the School of Architecture and has lectured at the University of Arizona's College of Architecture, Planning and Landscape Architecture. In 2014-15 she was a Teaching Fellow at the Frank Lloyd Wright School of Architecture.
About SPORTS
Based in Syracuse, SPORTS was founded by Molly Hunker and Greg Corso in 2010. The studio "approaches architecture in a playful way by balancing rigor and research with amusement and curiosity." As a result, SPORTS trades on the familiarity of built environment only to destabilize and reimagine its "latent assets" of space, material, and site.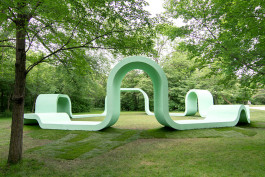 In 2016, the firm, SPORTS, won the fourth annual Ragdale Ring design-build competition, for which the architects realized an open-air theatre in Illinois.In 2016, the firm won the fourth annual Ragdale Ring design-build competition, for which the architects realized an open-air theatre in Illinois. Their project, Rounds, was designed to adapt to different performance types and audience sizes.
In 2012, SPORTS designed and built a temporary installation titled Stay Down, Champion, Stay Down. The installation, located in a gallery along Hollywood's Walk of Fame, was comprised of a grid of undulating terra cotta floor tiles that swelled in two masses illuminated from below by colored light to reframe the ground plane as well as the iconic walkway just outside the gallery door. SPORTS won the Museum of Contemporary Art Santa Barbara's Pavilion Competition in 2017 with Runaway, which attempts to "architecturalize the aesthetic quality of air in Santa Barbara." Runaway is comprised of three forms made from colorful steel matrices that can act as seats, tables, and assorted functional surfaces and will appear at different sites throughout the city during its two-year lifespan.
In 2016, SPORTS was featured as a "Firm to Watch" by Architectural Record and as one of Architect magazine's "Next Progressives." Corso and Hunker have presented their work in lectures at universities such as the University of Illinois, Chicago and University of Wisconsin, Milwaukee. Rounds won a 2016 Architects Newspaper "Best of Design" award for a Temporary Installation.
Greg Corso received a master of architecture and bachelor of arts degree in economics, both from UCLA. He is an assistant professor at the School of Architecture and has previously taught at the University of Illinois, Chicago School of Architecture and Woodbury University. He completed a fellowship residency with The MacDowell Colony in 2016
Molly Hunker has a bachelor of arts degree in urban geography and studio art from Dartmouth College and a master of architecture degree from UCLA. She has taught at Woodbury University, the University of Illinois and Chicago School of Architecture, and was a program coordinator and lecturer at UCLA. Hunker is an assistant professor at the School of Architecture. In 2013, she was awarded the Douglas A. Garofalo Fellowship at the University of Illinois, Chicago School of Architecture.