Studio Faculty: Amber Bartosh and Julie Larsen
Haerim Park, Kae Schwalber, Maureen Yue (honorable mention recipient)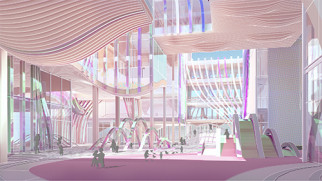 This project transforms a department store into a post-COVID workspace, enhancing the health of the occupants through an air-filtering facade, low carbon impact design, and family inclusive programming. The facade allows for a multi-functional system, with some fins acting as structural support and others acting as HVAC filtration systems. By carving into the existing structure, adding light wells and replacing the ground floor with an open playground, we were able to keep the carbon footprint lower than new buildings. Finally, programming prioritizes children's spaces, with a playground, child care center, and micro play spaces placed sprinkled in the building so parents in the office can bring their children to work and not worry about external health exposure.
The goal of our building was to create an office space that increases the health of the occupants through clean air, low carbon impact, and family-inclusive spaces.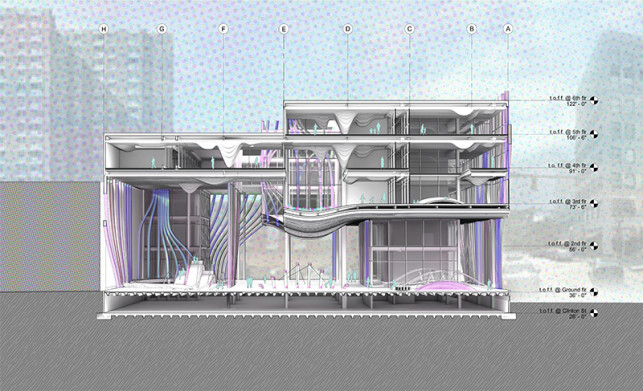 First we opened up our site. We brought in light through open atriums and removed our bottom floors. Then we invited people in through visual verticality and play spaces on the ground and the roof plane. Finally we inhabit our building with a mix of traditional office space and what we call "Family Clusters" or spaces where you can bring your children to work.
Our Egress uses two existing cores in pink and two additional cores in blue. Due to the slope of the site, we have two main entrances, one is on grade, and the second, is accessible through an elevator or stair case.
As you can see in the ground plan, we pull people into the space with a playscape and cafes. The playscapes use undulating ground planes and graphic designs to visually pull people in, and classic play furniture such as swings, slides and climbing domes to keep them entertained
The second floor contains a child care center on the northeast side that acts as a daycare and a focal point for our project. The third and fourth floors contain double height play spaces that create a Family cluster. These play spaces use netting and undulating floors to break up the rigidity of our boxy floor plates. These are located around the open atriums to create a visual dialogue across floors and office spaces. This playfulness is brought into the officescape with "superdesks" which undulate, creating pathways and desks. The fifth and sixth floors comprise an occupiable roof which hosts a more subdued play scape and seating.
Felix Chen, Rebecca Hsu, Bomyeong Noh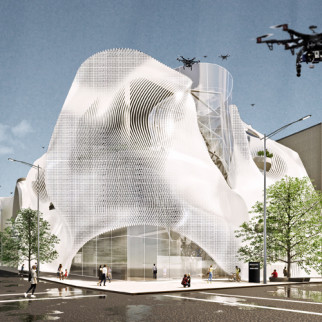 Upon discovering the change of work modes due to COVID-19, we see a possibility of remote work and how technology can help mitigate the situation. In addition to serving the newly built Amazon distribution center located in Clay, NY, this building positions itself to be a research hub that incubates new technologies that help facilitate remote work.
The hub of Prime Air Research Center, or PARC, houses various programs that aim to investigate, develop and innovate technologies. The majority of the space is dedicated for testing and development purposes, with facilities and equipment accessible for individual research purposes and large-scale fabrication..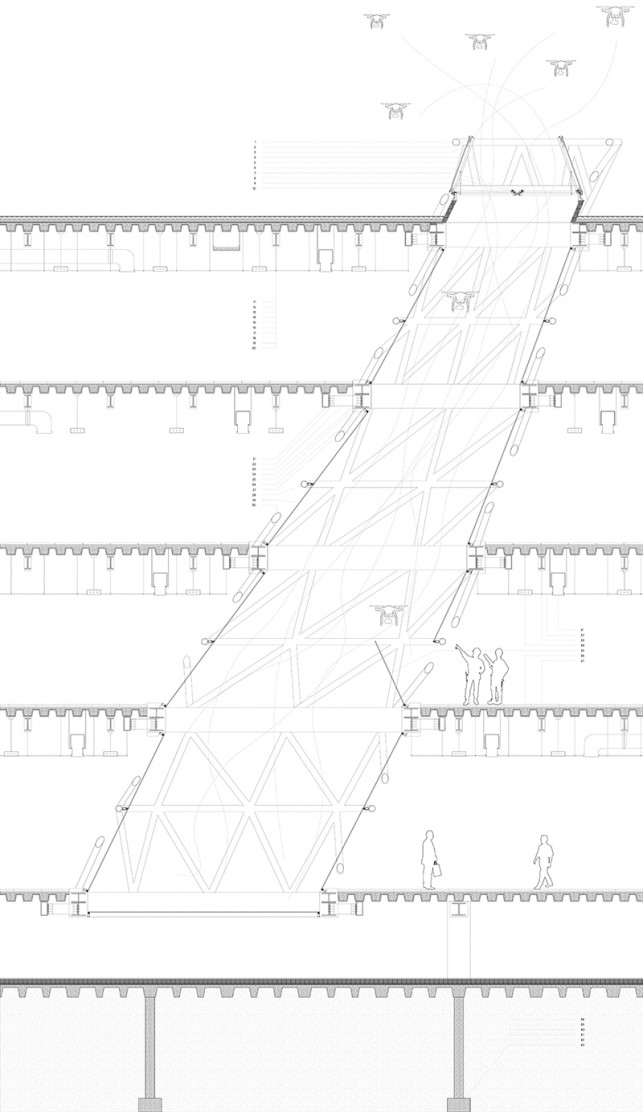 This project also serves as a testing center for automated drone delivery. Multiple functionalities of the drone will be tested in various indoor spaces in the lab, for example, their ability to endure wind, rain conditions, the responsiveness of the drone to the programming, battery life, etc. In addition, an outdoor fly testing area would be executed within five tunnel-like glass structures to simulate a comprehensive delivery process.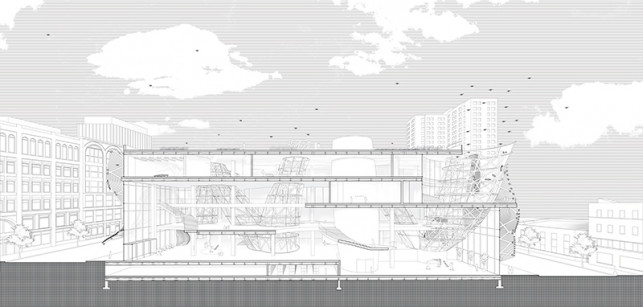 The local community is an important piece of the puzzle as well; the hub welcomes whoever is interested in innovative technologies. Visitors will be able to visit the showroom where all of the research achievements and updates are exhibited periodically. Drone and robotic-arm innovations will be demonstrated. Specific machines are displayed in the showroom, and visitors can walk by the labs to see how all the machines function. In addition, VR headsets are provided to those who wish to experience the manipulation of the machines. Workshops are held from time to time to activate connections and collaborations between the community and Amazon engineers; prototypes are encouraged to be tested using the on-site facilities as well.
Amazon would serve as a host on initiating the dialogue to envision the future of automation, with the goal to encourage collaborations among different expertise. Together, with the industry experts, local communities as well as the academic teams, potential possibilities can be maximized, regional dynamics will also be generated to benefit the local communities.