School of Architecture alumna Katherine Hogan '05 and Vincent Petrarca of Katherine Hogan Architects have won a 2023 Emerging Voices award from
The Architectural League of New York
.
Each year, the award spotlights individuals and firms based in the United States, Canada and Mexico with distinct design voices that have the potential to influence the disciplines of architecture, landscape architecture and urbanism.
"We are thrilled to congratulate Katherine and Vincent in winning a 2023 Emerging Voices award," says Michael Speaks, dean of the School of Architecture. "Their contributions to the future of design exemplify the impact they will have on forthcoming generations of architects—from Syracuse and beyond."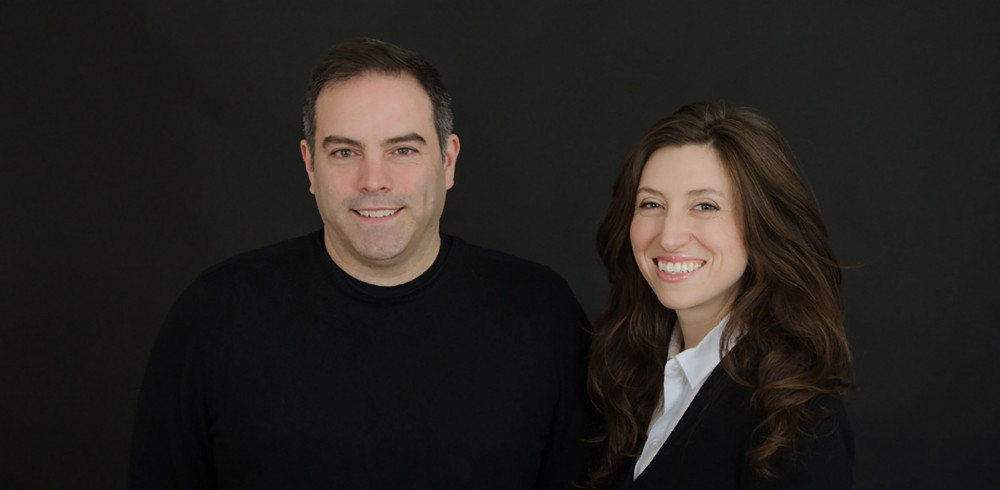 Katherine Hogan and Vincent Petrarca
Hogan and Petrarca are the principals and owners of Katherine Hogan Architects, an architecture practice based in Raleigh, N.C. When the firm was first founded in 2003 (under the name of Tonic Design | Tonic Construction), its work focused on small design-build commercial and residential projects. As it has grown, its portfolio has broadened to include projects for public schools, universities, state parks and nonprofits.
Katherine Hogan Architects has crafted a diverse body of work, and has received numerous American Institute of Architects awards at the local, state and national levels for innovative design solutions to complex problems and for using ordinary materials in inventive ways. The firm was included in the 2022 AN Interior Top 50 and received a 2022 AN Best of Practice Award.
Hogan earned a bachelor's degree in architecture from Syracuse University and is a member of the school's advisory board. Petrarca earned both a bachelor's and master's degree in architecture from the North Carolina State University College of Design, where he has taught as a professor of practice.
"This is a significant honor to be recognized by the Architectural League of New York," says Hogan. "At Syracuse, I was educated by professors, practitioners and mentors who operated at a high level of work and discourse and inspired me to be aware of the impact of the League since my first semester. Originally from New York, and now practicing architecture in the south, recognitions like this are important to our clients, co-workers, and partners, but most importantly to our community."
Since 1982, the Emerging Voices award has been bestowed to over 300 firms and individuals. Past winners include Thom Mayne and Michael Rotondi (1983), Toshiko Mori (1992), James Corner (2001), Eric Höweler & Meejin Yoon (2007), Tatiana Bilbao (2010), Jing Liu and Florian Idenburg (2013) and Chris Leong and Dominic Leong (2017).
The selection process involved a two-stage review of work from approximately 50 entrants. This year's Emerging Voices class was selected by a nine-person jury of design professionals (including several past Emerging Voices winners): Marie Law Adams (2022), Fernanda Canales (2018), Stephanie Davidson (2018), Mario Gooden (2001), Zach Mortice, Marc Neveu, Rashida Ng, Chelina Odbert (2021) and Nader Tehrani (2003).
The jury reviewed significant bodies of realized work and considered accomplishments within design and academia. The work of each Emerging Voice represents the best of its kind and addresses larger issues within architecture, landscape and the built environment.
"The works of this year's Emerging Voices winners exhibit architecture's ability to work across the various scales of the built environment in the production of community, sociality, space, and discourse," says Mario Gooden, jury member and president of The Architectural League said in a statement. "[They] challenge the discipline and the profession of architecture to confront architectural practices, histories, and their entanglements with social, environmental, and technological changes."
This year's winning designers will present their exceptional and challenging work to their peers, the greater design community and the public through a series of virtual Thursday evening lectures from March 9-30. Each moderated event, sponsored by The Architectural League of New York, will showcase two awardees. Hogan and Petrarca will lecture on March 9 at 6:30 p.m. ET as part of the series.
Advance registration is required. Visit archleague.org/ev23 for additional details on the upcoming online lecture series and to learn more about the winners' work.