Xiluva Mbungela '24 (B.Arch.), a third-year student in the School of Architecture, has been named a recipient of the 2021 Robert L. Wesley Award from the
SOM Foundation
.
Named in honor of the first Black partner at SOM, the award supports BIPOC undergraduate students enrolled in architecture, landscape architecture, interior architecture, urban design or engineering programs in the United States.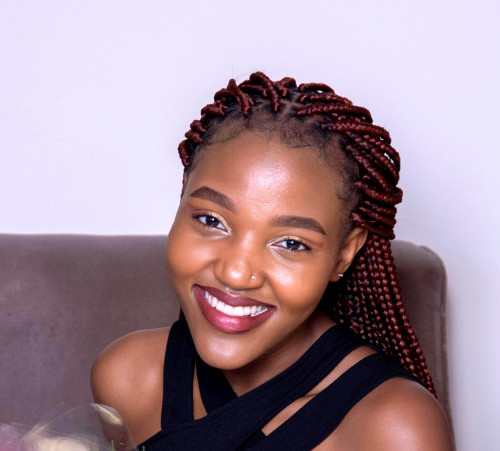 Xiluva Mbungela '24 (B.Arch.)Established in 2020, the Robert L. Wesley Award recognizes the academic achievements and potential of emerging BIPOC designers and is intended to alleviate the cost of post-secondary design education. One of only three full fellows to receive the award, Mbungela will receive a $10,000 scholarship to support her academic development, in addition to a yearlong mentorship program connecting her with leading BIPOC practitioners and educators.
This year's jury was led by Robert L. Wesley and included Danei Cesario, Chris Cornelius, Joyce Hwang, and María Villalobos Hernandez.
"Last year we were honored to meet the inaugural fellows of the Robert L. Wesley Award and provide them with economic support and a mentorship program," says Iker Gil, executive director of the SOM Foundation. "We discussed and learned about their interests, challenges and goals. We can't wait to learn from and support a new group of students whose contributions are felt in their universities and communities."
Born in Benoni, South Africa, Mbungela comes from an ethnic group that represents four percent of the country—the Tsonga. Thousands of miles away from home, she has been pursuing her dream of becoming an architect while chasing her passions for gender equality and minority representation through a minor in women and gender studies.
Mbungela believes that projects in the built environment not only have to be functional, but they must engage matters of social justice, ethics and environmental sustainability.
"As an architect, there is an unexplainable power that lies in the ability to create spaces that elicit emotion—a power can be implemented to do good in the world by creating safe spaces for people to form bonds and make connections," says Mbungela.
"The Regional Outpost Center in Madagascar" works toward providing technological infrastructure for small-holder farmers to be more sustainable and efficient in their farming and agricultural practices. The project includes community and learning gardens that become a hyperdensification of small farms, rather than being dispersed and creating situations that further contribute to the climate crisis. Credit: Xiluva Mbungela (drawing) | Wenxuan Qiao '24 (B.Arch.) and Tianhao Huang '24 (B.Arch.) (project co-collaborators)
"It is rare to witness a student with the intellectual prowess and drive that Mbungela possesses," says Joseph Godlewski, School of Architecture assistant professor. "Her purpose-driven interest in equity and the built environment is at once clear, focused and scholarly. She has a real talent for explanation and conveying complex information in simple terms."
During her time at Syracuse University, Mbungela has been involved in a number of diversity and inclusion initiatives aimed at educating the campus community and empowering marginalized students. She lends her voice to the school's National Organization of Minority Architecture Students (NOMAS) chapter—actively collaborating with students and faculty on diversity issues pertaining to her class—and has been a leader in the University's African Student Union. Mbungela also serves as an orientation leader for Syracuse Welcome, the University's student orientation program.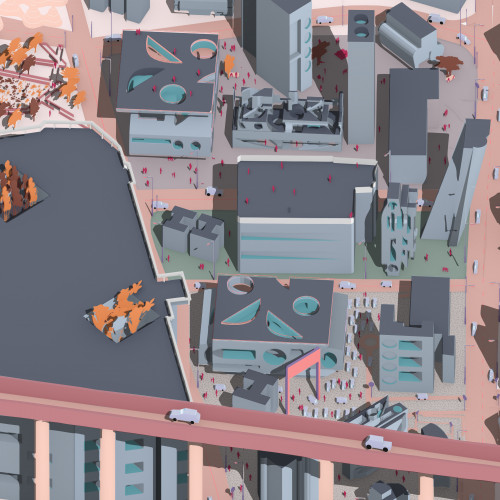 "A Day in Johannesburg" is a drawing that contains qualities of graphic fields, complex objects, color and entourage to depict a scene inspired by the Johannesburg CBD area in my home country of South Africa. In the drawing, abstract objects are "architecturalized," while layers of linework are used to create the fabric of the scene and to communicate the urban landscape of this city. Credit: Xiluva Mbungela"Mbungela's powerful ability to share her experiences and emotions as a BIPOC student shaped the school's collective consciousness during the fall 2019 semester when a series of racist attacks shook our campus," says Godlewski.
"My ultimate dream is to become the founder of an architectural firm saturated by young African architects who create buildings that reflect the strength of African design," says Mbungela. "Returning to South Africa with a world-class education from Syracuse University coupled with the prestigious Robert L. Wesley award will distinguish me as a young leader in the field and set me on the path to be part of the drive to reinvent Africa as a place of architectural innovation."
Visit the SOM Foundation website to learn more about the Robert L. Wesley Award.