Two School of Architecture students have received a prestigious national scholarship for young Black designers by Gensler, one of the world's largest design and architecture firms.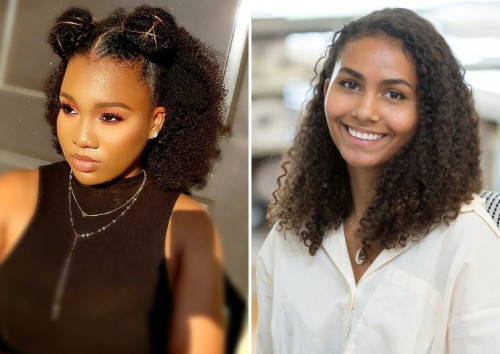 Krystol Austin and Coumba Kanté (right) were named winners of the inaugural Rising Black Designers Scholarship and Design Challenge.Krystol Austin G'22 (M.Arch.) and Coumba Kanté '22 (B.Arch.) were named two of the 15 winners of the inaugural Rising Black Designers Scholarship and Design Challenge. Shiori Green '22 (B.Arch.) was also selected as one of the finalists in the competition.
This new scholarship works to break down the barriers of entering the architectural profession by creating educational opportunities and materials resources to help talented design students overcome the costs associated with higher education. The program awards tuition scholarships, micro-scholarships for books and materials, and opportunities for summer internships to underrepresented Black students enrolled in U.S. not-for-profit architecture programs.
In addition to submitting an online application that included a resume, letter of recommendation and an example of an advanced-level architecture project, Gensler challenged tuition scholarship applicants to respond to design prompts that addressed current challenges in society. Finalists were also invited to submit a video that introduced themselves to the jury and presented their work.
Rethinking Social Cohesion in an Epidemiological Crisis
Krystol Austin's project submission, "Quarantine in an Abandoned Quarry," seeks to convolute two of the most unlikely things: quarantining and quarry restoration. The proposal creates a framework that addresses a new pandemic order by exploring the ritual of solitude, strict governance and programmatic typology engendered by the coronavirus outbreak.
To reinvent the human experience post-pandemic, the conceptual design for Austin's master plan tapped into her interests in nature and biophilia, as well as her past research on the Tomkins Cove Quarry, an abandoned 199-acre limestone quarry along the Hudson River in Stony Point, New York. Taking a subversive approach to the Modulor—a universal proportioning scheme developed by Le Corbusier that places human needs at the center of design and architecture—Austin created graphic standards for social distancing that address the health concerns now associated with the use of space.
"By combining the typical dimensions of a man with guidelines outlined by the Center for Disease Control and Prevention (CDC) and the World Health Organization, I developed a new rule of thumb for creating post-pandemic architecture," says Austin.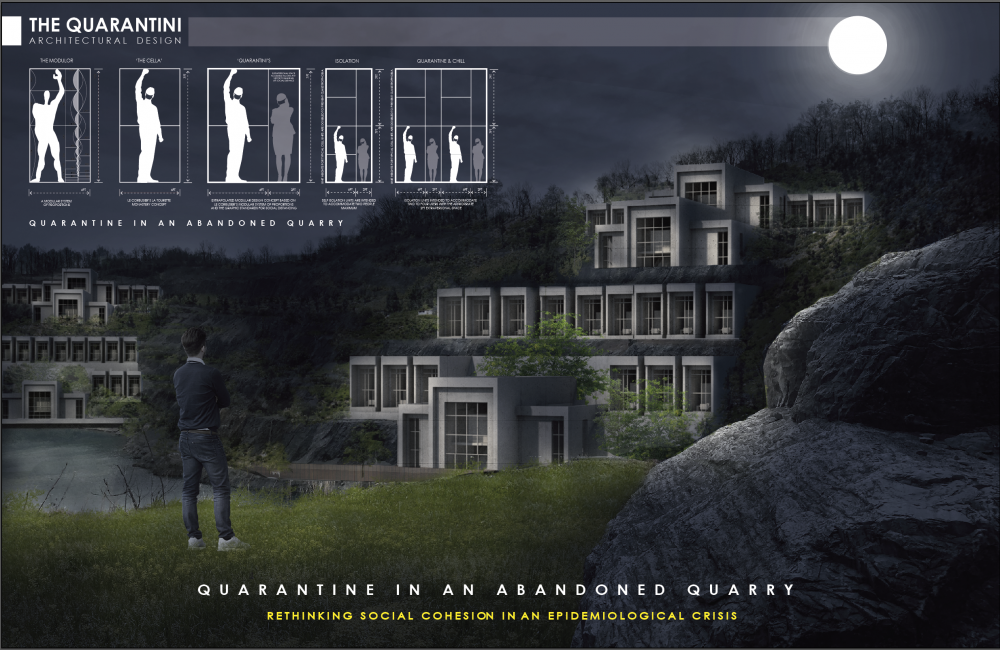 "Quarantine in an Abandoned Quarry" by Krystol AustinThrough a series of quarantines with reference states, Austin's new modular way of designing reimagines rural spaces exploited by mining, challenges ideas of core restoration and explores how to reclaim the geology of abandoned, post-mining sites in a practical way.
"It's really just finding creative ways for us to be 'alone together' in these trying times, using a site that is large enough to accommodate us doing so without consistently being isolated on the inside and incorporating the overlooked tools we need most to survive—biophilia, water and nature," says Austin.
Austin, who received first prize honors in the competition, was also awarded a position in the Gensler Summer Fellowship program for the summer of 2021 where she was paired with a mentor that served as a resource during the internship and ensuing academic year.
"I strongly believe that I am an amalgamation of my experiences; the opportunity to represent my country, my school, my alma mater, my race, my gender, my culture and socioeconomic background is an amazing feeling," says Austin. "Winning this award shows that one can achieve their goals despite the inherent barriers in this industry."
A Surrealist Critique of Syracuse Through an Urban Mask
Coumba Kanté's project submission, "You are the Fish," serves as a juxtaposition between the world of the above ground and the below ground. Rather than focus on the aesthetics of a structure, the design concentrates on the development of a spatial narrative that reimagines a bleak, gray concrete city center.
Sited in downtown Syracuse, New York, the project sits within a pool of water, an underwater world that merges with the preexisting programs of the city block and so greatly contrasts the city itself.
"Comprised of three primary components, it becomes an antithesis in experiencing the monumentalism from the inside, instead of seeing it from the outside—an out-of-this-world experience only able to be seen when inside the space," says Kanté.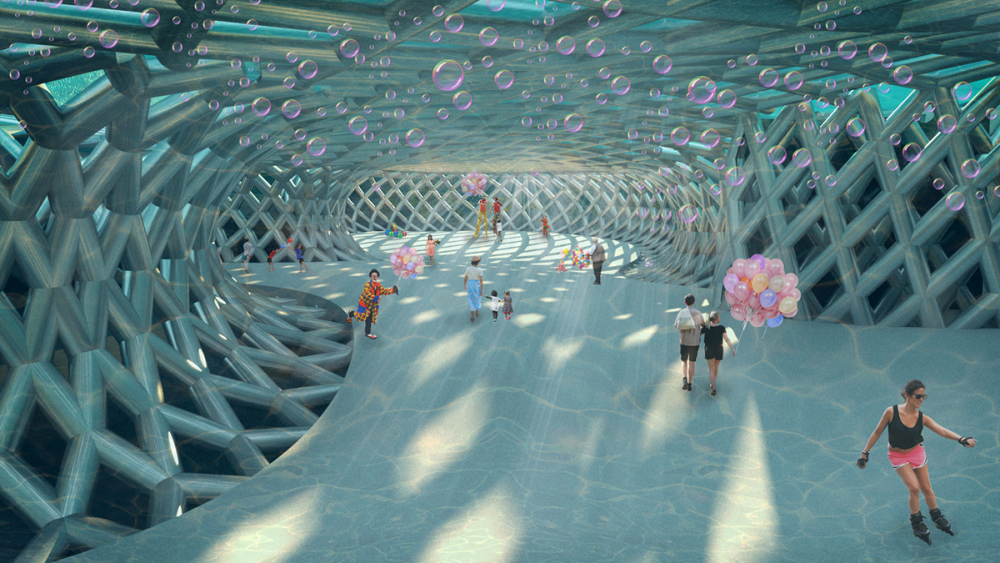 Interior programmatic rendering of "You are the Fish" by Coumba KantéBy hiding the building from view and submerging it into water, the first component, the urban mask design isolates itself from the city of Syracuse, becoming its own entity. The new space emanates light and color, swimming fish and algae, a whole world thriving on its own.
The curved, concrete walls that encase the above-ground institutions become the second component, further isolating the institutions that lay within its walls and supporting and machining the organism that is created.
The third and most important component—the form—remains hidden, weaving through the water and the concrete, connecting and providing a new angle at which to view the above world.
"I'm fascinated by how every person perceives space differently and I think it's extremely important to acknowledge this while designing," says Kanté. "Adapting and re-evaluating what kind of spatial effect the lattice structure could have on human perception and the human experience was one of my primary considerations."
"As a young designer, winning this scholarship symbolizes my potential as a future designer and architect, and inspires me to push myself and my designs to their limits," says Kanté. "It also serves as a reminder to myself, and hopefully others, of how successful and impactful the work of Black designers is, and the importance it holds within changing climates."
To learn more about Gensler's scholarships, including the Rising Black Designers Scholarship and Design Challenge, visit gensler.com/scholarships.