The School of Architecture has announced the addition of Yanel de Angel Salas, FAIA (M.Arch. '99) to its advisory board. de Angel Salas is a principal at the Boston studio of
Perkins and Will
where she manages complex projects and brings a holistic design framework for problem solving.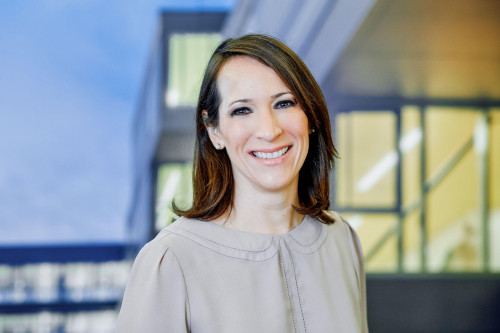 At Perkins and Will, de Angel Salas specializes in residential buildings for higher education environments and the integration of carbon neutral and sustainable strategies in academic buildings. Having designed residence halls and student centers for schools such as Keene State College and Colorado State University, she strives to create buildings that are on the cutting edge of both social design and energy efficiency.
de Angel Salas is an active member of the firm's Resilience Laboratory and Executive Committee, has served on the Diversity Council and was a founding member of the Project Delivery Board.
After Hurricanes Irma and María devastated Puerto Rico in 2017, de Angel Salas's passion for social purpose, community resilience, environmental sustainability and construction led her to form, with the support of Perkins and Will, resilientSEE-PR.com, an alliance that provides long-term relief to Puerto Rico communities through resilient planning and design. Ongoing projects range from interventions at the municipal to neighborhood level, and educational programs. ResilientSEE has expanded to other geographic locations providing climate adaptation strategies.
"Yanel brings an enormous amount of experience and leadership in architecture to the advisory board," says Michael Speaks, dean of the School of Architecture. "Her commitment to our students and their success will be a wonderful addition to the School's volunteer leadership."
In addition to her duties at Perkins and Will, de Angel Salas, a devoted mentor and advocate, volunteers her time to organizations that advance women and minority leadership in the design profession. She is VP of Practice for the Boston Society of Architects' (BSA) / AIA Board, co-chairs the BSA Women in Design (WiD) Excellence Awards committee and co-founded the BSA WiD Mid-Career Mentorship committee. She also serves on the advisory boards of various institutions including PROTECHOS, the National Museum of Puerto Rican Arts and Cultures, the Boston Society of Architects and Sociedad Latina of Boston.
"During my time as a graduate student at the School of Architecture, I was challenged intellectually, supported with resources, given opportunities and space to grow, asked to lead as a teaching assistant and later offered a teaching position in beautiful Florence. The School and its community of faculty, staff, fellow students and alumni network became my family and springboard to navigate the professional world," says de Angel Salas. "Today, I am deeply honored and humbled for the opportunity to serve the School in this volunteer leadership appointment."
de Angel Salas holds a master's degree in Design, with a concentration in History and Theory of Architecture, from Harvard University's Graduate School of Design; a Master of Architecture from Syracuse University; and a bachelor's degree in Environmental Design from the University of Puerto Rico School of Architecture.
She is a member of the American Institute of Architects (AIA), has several certifications for sustainable design and construction and has taught at Syracuse University, Maryland Institute College of Art, Harvard University Graduate School of Design and Northeastern University.
In 2020, de Angel Salas was elevated to the AIA College of Fellows.