The School of Architecture has announced that architectural designer Leen Katrib is the Harry der Boghosian Fellow for 2021–22. Katrib will succeed current fellow Assistant Professor Liang Wang.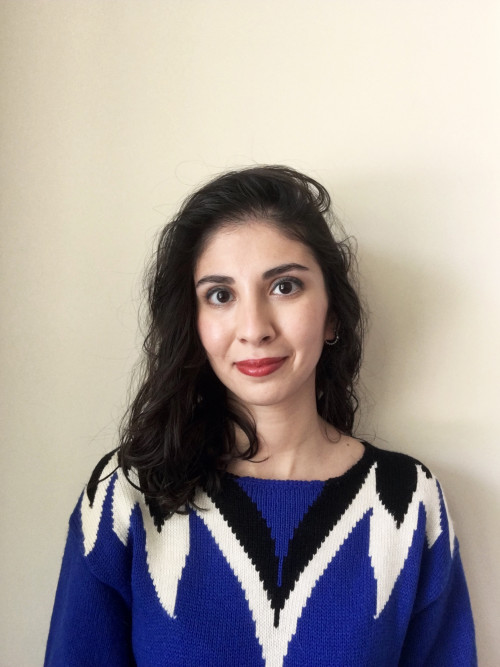 Leen KatribThe Boghosian Fellowship at the School of Architecture—established in early 2015 in memory of Harry der Boghosian '54 by his sister Paula der Boghosian '64—is a one-of-a-kind program designed to give faculty members, early in their careers, the opportunity to spend a year developing a body of design research based on an area of interest while teaching at the School of Architecture.
Fellows play a significant role at the school by enhancing student instruction and faculty discourse while supporting both research and the development of research-related curriculum valuable to architectural education and the discipline.
"I am thrilled to welcome Leen Katrib, whose research and design projects are helping to redefine the study and practice of architecture preservation and reconstruction," says Michael Speaks, dean of the School of Architecture. "Her research focus on 'the afterlife of buildings,' including the analysis and archiving of building detritus, has the potential to redefine how architecture researchers and practitioners think about and work with memory, identity and place."
During the 2021–22 school year, Katrib will teach an architecture studio and two professional electives focusing on her research project, "Decolonizing Architecture's Debris." Building upon her thesis, "Rubble Archive," which reimagines the afterlife of architecture's debris and its decisive role in historical erasures and knowledge production, Katrib will use the typology of the university campus—both historical and contemporary cases—as a design research case study to investigate the destruction and mis/management of material afterlife and its social and cultural implications on impacted communities.
Since the debris in most of the campus case studies is no longer available or visible, Katrib will concurrently conduct design experiments that incorporate Mixed Reality technology to propose ways in which the debris could be integrated into and made visible in the existing architecture.
"Mixed Reality takes Augmented and Virtual realities a step further by allowing the real-time manipulation of digital reconstructions that are superimposed onto—and defined by the limits of—the real, physical architecture," says Katrib. "Using this technology will allow me to conduct spatial experiments without altering the existing spaces."
Like the five previous Boghosian Fellows, Katrib will work closely not only with faculty and students at the School of Architecture but will also explore interdisciplinary collaborations within the University and its various centers and colleges. Her research will culminate in an interdisciplinary symposium that convenes architects, artists, historians, anthropologists, preservationists and technologists who are addressing the implications of destruction and are decolonizing debris as an expanded mode of agency and resistance.
"I'm grateful for the opportunity to work closely with distinguished faculty and students within the School of Architecture and the University to expand the discourse on debris and its material and immaterial implications throughout history," says Katrib. "The fellowship will provide the time and space to engage interdisciplinary scholarship in course syllabi, design research and a concluding symposium."
Katrib currently practices at the New York-based architecture and landscape firm, Marvel. Prior to joining Marvel, she practiced at LTL Architects (Lewis.Tsurumaki.Lewis), McEwen Studio, Peter Marino Architect and OMA.
Previously, Katrib completed her master of architecture degree from Princeton University, where she received the prestigious Paul & Daisy Soros Fellowship for New Americans, a merit-based fellowship exclusively for immigrants and children of immigrants who are pursuing graduate school in the United States and are poised to make significant contributions to the nation through their work.
At Princeton, Katrib was editor of the architectural journal, Pidgin, and was awarded the Howard Crosby Butler Travel Fellowship to track culture-specific practices at Zaatari refugee camp and to engage with local organizations in the development of a pilot program at the camp.
Katrib also holds a bachelor of architecture degree with honors from the University of Southern California (USC), where she was awarded the A. Quincy Jones Memorial Scholarship for Exceptional Promise in Architecture and the Robert Allen Rogaff Memorial Award for Excellence in Delineation and was designated a Discovery Scholar and Global Scholar for her independent research on the built environments of marginalized communities.
During her time at USC, Katrib was awarded the George H. Mayr Travel Fellowship to study the future of immigrants in Parisian suburbs, as well as the William and Neoma Timme Travel Fellowship to examine mimetic practices in China's countryside developments.
"I'm elated to see initiatives spearheaded by the students at the School of Architecture to uncover silenced histories in the built environment of Syracuse," says Katrib. "I am very much looking forward to providing students with the tools to expand on these conversations and to integrate them into the practice and teaching of architecture."
The Boghosian Fellowship has helped the School of Architecture attract the best and the brightest emerging professors. Previous fellows include Maya Alam (2016–17), Linda Zhang (2017–18), James Leng (2018–19), Benjamin Vanmuysen (2019–20) and Liang Wang (2020–21).
For more information about Leen Katrib and her work, visit leenkatrib.com.
To learn more about the Harry der Boghosian Fellowship, visit this page on the School of Architecture's website.