Since April 2020, a team of students from the School of Architecture have been working on a master plan to transform a street scape in the future city of Xiong'an New Area in China's Hebei province. After a long delay due to the global pandemic, the new cultural district officially opened to the public on Dec. 12.
Under the Design, Energy, Futures research and design program, School of Architecture faculty and students have produced numerous regional, urban, landscape and architectural projects dating back to April 2017, when China announced the establishment of Xiong'an New Area—a self-sufficient and sustainable city to serve as a development hub for the Beijing-Tianjin-Hebei economic triangle. However, this past year the school elevated its collaboration to another level.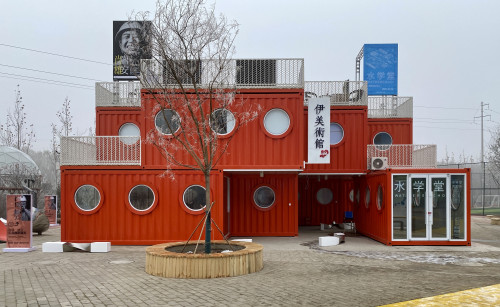 Shipping Container Community Center designed by Tyler Yucheng Han '21 (B.Arch.)Led by Shenzhen Institute of Building Research (IBR) and its director, Qing Ye, a multidisciplinary team, including School of Architecture students, was invited to follow the city's master plan of "ecology in priority and green development" and collaborate on the design of a new public cultural district along Luosa Street, one of the two main streets in the center of Xiong'an.
Like most third-tier cities in China, Luosa Street in Rongcheng County lacked identity in terms of the urban context, architectural forms and street scape. To take advantage of the unsettled urban spaces and introduce public arts into the community culture, the "Harmony Life (漫生活)" street renovation project was created.
The name "Harmony Life" is rich with meaning. "Harmony" symbolizes a public art system centered around love and inclusiveness, while "Life" refers to a green and low-carbon lifestyle starting from the heart that highlights the regional attributes and cultural character of Xiong'an.
Divided into six major areas—enjoy, rest, fashion, taste, dwell and meander— the new community-oriented public space promotes a lifestyle upgrade for local residents by encouraging cultural, artistic, educational and sports activities.
Guided by School of Architecture Assistant Teaching Professor Fei Wang, director of China programs, 13 students worked on the master plan, architecture landmarks (double helix tower, two shipping container community centers and recycling wall) and installations (mobile bookstore, arrow-like bench and lotus chair) for the project. Nan Wang, School of Architecture graphic design instructor in China, produced the overall branding and graphic design that provide a strong identity to the street, the district and, eventually, the city.
Within the mile-long district are dynamic outdoor squares for gathering, recreational spaces for children, and even collective stalls and markets showcasing classic and creative cuisines, which come together to form an all-age-friendly environment. New media art installations, such as eight scenes of Rongcheng transformed into reliefs and colorful paintings, integrate art into life and enhance a sense of belonging for citizens.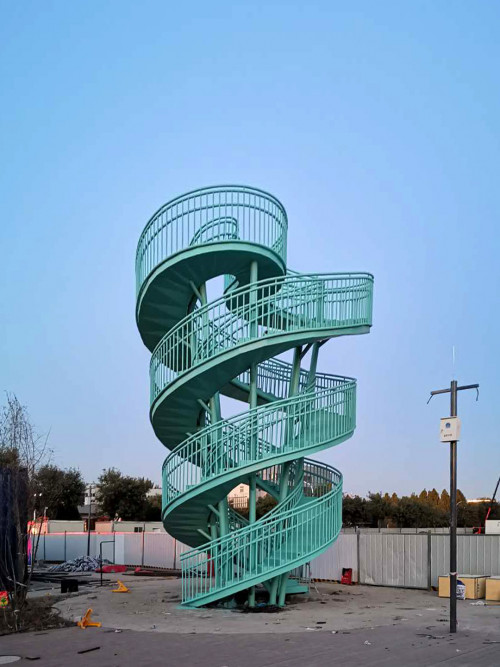 Double Helix Media Logo Tower designed by Qingyang Yu '16 (B.Arch.) G'20 (M.S.), Wentao Zeng G'20 (M.S.), Yilu Zhang G'20 (M.Arch.)While the primary goal of the "Harmony Life" project was aimed at enhancing the connection and communication between the city and its residents, Yao Pei, deputy general manager of IBR and general manager of Xiong'an Headquarters, speculates the new district will also bring about significant changes to urban construction methods and social governance, as well as contribute to a profound quality of life and happiness transformation for its citizens and the Xiong'anese identity.
"In collaboration with IBR, Syracuse Architecture has created a unique, transdisciplinary model integrating research and design, academics and practice, and more importantly the city and people," says Wang.
"Of the many projects the School of Architecture has worked on in Xiong'an New Area, which I have visited many times, this is the most impressive," says Michael Speaks, dean of the School of Architecture. "Though I am not able to travel to China right now, I am very anxious to visit to see the results of our faculty and student work."
The Syracuse University students who contributed to designing the "Harmony Life" district include Qingyang Yu '16 (B.Arch.) G'20 (M.S.), Wentao Zeng G'20 (M.S.), Yixuan Xin G'20 (M.S.), Tianyi Long G'20 (M.S.), Ching-Hui Wang G'20 (M.S.), Yilu Zhang G'20 (M.Arch.), Minglu Wei '19 (B.Arch.), Furui Sun '19 (B.Arch.), Ying Zuo '19 (B.Arch.), Tyler Yucheng Han '21 (B.Arch.), Rui Li '21 (B.Arch.), Fei Hu '21 (B.Arch.) and Junran Tao '20 (B.Arch.).