Architecture students in Assistant Teaching Professor Valeria Rachel Herrera's representation course assembled their completed drawings on the Einhorn Family Walk.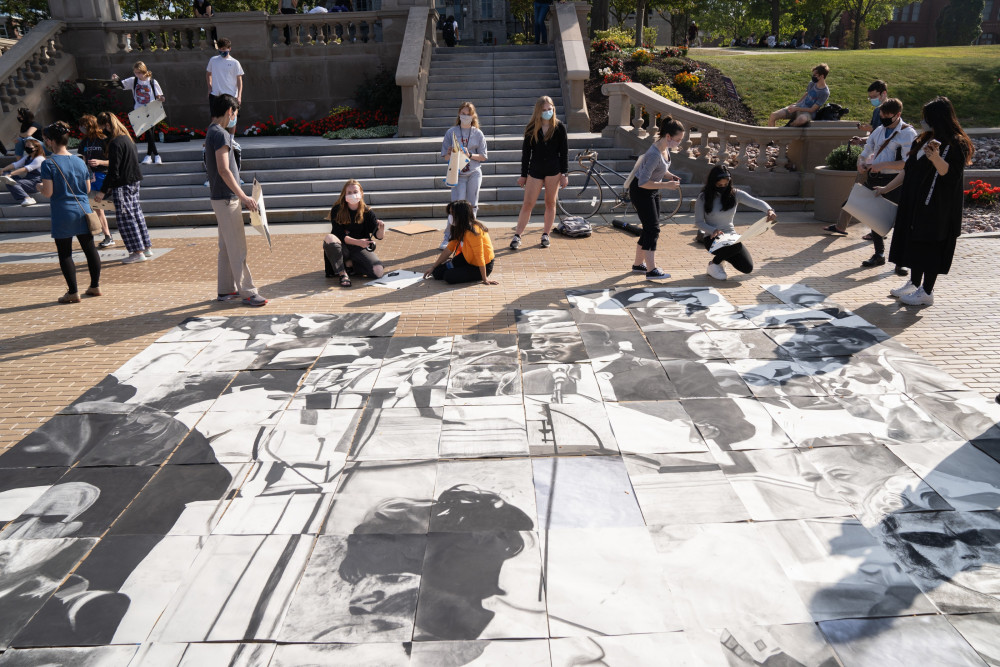 Credit: Emily Steinberger '23 (Newhouse), The Daily Orange
During the first four weeks of the Fall 2020 semester, 108 freshmen architecture students in Assistant Teaching Professor Valeria Rachel Herrera's representation course (ARC 181) were immersed in a rigorous foundational drawing boot camp designed to help them understand ideas of line weight, line control and how to draw from observation.
"We encourage students to truly investigate and translate through drawing what they see—light, tonal values, geometric shapes," says Herrera, "not what they think they see—a door, a window, a chair, etc."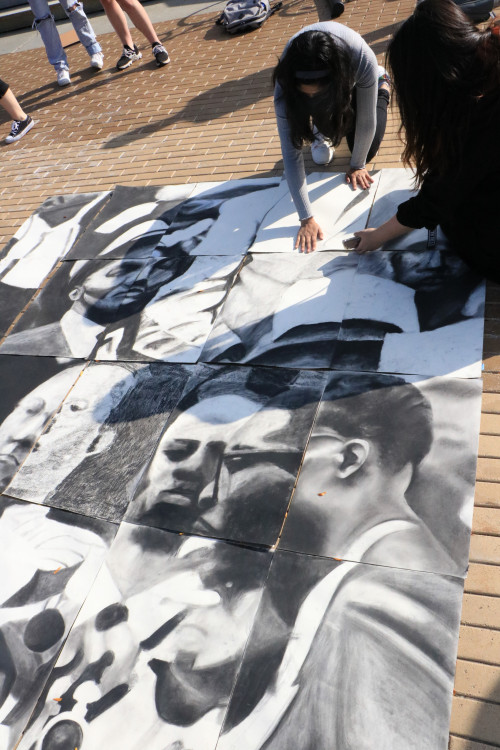 Credit: Lainey Marra '22 (B.Arch)Recently, the students were given the opportunity to test what they've learned by engaging in a large-scale, collaborative, charcoal mosaic drawing project. For 48 hours, between Sept. 21 and 22, each student worked on redrawing and translating the tonal values they saw in two randomly assigned "mystery" images onto 18 inch by 24 inch Strathmore paper using only charcoal as a medium.
On Sept. 23, Herrera and her class assembled the completed drawings on the Einhorn Family Walk, forming two 18 feet by 18 feet composite images, and revealing to the students for the first time the identity of the images they had drawn—one of a young John Lewis and the other of Supreme Court Justice Ruth Bader Ginsburg—two recently departed icons who spent their lives fighting for equality and social justice.
As one of the "Big Six" organizers of the 1963 March on Washington, D.C., where Dr. Martin Luther King Jr. delivered his "I Have A Dream" speech, Rep. John Lewis fulfilled many key roles in the civil rights movement and was integral to ending legalized racial segregation in the United States. He believed in the power of young people to change the world and often spoke about the importance of righteous resistance, or what he referred to as getting into "good trouble."
"My philosophy is very simple," explained Lewis in the recent CNN Films' documentary "John Lewis: Good Trouble" (2020). "When you see something that's not right, not fair, not just, say something, do something, get in trouble, good trouble, necessary trouble."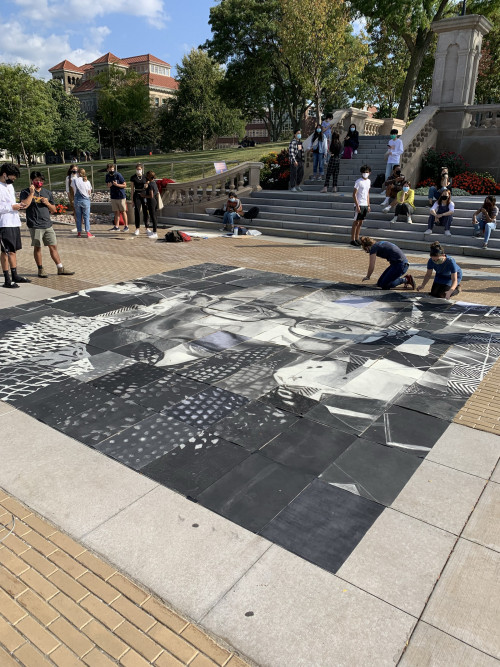 Credit: Professor Valeria Rachel HerreraAs the second woman to serve on the U.S. Supreme Court, Ruth Bader Ginsburg was a pioneering advocate for women's rights during her 27-year tenure on the bench. Well-known for her strongly worded dissents in response to some Supreme Court opinions, she showed unwavering commitment to "equal justice under law." Dubbed the "Notorious RBG," Ginsburg became an unlikely cultural icon to a new generation of young feminists.
"This project introduced me to a new way of thinking about collaborative work and seeing it all come together to represent such a relevant time in our country really surprised me," says Bella Klug '25 (B.Arch.). "Looking at the two images made me feel like I was a part of something greater than the project itself, which was really humbling."
"While this project speaks to the times, for myself, it was important to bring our freshmen architecture students together, through a collaboration of art in action, to help foster the normally tight-knit group that is an essential part of how architecture students work," says Herrera. "These students have entered college during one of the most trying times, and this was a beautiful moment for them to come together to exercise the power of art."
A time-lapse video of the full installation is scheduled to be revealed during Virtual Family Weekend, taking place Oct. 16–18.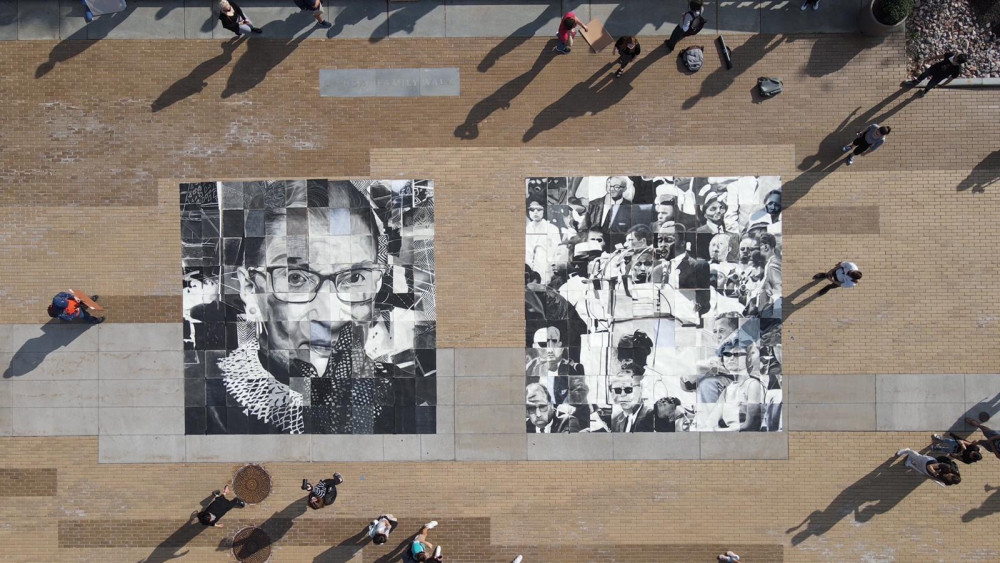 Credit: Zicheng Wang G'21 (M.Arch.) and Tianche Liu G'21 (M.Arch.)