A team of students from Syracuse University and the SUNY College of Environmental Science and Forestry (SUNY-ESF) have placed in the top of this year's U.S. Department of Energy Solar Decathlon Design Challenge, a collegiate competition that inspires student teams to design and build highly efficient and innovative buildings powered by renewable energy.
From April 17–19, 45 finalist teams from 31 collegiate institutions competed from afar since the COVID-19 pandemic prompted the Design Challenge Weekend to be held virtually. Students submitted their projects and presentations online while question and answer sessions with a jury of industry leaders were conducted through virtual conferencing.
The combined Syracuse University/SUNY-ESF Syracuse Energy Efficient Design (SEED) team was judged one of the top four out of 18 teams in the mixed-use multifamily division and awarded an honorable mention for their project, Our Home at Smokey Hollow.
For this year's project, the two-school team of 20 undergraduates and graduate students partnered with Christopher Community Inc.—a local not-for profit organization that specializes in developing and operating safe, affordable housing for low- and moderate-income individuals and families—to create a mixed-use assisted living facility for young adults with mild to severe autism.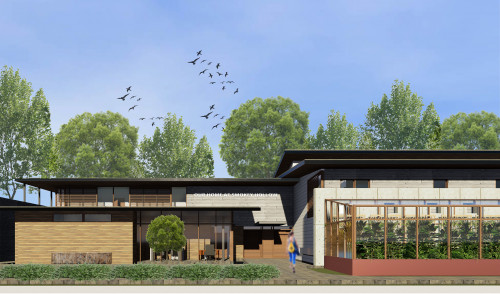 Exterior render of Our Home at Smokey HollowLocated in Baldwinsville, New York, the 11-unit American Disability Act (ADA) compliant residence, with living space for permanent support staff, was designed to provide all associated care and therapy services under the same roof.
Estimated to cost $6.2 million, the project will be privately financed by the parents of prospective residents through a combination of internal support, mortgages, housing grants and donations from local businesses.
Building on lessons learned from last year's winning entry and in order to meet deadlines and deliver a quality project, the team implemented an integrated design approach by dividing into five sub-teams based on their studies and competition guidelines—architecture, energy, engineering, finance and operations.
With students coming from seven different majors, including architecture, construction management, environmental and mechanical engineering, and landscape architecture, the team was able to make informed decisions through a variety of lenses based on pertinent coursework and experience that each member brought to the table.
"The multidisciplinary team enabled interaction among various disciplines and the knowledge gained from that, is unparalleled," says Vedyun Mishra '21, architectural team lead.
Due to the large team size, the sub-team leads also decided it was important to have consistent input and guidance from knowledgeable faculty, so they enlisted the help of advisors, Nina Sharifi and Daekwon Park, assistant professors in the School of Architecture, and Paul Crovella, sustainable construction management instructor at SUNY-ESF, to mentor the team.
From day one, "How Can We Make A Home?" has been the mantra for the design evolution of Our Home at Smokey Hollow. The team researched the design for their project by first exploring how to create a healthy living environment for young adults on the autism spectrum. They referenced various case studies pertaining to buildings designed for people on the spectrum, met with parents to talk about what they felt would help their children transition into a new living space, and spoke to future residents to gain insight into their lifestyles.
Although the autism spectrum is broad, the team was able to reach some general conclusions towards designing a comfortable living environment fit to support the residents, and decided on six main design impacts—net-zero, health and well being, biophilic design, durability, efficiency and sensory safe—that met all the specific requirements of the client and the intended occupants.
Because safety and security were highly emphasized both in case studies and by parents of the residents, the team chose to consult with specialist in order to make responsible design decisions based on the residents' needs. Working in collaboration with local forensic neuropsychologist, Dr. Andy Lopez-Williams, president and CEO of ADHD and Autism Psychological Services and Advocacy, the team selected special equipment, like a unique fire safety system and an array of smart technologies and appliances, that assisted with achieving source net-zero energy while also establishing a safe place for residents.
The team made efforts throughout the design process to move away from typical care facility aesthetics and construct a more inviting place to live. By incorporating durable materials, both inside and out, they were able to create spaces that were functional and attractive. Through the use of clerestory windows and a Trombe wall, the design also ensured that there was ample diffused daylight and passive heat during the winters. The team also focused on minimizing sensory overload—a major consideration in addressing ASD—by reducing visual stresses, decreasing background noises and maintaining predictability throughout the building. And to give the space a more home like feel, the team added a few unique design elements including a sensory room, where residents can retreat and engage in different activities outside their daily routine, and a greenhouse, which will allow residents to engage in horticultural therapy all year long.
"We believe that we created a bespoke project that will allow these young adults to age in place while enabling their independence," says Mishra.
In the coming weeks, the team will present their final report to the parents and the developer. Their design and concepts will form the basis and framework for planning documents that Christopher Community Inc.'s design team will develop before construction begins in 2022.
With more than 144,000 people with autism spectrum disorder in New York state, and only a handful of assisted living communities, the team's project is a model that can be replicated throughout the Northeast and benefit people far beyond Baldwinsville.
"We are so proud of the students and grateful to have been granted the privilege to participate in this esteemed competition," says Sharifi.
SEED members from Syracuse University include School of Architecture students Darrelle Butler Jr. '21 (MArch), Sena Gokkus '20 (MS), Trisha Gupta '21 (MS), Vedyun Mishra '21 (MS), Carol Pacheco '20 (MS), Linjing Rao '22 (BArch), Aditya Surendhra '20 (BArch) and Heather Warren '21 (BArch); College of Engineering and Computer Science students Quinlan Hooker '20, Kyle Slusarczyk '22 and Connor Young G'20; and Roman Hyronvets.
The Solar Decathlon continues to "push the envelope" on the design of the most high-performance, efficient, affordable, innovative buildings while leveraging opportunities to showcase student innovation and STEM education, as well as to foster workforce development opportunities.
For a detailed list of all 2020 Design Challenge winners, visit solardecathlon.gov/blog/archives/5515.