The School of Architecture has announced that architect and urban designer Liang Wang is the Harry der Boghosian Fellow for 2020-21.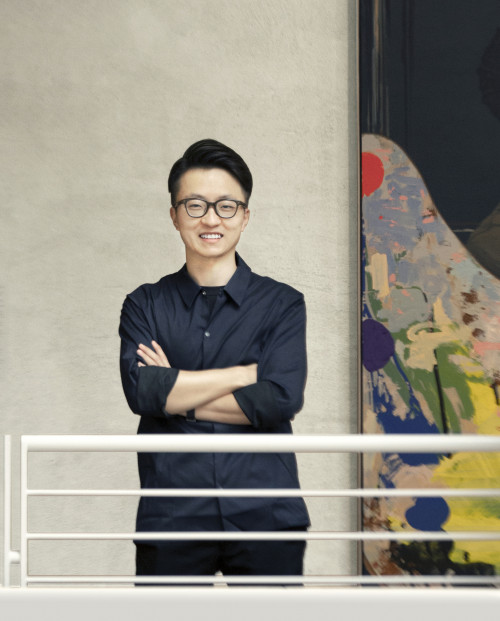 Credit: Cherelle Champfleur. 2019 All Rights Reserved.Wang is currently a Doctor of Design candidate and previously a teaching fellow at the Harvard Graduate School of Design (GSD), where his scholarship and teaching concern history and theory of urban form, space and politics of the superblock development, as well as architecture and the idea of the city in East Asia.
The Boghosian Fellowship at the School of Architecture—established in early 2015 in memory of Harry der Boghosian '54 by his sister Paula der Boghosian '64—is a one-of-a-kind program designed to give faculty members, early in their careers, the opportunity to spend a year developing a body of design research based on an area of interest while teaching at the School of Architecture.
Fellows play a significant role at the school by enhancing student instruction and faculty discourse while supporting both research and the development of research-related curriculum valuable to architectural education and the discipline.
"The Boghosian Fellowship has become among the most important residential research and design fellowships in the world," says Michael Speaks, dean of the School of Architecture. "We have, in the last five years, been fortunate to be joined by some of the most innovative young designers and researchers from around the globe."
During the 2020-21 school year, Wang will teach an architecture studio and two professional electives focusing on his research project, "The Architecture of the Commons." By engaging the idea of "commons" in relation to the disciplinary knowledge of architecture and particularly through the lens of the superblock development, his research will contemplate the role of architecture as both common means for spatial production and common knowledge in conceiving new modes of collective life and the idea of the city.
"I believe that understanding the relationship between architecture and the city, between design agency and socio-political content is an important step towards a more sustainable, equitable and prosperous future," says Wang.
Like the four previous Boghosian Fellows, Wang will work closely with faculty and students at the School of Architecture while exploring interdisciplinary collaborations within the University and its various centers and colleges. By emphasizing collective participation and conversation, his research will culminate in the form of a research publication and exhibition, as well as a symposium.
"Wang, whose research parallels that currently being developed by several of our faculty, is truly groundbreaking and will certainly augment and complement the work completed by past fellows," says Speaks. "We are thrilled that he will be joining us this next year."
"I am truly humbled and honored to be selected as the 2020-21 Boghosian Fellow at Syracuse," says Wang. "This prestigious fellowship not only embodies a remarkable lineage of innovative research and teaching, it also presents an excellent opportunity for me, as a young educator and practitioner, to expand my current research and explore new possibilities through teaching and collaboration."
Wang has been educated in China and the United States as both a designer and a scholar. His design research and practice speculate on the relationship between architecture and the city by focusing on urban design and large-scale architectural projects. He is the recipient of the Peter G. Rowe Scholarship of Harvard University, and his doctoral research is sponsored by the Harvard Graduate School of Design (GSD), Harvard Kennedy School Ash Center, the David Rockefeller Center of Harvard University, the Joint Center for Housing Studies of Harvard University and the Harvard Asia Center.
In line with his research work, Wang is the co-author of the book "Urban Blocks and Grids: History, Technical Features, and Outcomes" (with Peter Rowe, Scholars' Press, 2019). He is also the co-editor of the forthcoming issue on "Commons" in the journal New Geographies (Harvard GSD, 2020).
Previously, Wang completed his master of architecture in urban design degree with distinction from Harvard GSD, where he was awarded the Urban Planning and Design Thesis Prize and the Clifford Wong Prize in Housing Design. He also holds a master of architecture degree from Rice University, where he won the Morris R. Pitman Award in Architecture and the Fondren Research Award. Wang received his bachelor of architecture degree from Harbin Institute of Technology in China, where he was the recipient of the National Scholarship by the Ministry of Education in China.
In addition to his academic experiences, Wang is the co-founder of Commons Office—a creative think tank and a research-minded design practice based in Boston and Shanghai. Prior to founding Commons Office, he practiced architecture internationally at Herzog & de Meuron in Basel; Skidmore, Owings & Merrill in New York; Bjarke Ingels Group in Copenhagen; WW Architecture in Houston; and Atelier Liu Yuyang Architects in Shanghai.
"I am looking forward to joining the distinguished community of educators, scholars and practitioners at Syracuse," says Wang. "At the same time, I am also excited to work with the bright students there and engage them with collective explorations. I am confident that the invaluable experience of teaching, researching and collaborating with faculty, staff and students at the school and beyond will sharpen my expertise and broaden my horizons. I hope that, through collective conversations and public engagement, it could also contribute to the commons of architecture and design in our time."
The Boghosian Fellowship has helped the School of Architecture attract the best and the brightest emerging professors. Previous fellows include Maya Alam (2016-17), Linda Zhang (2017-18), James Leng (2018-19) and Benjamin Vanmuysen (2019-20).
For more information about Liang Wang and his work, visit liang-wang.com.
To learn more about the Harry der Boghosian Fellowship, visit soa.syr.edu/alumni/support-the-school/giving-priorities/harry-der-boghosian-fellowship/.