Serving as both a memorial and a platform to encourage informal conversations during the celebration of Black History Month, "The Living Room Conversation: In Memory of Professor Kermit J. Lee Jr." will be on exhibition beginning Monday, Feb. 3, in the Marble Room on the first floor of Slocum Hall.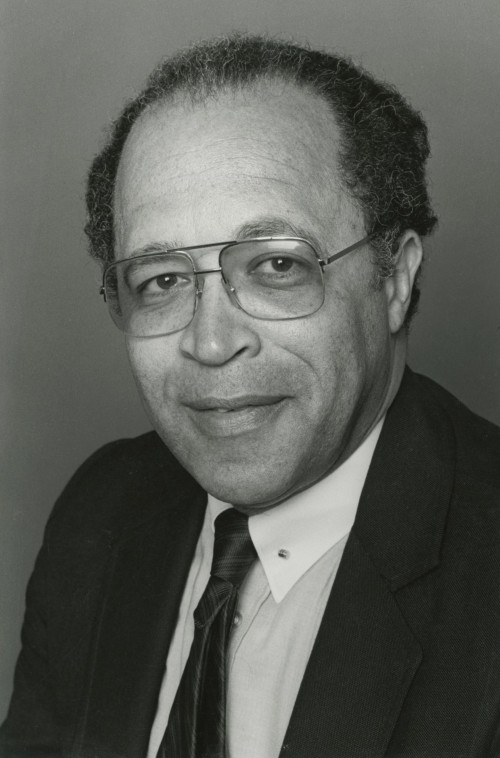 Professor Emeritus Kermit J. Lee Jr.Curated by Pin Sangkaeo '21 (BArch) and Benson Joseph '20 (BArch), in association with the Orange chapter of the National Organization of Minority Architecture Students (NOMAS), the exhibition focuses on accomplished architect Professor Emeritus Kermit J. Lee Jr. '57, who passed away on Jan. 16, 2018.
Lee was an innovative architect and creative thinker, a much-loved professor with a loyal following, and a generous and dynamic colleague. After earning a graduate degree in Braunschweig, Germany, and practicing in Switzerland, he returned to Syracuse as a faculty member at the School of Architecture in 1968 and served until his retirement in 1995, earning many professional honors over the course of his career. He had a significant and important impact on his students and colleagues, and maintained relationships with generations of Syracuse Architecture alumni. As one of the first black graduates of the School of Architecture, he was particularly proud of his mentoring role for minority students.
Throughout the exhibition, Lee is remembered through content selected from his work as a student, educator and architect, and through the words of his family members, students, peers and former colleagues. All materials in the exhibition have been provided by Architecture Librarian Barbara Opar.
The student section consists of a series of graded drawings completed by Lee while earning his BArch at the School of Architecture that helped him develop the knowledge and skills required of the professional architect. The work of Lee's students is shown in the teaching section and demonstrates his philosophy that the architect should have a broad understanding developed from multiple points of view—project site, user, and client—all in the service of designing well-rounded projects.
Lee also ran a successful professional architecture practice in which he designed many important buildings, including several fire stations in the City of Syracuse, some of which are displayed in the exhibition. A series of photographs with Lee's family members, students, peers and former colleagues indicate Lee's unique and remarkable ability to balance the focus and discipline required to design and teach at the highest level with the warmth of a close friend, mentor and teacher.
Karin Lee George, daughter of Kermit and Lore Lee, will give remarks prior to the exhibition's opening.
"My father would be so pleased to see his beloved alma mater and professional home celebrate the impact that students of color and underrepresented communities have on the architecture profession," says George. "His professional accomplishments were numerous, and yet he took the greatest pride in his work with all students as a mentor, advocate and never-wavering supporter of their success. That the legacy of his work will be on view at Slocum during Black History Month would give him endless joy."
Professor Kermit J. Lee Jr. Symposium
To close the month-long exhibition, the School of Architecture will host the "Professor Kermit J. Lee Jr. Symposium" featuring Renee Kemp-Rotan '75 (BArch) and Tya Winn '09 (BArch), on Thursday, Feb. 27, at 5:15 p.m. in the Slocum Hall Auditorium.
The symposium will be centered on the "diversification of the scope of architecture." Kemp-Rotan and Winn will discuss the opportunities they've had to engage in design work outside of the professional realm of being an architect, what it means to be design thinkers in our global society, and how their skills have been utilized in an array of design professions.
Kemp-Rotan—the first African American female to graduate from Syracuse University with a bachelor of architecture degree, cum laude—is both an urban designer and master planner who turned her architecture and planning degrees into a career devoted to urban design, cultural heritage and the power of design to impact social change. Presently, she is the CEO and design principal of studiorotan and serves as professional competition advisor for The Africatown International Design Idea Competition.
Winn is director of project planning for Habitat for Humanity in Philadelphia and an advocate for affordable housing and community development in Philadelphia. She has focused her career on real estate and community development, prioritizing affordable housing creation, economic development, creative place-making and urban revitalization. Among her many professional affiliations, Winn currently serves as president of the Philadelphia chapter of the National Organization of Minority Architects.
Left
In connection with the exhibition and symposium, "Left," a collection of Professor Lee's artwork, will be available for viewing outside the King + King Architecture Library on the third floor of Slocum Hall.
Lee suffered a stroke in November 1994, leaving him unable to use his right hand. Over time, he learned to draw and paint with his left hand and developed, as a result, a new approach and disposition towards his creative work. All the drawings and paintings selected for this exhibition are part of a body of work created by Lee using his left hand. Like all of his creative endeavors, these drawings and paintings are beautiful, accomplished and inspirational.
All events are free and open to the public. For more information, visit soa.syr.edu/calendar.
The Kermit J. Lee Jr. Endowed Scholarship is awarded each year to a third-year Syracuse University School of Architecture student—and renewable through their next two years of study—who exemplifies the highest caliber of academic success and qualities while demonstrating a financial need. Individuals interested in supporting the scholarship are encouraged to visit givetosu.syr.edu/kermitlee.