Syracuse Architecture was well represented in the 2019 Best of Design Awards, The Architect's Newspaper's (AN) unique project-based awards program that showcases great buildings, building elements, interiors, and installations to an audience of over one million readers.
Projects from School of Architecture alumni and faculty were declared winners, including earning the esteemed Building of the Year award.
Entrants were invited this past fall to submit completed works in 47 categories that reflected AN's editorial coverage, as well as the interests of the newspaper's readers. This year's competition proved to be the largest to date for AN, with more than 800 submissions from firms big and small across every corner of the North American continent.
The Best of Design Awards jury—including Jaffer Kolb, cofounder of New Affiliates; Sara Lopergolo, partner at Selldorf Architects; Carlos Madrid III, associate director at Skidmore, Owings & Merrill; Anne Rieselbach, program director at The Architectural League of New York; and Oana Stänescu, founder of Oana Stänescu Studio—judged each entry based on several criteria: strength of presentations, evidence of innovation, creative use of new technology, sustainability, and, most importantly, good design.
Awards were given to everything from completed commercial and residential buildings to public and urban design projects; from interiors and small spaces to exhibition design and temporary installations; from research initiatives to architectural representations, and beyond.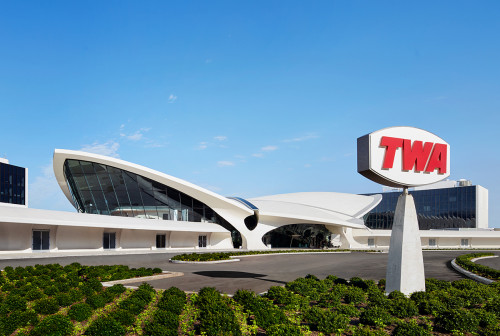 Building of the Year: TWA Hotel by Beyer Blinder Belle & Cooley Monato Studio (David Mitchell)Syracuse Architecture Board of Advisors chair, Lea Ciavarra G'95 (MArch) and her firm, Lubrano Ciavarra Architects, along with Beyer Blinder Belle and Cooley Monato Studio, won the Building of the Year award for "the sensitive restoration and reactivation of Saarinen's masterpiece"—the TWA Hotel at JFK Airport.
"The original is an architecture of optimism," says Madrid III. "The rebirth of the project celebrates that. That is extremely needed and refreshing in these times."
Katherine Hogan '05 (BArch), Syracuse Architecture Board of Advisors member and two-time visiting critic, and Vincent Petrarca's firm, tonic design, won the Interior – Institutional category for their Southeast Raleigh Magnet High School Great Hall Renovation project in Raleigh, North Carolina. The project, which was completed in six weeks during summer break, transformed an existing entry hall into a space of "collegiate collaboration."
Syracuse Architecture visiting critics, Abruzzo Bodziak Architects, won the Interior – Retail category for their design of British clothing brand maharishi's first store outside of the United Kingdom. Located in Manhattan's Tribeca neighborhood, the design of the store takes cues from formal Japanese gardens and military supply warehouses as well as historic shops of New York City.
Delirious Facade, a design research project by Vivian Lee and James Macgillivray, founders of LAMAS and Syracuse Architecture visiting critics, won the Research category. Their project catalogues various types of facades that exist in Toronto to create hybrid facades using image processing artificial intelligence. The process can be understood as the architectural equivalent of the popular "Face Swap" smart phone application.
Syracuse Architecture Assistant Professors Molly Hunker and Gregory Corso, co-captains of SPORTS, received an Honorable Mention in the Urban Design category for their project, City Thread, which transformed a formerly unused alley in downtown Chattanooga, Tennessee into a vibrant public space. City Thread was also previously named a winner in two categories for the 2019 Architecture MasterPrize.
Best of Design Award winners, honorable mentions, and editors' picks are featured in a special end-of-year Best of Design issue. Winners also receive a signed, limited-edition print of Drive-In House, a 1986 drawing by famed British architecture collective Archigram member Michael Webb.
For a full list of winners and honorable mention profiles, visit archpaper.com/2019/12/2019-an-best-of-design-awards.