Led by Zeina Koreitem and John May, Los Angeles-based architecture firm MILLIØNS has been named as the winner of the Museum's Café Design Competition.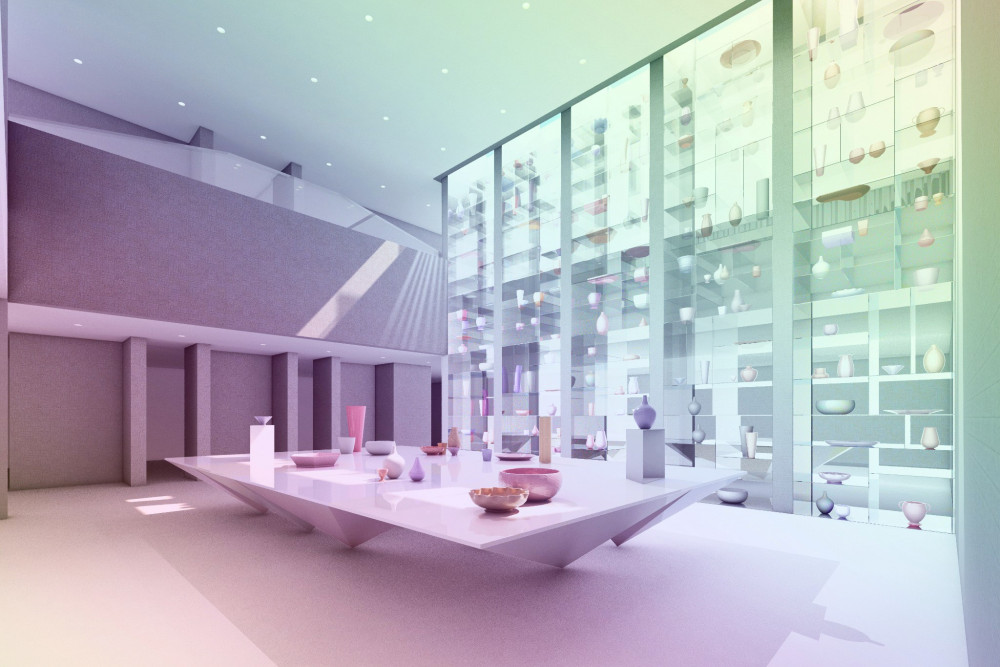 MILLIONS Everson Museum Café design
The Everson Museum of Art in Syracuse, New York and Syracuse University School of Architecture are pleased to announce MILLIØNS as the winner of the Everson Museum Café Design Competition. Everson Museum Director and CEO Elizabeth Dunbar, Everson Museum Curator of Ceramics Garth Johnson, Sean Anderson (MoMA), Aric Chen (Design Miami), Jing Liu (SO—IL), Matt Shaw (The Architect's Newspaper), and Oana Stănescu (Harvard GSD) comprised the jury that selected the firm.
In addition to providing daily lunch service and hosting special events, the project will also serve as a venue to showcase the The Rosenfield Collection, a functional ceramic art collection of more than 3,000 pieces gifted to the Everson Museum of Art by Dallas-based ceramic artist and collector Louise Rosenfield. Rosenfield, along with Kate Nutting, principal and managing member of VIP Architectural Associates; Fouad Dietz, chair of the Everson Museum buildings and grounds committee; and Karyn Korteling, owner of Pastabilities restaurant in Syracuse, served as advisors to the jury.
"MILLIØNS, through their incredible breadth of research and experimental design approach, pointed to unexpected ways in which this intervention can reverberate throughout the existing building," says competition juror Oana Stănescu. "MILLIØNS' strategy looks to give coherence to the museum experience by subtly inserting a contemporary design in the iconic building, representative of very different times and attitudes towards art and life. This is an exciting new chapter for the Everson, a respectful nod to its past and a reassuring step towards the future."
"MILLIØNS brings a striking individuality to their work," says Dunbar. "Their approach to the café design within I.M. Pei's iconic Everson design brings to mind Pei's own daring intervention into the Louvre. MILLIØNS included prismatic glass towers in their design, brilliantly combining function with architectural flair and conceptual rigor. They not only thoughtfully engage Pei's style; they have highlighted its unique characteristics while simultaneously giving Louise's collection the prominence and respect it deserves. We are all so very excited to work on this project with MILLIØNS. Together we are creating a café space and experience unlike any other in the world." Construction of the new café will begin in 2020 with an expected opening in late summer of the same year.
The international competition, organized by Syracuse University School of Architecture Dean Michael Speaks and Assistant Professor Kyle Miller, began in March with invitations to offices from Canada, China, Greece, Italy, Spain, Sweden and the United States to submit conceptual images and statements of interest. In May, MILLIØNS (Zeina Koreitem and John May, Los Angeles), FreelandBuck (David Freeland and Brennan Buck, Los Angeles/ New York, NATURALBUILD (Yanfei Shui and Yichi Su, Shanghai), and Norman Kelley (Thomas Kelley and Carrie Norman, Chicago/New Orleans) were selected as finalists.
This project is part of a strategic initiative to restore and enhance the Everson's building with the aim of positioning the historic structure as a source of civic pride, while simultaneously creating a dynamic and innovative museum for a 21st-century audience. Recently completed facility improvements include the Danial Family Education Center, a state-of-the-art auditorium renovation, and the Paul Phillips and Sharon Sullivan Ceramics Center. These projects were made possible by generous contributions through The Everson. First and Forever. comprehensive campaign.
ABOUT MILLIØNS
MILLIØNS is a Los Angeles-based architectural practice founded by John May and Zeina Koreitem. MILLIØNS conceives of architecture as a speculative medium for exploring the central categories of contemporary life: technology, politics, energy, media, and information. Their approach insists on an expansive parallel project of technical, historical and cultural analysis, which surrounds and informs their work. MILLIØNS' work has been featured in numerous solo and group exhibitions, including a commissioned furniture set by Friedman Benda Gallery NYC and Chamber, shows at the Storefront for Art and Architecture in New York, The Architecture + Design Museum of Los Angeles, Jai & Jai Gallery in Los Angeles, the Museum of The City of New York, the MIT Keller Architecture Gallery, and the Harvard Graduate School of Design, among others. Their essays and interviews are widely published, including a catalog of work on experimental collective living, entitled New Massings for New Masses (MIT SA+P Press, 2015). Recent work includes a retail store on Madison Avenue in New York, and residential and cultural projects in California, New York and Beirut.
 
Zeina Koreitem is a registered architect in Beirut, Lebanon, a Design Critic in Architecture at the Harvard University Graduate School of Design and Design Faculty at SCI-Arc. Previously, she worked in the offices of Dominique Perrault Architecture in Paris, and RCR Arquitectes in Olot, Spain, and taught design studios at USC School of Architecture and the University of Toronto. She holds a B.Arch from the American University of Beirut, where she received the AREEN Project Award of Excellence in Architecture, and the Outstanding Creative Achievement Award; an M.ArchII from the University of Toronto; and an MDes in Design Computation from Harvard GSD, where she received the Daniel L. Schodek Award for Technology. 

John May is Assistant Professor of Architecture and Director of the Master in Design Studies Program at the Harvard University Graduate School of Design. A graduate of Harvard GSD, he previously served as a visiting professor at MIT, SCI-Arc, and UCLA, and was named 2012 National Endowment for the Humanities Visiting Professor in Architecture at Rice University. Situated at the intersection of philosophy, technology, and the politics of environmentalism, May's influential writings include a recent book, Signal. Image. Architecture. (Columbia, 2019), which contemplates the psychosocial effects of transmissible electronic images, and their consequences for architecture and urbanism.
ABOUT THE EVERSON

The Everson Museum of Art, whose roots extend to 1897, is internationally recognized for its extensive and significant collection of ceramics, its pioneering art video collection and its distinctive structural design by the noted architect I.M. Pei. The operation of the Everson Museum of Art is made possible with funding from the Dorothy and Marshall M. Reisman Foundation, the County of Onondaga administered by CNY Arts, The Trust for Cultural Resources of Onondaga County, the New York State Council on the Arts, a state agency, the Everson Board of Trustees and Everson Members' Council.
ABOUT SYRACUSE ARCHITECTURE

Syracuse University School of Architecture (Syracuse Architecture) offers bachelor's and master's degrees in architecture that are accredited by the National Architectural Accrediting Board (NAAB). Both undergraduate and graduate programs rank among the best in the country. Syracuse Architecture, established in 1873, is the fourth oldest architecture program in the country. Faculty come from a broad range of professional backgrounds—practicing architects, architectural historians, theorists, professional artists, and engineers, and are deeply committed to student progress. Syracuse Architecture is part of a prestigious university, offering students access to a wide variety of courses and a vibrant campus community culture.
MEDIA CONTACTS
Everson Museum of Art
Elizabeth Dunbar
edunbar@everson.org
School of Architecture
Syracuse University
Kyle Miller
kjmill03@syr.edu