A generous gift by the deGraffenried Foundation, spearheaded by four Syracuse University alumni, has established the Connie Caldwell Summer Internship Award in honor of Syracuse Architecture's former director of Career Services.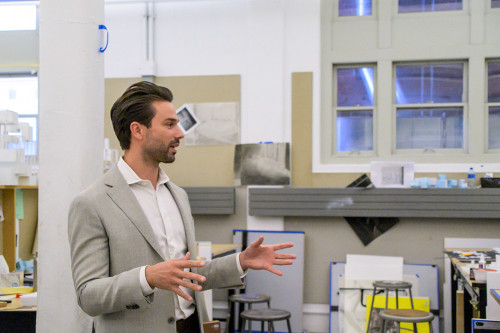 Supporting Caldwell's commitment to students and alumni, the fund will assist with expenses associated with an internship for one full-time architecture student each summer.
Creation of the award fund was prompted by Syracuse Architecture alumnus Garland deGraffenried (BArch '09), managing director of development at SHVO, who was looking for a way to continue the impact and passion that Caldwell displayed while at Syracuse Architecture.
"Connie was such a consistent thread throughout my life here from my freshman to my fifth year," says deGraffenried. "From our first meeting, there was almost an immediate friendship; I knew she and I had a connection."
Caldwell led the School's career services operation for more than 20 years until her retirement in Fall 2018. During this time, she created a signature career services program that was known nationally and internationally as a model for other schools.
As an experienced career services counselor, Caldwell opened doors for professional practices to access student strengths and set interviews for employment. She coached students on interview skills and helped firms on selection of talent, earning a high degree of trust.
"But Connie did way more than help you formulate your resume or tell you how to talk to somebody," says deGraffenried. "She was always a listening ear and sincerely wanted what was best for you."
Caldwell was widely recognized by the profession as a pioneer in her role because of her ability to guide and connect some of the best architectural students in North America with many of the very best architectural firms in the world.
Notably, there is broad consensus among professionals on campus and beyond that Caldwell's work in preparing students for professional life was the primary reason that School of Architecture graduates are the number one most hired alumni in the nation, according to last year's rankings report by DesignIntelligence.
"Connie's ambition, drive and character was such a force. She knew how to talk to students, get them excited and guide them," says deGraffenried. "The sheer alumni base—hundreds, maybe even thousands of lives—that she's helped along the way is incredible to think about."
In 2013, DesignIntelligence named Caldwell as one of the 30 Most Admired Educators from the architecture, industrial design, interior design and landscape architecture disciplines. She was presented with a special Dean's Citation for Exceptional Service award that publicly recognized her substantial and meaningful legacy at the School of Architecture's convocation ceremony last May
This spring, deGraffenried—along with Elizabeth Gralton (MArch '08), architect and project manager at Polo Ralph Lauren; Jason Renock '10 (Whitman), project manager at Toll Brothers; and Nicole Magers '11 (VPA), group art supervisor at Havas Life Metro—formed the eponymous foundation as a means to give back and support students in need within the design industry.
"I am humbled and really happy that the award is being created," says Caldwell, noting that summer employment is key to the professional futures of architecture students. "I'm grateful to the deGraffenried Foundation for their generosity and dedication to the next generation of Syracuse University Architecture students."
"Connie just touched my heart and I know that I will never be able to thank her enough for everything that she's done," says deGraffenried.
The first Connie Caldwell Summer Internship Award will be granted in Spring 2020. Look for more ways to support this fund starting November 11.